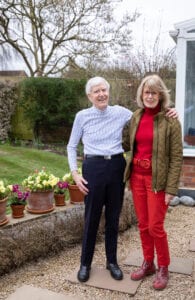 Robert, a wartime evacuee and Loveday, a bilingual Europhile, have both led fascinating lives, only relatively recently coming together as a couple.
I could listen to Robert's life story for hours. After that childhood experience of being sent away from home to live with a family in Cornwall for a couple of years during the War, he then attended a boarding school in Wallingford aged five. Robert tells me that he was promptly expelled after a year, before being sent to a prep school where the headmaster regularly whacked him with a cane.
Despite this regime of corporal punishment to knock him into shape, Robert loved the headmaster deeply, and he scraped through into the bottom form of Public School, where he just missed out on entrance to Cambridge. Instead, he studied engineering at Loughborough, where he built two cars from scratch and then graduated to making parts for nuclear power stations.
Like his wife Loveday, Robert has international experience, first in the United States designing a machine for the printing industry. Then in England, where he quickly worked his way up through the ranks to become chairman of a public company at the tender age of 28. His next 12 years were devoted to building this Group, employing 1000 people in the UK and overseas subsidiaries. This gave Robert a chance for further study at the London School of Economics and Stanford Business School.
Loveday was keen to escape England too, realising at a young age that she felt more European than British. She explains that the moment of realisation came after she saw a group of French exchange students, who seemed so attractive and different. Witnessing their Joie de vivre made Loveday realise there was a big world out there, which she has wholeheartedly embraced.
After finishing school in London, her career began in Rome, Madrid and Hong Kong, gaining exposure to a variety of cultures, nationalities and professions. Loveday is currently studying Arabic, taking lessons online from a Syrian lady living in Granada, but she's already fluent in Italian, French, speaking Portuguese and some Hebrew.
While Loveday's heart is in England, she admits to never truly feeling settled here, thinking a lot about living in Granada, where Arabic and Christian traditions come together in an exciting cultural melting pot.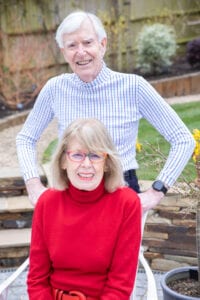 Robert and Loveday met online. He jokes she was listed on eBay as part of a 'BOGOF', buy one, get one free deal! 
After working for IPC on the staff of a European Chemical industry magazine, Loveday left London and moved to Hertfordshire for a couple of years. A girlfriend convinced her to pop her photo onto a Christian dating website as a bid to overcome her loneliness living alone in the middle of nowhere. She remembers clicking on Robert's photo, who was then a widower.
Happily, this turned out to be a good decision and they were married within a year.
Robert admits he had to calm down a little. His previous lifestyle involved golf, and running around in sports cars; he owned a sequence of five Porsches.
Informed Choice financial planner Philip Sullivan came on the scene before Robert met Loveday and initially worked with Robert to help organise his finances.
Robert explains he had previously worked with Allied Dunbar before they became J Rothschild and subsequently St James's Place. They did what he calls an 'adequate' job for him, but became too large and impersonal. Robert also lost money, prior to meeting Philip, during the Equitable Life scandal.
Loveday had similarly poor experience with financial advisers in the past, where she wasn't offered a lot of choice or explanations about her options.
Loveday tells me that she particularly values the idea of being able to relinquish all concerns and hand those over to Philip, who she can trust. Loveday isn't interested in investments, so it's a weight off her shoulders to delegate those concerns.
Something Robert and Loveday especially like about working with Informed Choice is the team supporting Philip, looking after all of the details. They don't underestimate the sheer amount of work that goes into the advice they receive, work in the background that is incredibly valuable.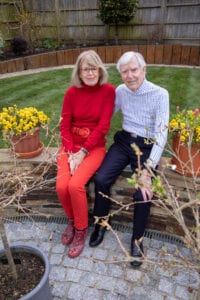 Getting married later in life, and in Robert's case with children from his first marriage, presents some financial planning challenges. There's a fine line to navigate between providing an inheritance for Robert's children and financial security for Loveday in the future, and Philip's 'been there, seen that' experience has been a real help in formulating a viable plan.
We were talking, via a Zoom video call, during the third national lockdown. So, I ask Robert and Loveday how they have found the pandemic so far. Robert explains that it has been little more than an inconvenience. He misses not being able to hug the children and being caged at home.
However, they are both keeping fit and healthy, and have received their first vaccination jabs. Once the pandemic is over, both are looking forward to resuming their world travels.
I can tell that Robert and Loveday both enjoy a life packed with experiences and enjoyment. Robert tells me about his earlier membership of the High-Performance Club, with his driving skills thoroughly tested over a two-day assessment, which allowed him to swap cars with other members on racetracks across the country.
Thinking ahead to the future, Loveday explains that, with the world-changing so much, there will be a lot of people around who need help. She recounts the story of a lady in their village, where along with neighbours they have clubbed together to cover her cleaning wages, so she can continue supporting her family.
I love Robert and Loveday's attitude towards money and wealth, largely shaped by their experiences. In Robert's case, that includes a moment of realisation in 1976 when he owed the bank around ten times the value of his house. He found himself overleveraged, fired from his job, with three children at public school, and with a ten-bedroom house he couldn't sell.
But both understand and appreciate value. Robert is a big believer that money 'makes the world go round', as long as it is moving. I get the impression that both enjoy moving too.
This article first appeared in the March 2021 edition of informed magazine.
Photography by Joe Denyer.