Weaker growth forecast, financial crash prediction, and Bezos gifting plan
In this edition of The Briefing from Informed Choice on Monday 17th September 2018 – weaker growth forecast, financial crash prediction, Bezos gifting plan, 99 days until Christmas, and property market improving.
Subscribe to The Briefing by email
Enable the Amazon Alexa Flash Briefing Skill
Weaker growth forecast
The British Chambers of Commerce is forecasting weaker economic growth in the UK. It has also warned that, by 2020, the UK economy will have experienced its second-weakest decade of growth. Lowering its growth forecast for 2018 from 1.3% to 1.1%, the BCC also forecast growth weakening from 1.4% to 1.3% in 2019. Its 2020 growth forecast remains unchanged at 1.6%.
Dr Adam Marshall, director general of the British Chambers of Commerce, said:
Despite strong performances by some firms, the UK economy as a whole is set to grow at a snail's pace.

Brexit uncertainty continues to weigh heavily on many firms, as most of the practical questions facing trading businesses remain unanswered.

The lack of precision on the nature of the UK's future relationship with the EU is lowering expectations for both business investment and export growth.

The drag effect on investment and trade would intensify in the event of a 'messy' and disorderly Brexit.

Businesses need the Brexit negotiations to deliver clarity, precision and results at pace over the coming weeks.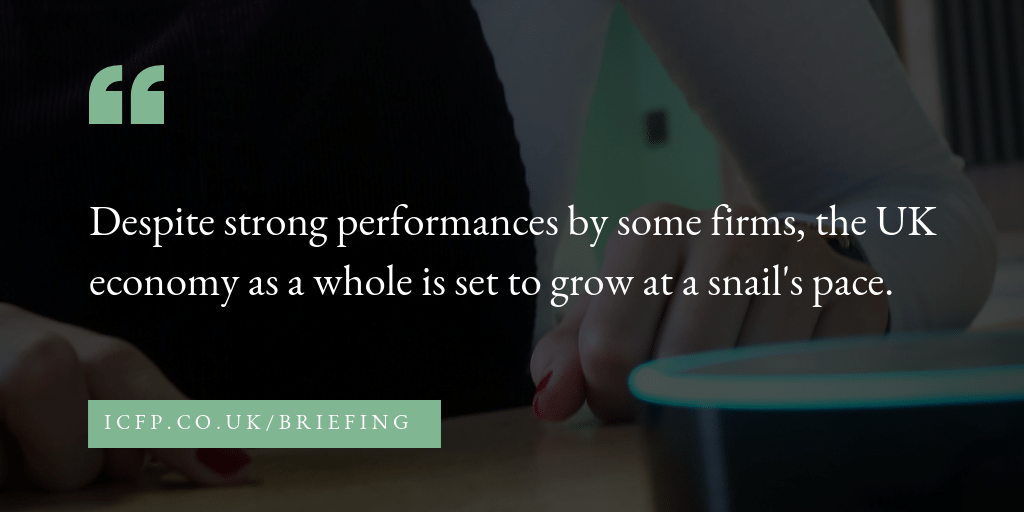 Financial crash prediction
Analysts at investment bank JPMorgan are forecasting the next global financial crisis starting in 2020. They believe any crash will be less severe than the last one in 2008, but expects US equities to fall by 20%. The next financial crisis could however result in bigger falls for energy prices, commodities and global emerging markets. Warning of the probability of automated trading as a trigger for the next crash, Marko Kolanovic, analyst at JPMorgan, said:
Basically, right now, you have large groups of investors who are purely mechanical. They sell on certain signals and not necessarily on fundamental developments. Meaning if the market goes down two per cent, then they need to sell.
Bezos gifting plan
Billionaire Jeff Bezos has announced more details of a new $2bn philanthropic fund, the "Day One Fund", aimed at creating preschools and helping homeless families. The announcement came more than a year after Bezos polled Twitter followers for suggestions on how to give away part of his fortune. It also comes amidst growing public criticism around his lack of philanthropy.
Janet Camarena, director at Foundation Center, a nonprofit organization for philanthropy, said:
The announcement answers the questions we had before about what the priorities are going to be. Now we're waiting for the next chapter to hear the details of how he's going to grow this.
99 days until Christmas
With 99 days to go until Christmas, new research has shown the amount of planning, browsing and shopping required to be ready. TopCashback.co.uk found it takes consumers 44 hours of planning, 25 hours of browsing online and 11 trips to the shops to be ready for Christmas. They found consumers start with the best intentions with nearly a third starting to shop as soon as they see festive items on the shelves, which began in August this year. However, nearly a quarter put it off until November and if past records are anything to go by, 16% will not have finished by Christmas Eve.
Adam Bullock, UK Director at TopCashback.co.uk, said:
44 hours of planning may seem excessive, but it's no secret that planning is the key to a successful, stress-free Christmas. It also makes it much easier to budget and keep costs down. By putting in the hours ahead of shopping, consumers can keep a lid on their spending and save themselves a lot of time in the long-run.

Our research also shows consumers are favouring doing their Christmas shopping online instead of hitting the busy high-street and with that brings the added benefit of being able to compare prices easily and use voucher codes and cashback websites.
Property market improving
Asking prices for property in Britain have risen 0.7% this month, taking them 1.2% higher than a year earlier. The latest report from property website Rightmove also shows renewed buyer activity in some parts of London. The index reported a 6% increase in agreed sales on homes priced at £750,000 or higher compared with a year earlier. Prices rose by 4.7% in the East Midlands, 4.6% in Wales, 4.5% in the West Midlands, and by 4% in Yorkshire and the Humber.
Miles Shipside, Rightmove housing analysis, said:
'The recovery in the upper end in London is encouraging but the painful and drawn-out process of price reductions has yet to run its course especially in parts of Outer London and the commuter belt that saw very sizeable and unsustainable price rises.
More sellers and agents will need to re-adjust their expectations to be in line with what buyers are willing or able to pay, as it seems that buyers are out there if the price is right.
Informed Choice provides a regular personal finance and investment news summary, with an updated Flash Briefing for your Alexa enabled device. Search for The Briefing from Informed Choice in your Amazon Alexa app or visit https://www.amazon.co.uk/Informed-Choice-Radio/dp/B074DZZ1MF/ to enable this Flash Briefing.