The Briefing on Tuesday 4th September 2018
In this edition of The Briefing from Informed Choice on Tuesday 4th September 2018 – TSB chief to go, Carney could stay, rising nursery fees, sustainability investment mismatch, and pension transfer safe harbour.
Subscribe to The Briefing by email
Enable the Amazon Alexa Flash Briefing Skill
TSB chief to go
TSB bank chief executive Paul Pester is leaving the organisation following its major IT failure earlier this year. Pester, who has headed up the bank for seven years, will be replaced in the interim by chairman Richard Meddings, who is taking the role of executive chairman until a new chief executive can be found. Richard Meddings said:
Although there is more to do to achieve full stability for customers, the bank's IT systems and services are much improved since the IT migration. Paul and the Board have therefore agreed that this is the right time to appoint a new CEO for TSB.
TSB bank faced fresh IT problems this week, following a scheduled systems upgrade over the weekend. Customers complained about difficulty with online and mobile phone access to their accounts, receiving messages saying, "Something went wrong" at each attempt to login. One customer reported missing direct debits from his account. According to a spokesman for TSB, the account access problems were unrelated to overnight systems maintenance on Friday evening.
Carney could stay
Bank of England governor Mark Carney is in talks with the Treasury about extending his tenure beyond June 2019. According to press reports, the Treasury is concerned it will be difficult to find a suitable replacement at this stage of Brexit talks. Mr Carney is understood to be willing to remain in the role until 2020. He is due to appear before MPs on the Treasury Committee today, where he will be asked about his intentions. His current departure date of June 2019 is already one year longer than the original five year term to which he committed.
Rising nursery fees
Working parents with children under five have seen nursery fees rise three times faster than their wages over the past decade, according to new TUC analysis. The analysis shows that childcare costs have risen by 52% per week since 2008 for families with a full-time and a part-time working parent. Over the same period their wages have gone up by just 17%. The situation is even worse for lone parents. Childcare costs for a single mum or dad working full time have risen seven times faster than earnings.
TUC General Secretary Frances O'Grady said:
Working parents have seen childcare fees rocket, as their wages have stagnated. Despite government support families still face eye-watering nursery bills. Britain's cost of living crisis is having a huge impact on working mums and dads.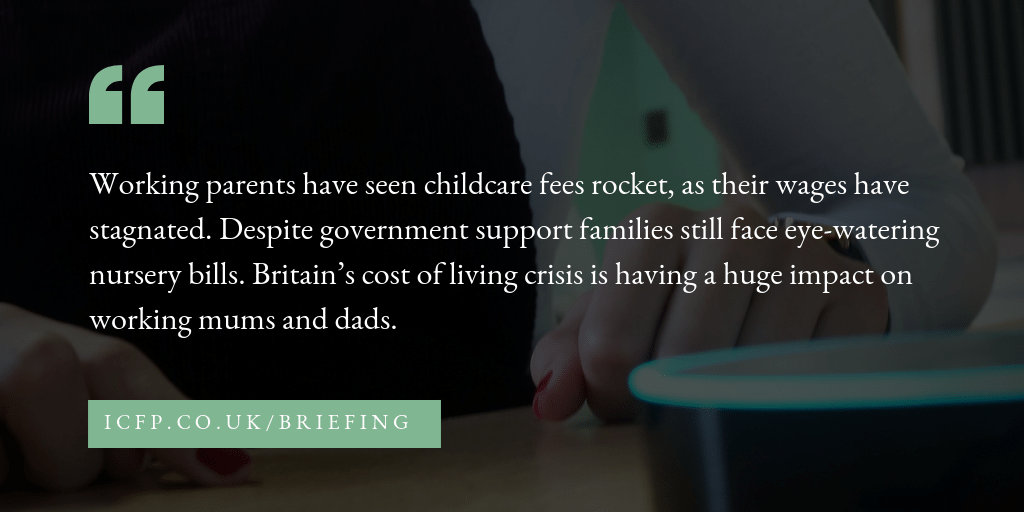 Sustainability investment mismatch
Investing sustainability remains a minor factor in the investment decision-making process despite institutional investors' expectations it will grow in importance. This is according to Schroders Institutional Investor Study 2018. The study – which surveyed 650 investors encompassing approximately $24 trillion in assets – has identified a mismatch between institutions' perceptions of the importance of sustainability and what is still happening at the coalface of their investment process.
Almost a third of investors said that the sustainability focus of the investment had little to no influence on their investment decision-making, significantly less important than factors such as strategic asset allocation, fund manager track record, anticipated return and risk tolerance.
Jessica Ground, Global Head of Stewardship, Schroders, said:
There remains a gulf between institutional investors' sustainable investment aspirations and the reality of how they prioritise these factors in their investment decision-making.

Investors clearly recognise that investing sustainably is going to be more and more important going forward, but this approach is yet to sit at the heart of their investment process.

This study demonstrates that investors who prioritise investing sustainably tend to have longer-term investment horizons and greater confidence about achieving their return targets.

Empowering investors to think longer-term and avoid making short-term, knee-jerk investment decisions has also been a growing focus of policymakers globally.

Over time, this study highlights that sustainability is going to increasingly sit alongside institutional investors' more long-standing investment priorities, although there still remain barriers to overcome to achieve this in the near term.
Pension transfer safe harbour
A survey of almost 400 financial advisers by mutual insurer Royal London has found huge variations in the way firms carry out an initial 'triage' process when clients ask about pension transfers. But the FCA's plans to tighten practice around triage could lead to adverse customer outcomes according to Royal London policy director, Steve Webb. The firm is calling for a 'safe harbour' where advisers can use their experience and judgment to give an initial view to clients, potentially saving them thousands of pounds in advice fees where there is a strong likelihood of a recommendation not to transfer.
Royal London policy director Steve Webb said:
Our survey revealed a huge variation in adviser practice, with some advisers having a very general initial conversation with clients and others doing extensive personalised analysis, whilst still seeing this as part of a triage process. So it is understandable that the FCA is looking to provide greater clarity and standardisation in this area.

But there is a risk if the FCA clampdown makes advisers afraid to offer an initial triage process. For some clients it is clearly not going to be in their interests to spend a large amount of money only to be told that transferring is not a good idea. The FCA needs to provide a 'safe harbour' for advisers which would allow them to have such a conversation with a client at an early stage, without putting themselves at regulatory or legal risk.
Informed Choice provides a regular personal finance and investment news summary, with an updated Flash Briefing for your Alexa enabled device. Search for The Briefing from Informed Choice in your Amazon Alexa app or visit https://www.amazon.co.uk/Informed-Choice-Radio/dp/B074DZZ1MF/ to enable this Flash Briefing.