The Briefing on Tuesday 28th August 2018
In this edition of The Briefing from Informed Choice on Tuesday 28th August 2018 – Wonga on the brink, weather prompts price rises, priced out of London, Tesla cash concerns, and petrol prices jump.
Subscribe to The Briefing by email
Enable the Amazon Alexa Flash Briefing Skill
Wonga on the brink
Payday lender Wonga is reportedly on the verge of financial collapse. According to Wonga, Britain's largest payday loans company, it "continues to assess all options". Reports by Sky News suggests Grant Thornton has been identified as a potential administrator. The news follows a £10m cash injection from shareholders earlier this month, designed to keep the firm afloat amidst rising compensation claims from customers. Wonga was forced to write off £220m of customer debt after the Financial Conduct Authority toughened its stance on the payday lending sector. Wonga, which has operations in the UK, Poland, South Africa and Spain, reported a £64.9m loss for 2016.
A Wonga spokesman said:
Wonga recently raised £10m from existing shareholders to address the significant increase in legacy loan complaints seen across the UK short-term credit industry.

Since then, the number of complaints related to UK loans taken out before the current management team joined in 2014 has accelerated further, driven by claims management company activity.

Against this claims backdrop, the Wonga board continues to assess all options regarding the future of the group and all of its entities.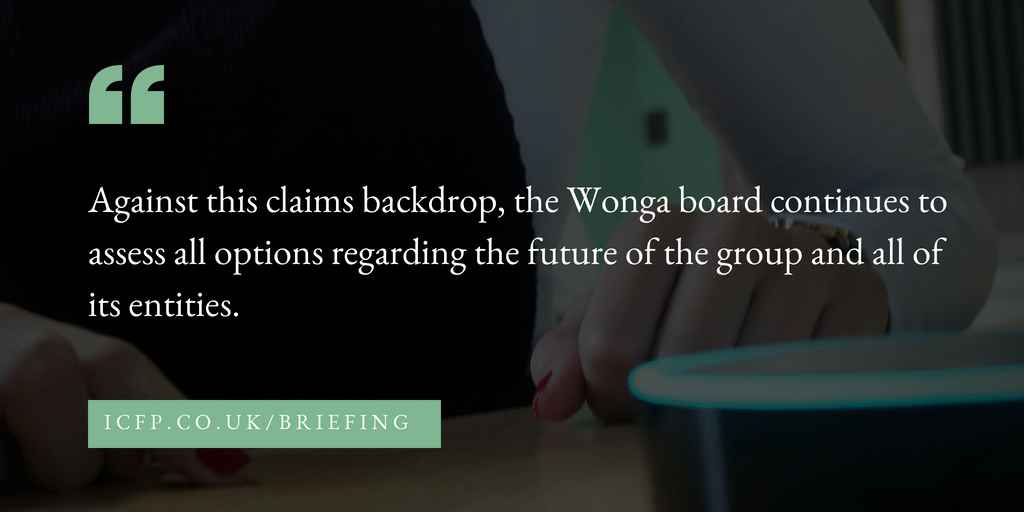 Weather prompts price rises
Food prices are set to rise by at least 5% following periods of extreme weather this year. According to consultancy firm CEBR, a combination of extreme cold weather and then recent heatwave is likely to cost consumers an extra £7 a month on their grocery bills. Farmers' representatives have already warned about the impact of extreme weather on prices for peas, lettuces and potatoes.
A spokeswoman for the Department of Environment, Food and Rural Affairs said:
Food prices are affected by a number of factors aside from the weather, such as fuel costs, international commodity markets and exchange rates.
Priced out of London
A growing number of homeowners are leaving London for the Midlands and the North, after being priced out of the capital. A new report from Hamptons International has found the numbers moving north from London have tripled in the last decade. According to the report, the proportion of homeovers moving out of London rose from 6% in the first half of 2008 to 21% in the first half of this year. Included in the study are people moving out of London to the North East, North West, Yorkshire and the Humber, and the East and West Midlands.
Aneisha Beveridge, research analyst at Hamptons International, said:
With affordability stretched, more Londoners are moving out of the capital to find their new home. The proportion of London leavers heading north has tripled in the last 10 years.

More people are making a bigger move and buying a larger home sooner to avoid having to pay stamp duty on additional moves as they trade up. But for many, this means heading further north.
Tesla cash concerns
Elon Musk has u-turned on plans to take Tesla private, raising questions about a looming debt issue for the business. With a debt of around $10.5 billion and the possibility of an upcoming cash shortfall, Wall Street analysts are widely expecting the electric carmaker to need to raise cash in the near term. According to reports, Tesla has $1.3 billion in debt coming due in the next 12 months and $1.3 billion of cash on hand after backing out $942 million of customer deposits on cars. Analysts are forecasting a slowed, but continued, cash burn in the second half of this year, prompting Tesla to need up to $2 billion in extra borrowing by the end of this year to remain afloat.
Petrol prices jump
The UK pump price of petrol has jumped above 130p a litre for the first time since August 2014. That's according to the AA who reported that petrol averaged 130.05p a litre and diesel 132.72p a litre. The last time the road fuel was this expensive was 4th August 2014, when petrol was 130.13p a litre and 30th September 2014 for diesel at 132.81p a litre. Out on the motorways, petrol varies by as much as 16p a litre or £8.80 a tank within a 35-mile stretch.
Luke Bosdet, the AA's fuel price spokesman, said:
This is summer holiday pump exploitation at its worst. The Transport Secretary's app-based fuel price transparency for motorways can't come soon enough.
Informed Choice provides a regular personal finance and investment news summary, with an updated Flash Briefing for your Alexa enabled device. Search for The Briefing from Informed Choice in your Amazon Alexa app or visit https://www.amazon.co.uk/Informed-Choice-Radio/dp/B074DZZ1MF/ to enable this Flash Briefing.