The Briefing on Tuesday 21st August 2018
In this edition of The Briefing from Informed Choice on Tuesday 21st August 2018 – unpaid bills rising, business confidence falls, call for contactless limit rise, public finance surplus, and Bank Holiday spending.
Subscribe to The Briefing by email
Enable the Amazon Alexa Flash Briefing Skill
Unpaid bills rising
Households in the UK owe nearly £19bn in unpaid essential bills, including council tax and utility bills. A new report by Citizens Advice has also repeated a warning about the scale of bailiff-related problems, occuring once every three minutes. Outstanding household bills include £7.5bn in tax credit overpayments, £2.8bn in council tax and £2.2bn owed to water companies.
Gillian Guy, chief executive of Citizens Advice, said:
One person every three minutes come to us for help with bailiff issues. Families are living in fear of a visit from the bailiffs, and small missed bills can skyrocket through excessive enforcement fees.

Our evidence shows aggressive tactics by bailiffs cause huge distress and can even push people further into debt. Families are going without essentials like food or electricity to meet their payments.

The Ministry of Justice has already announced a call for evidence into aggressive collection practices by bailiffs. They must use this to take strong action and introduce an independent bailiff regulator to fix this broken system.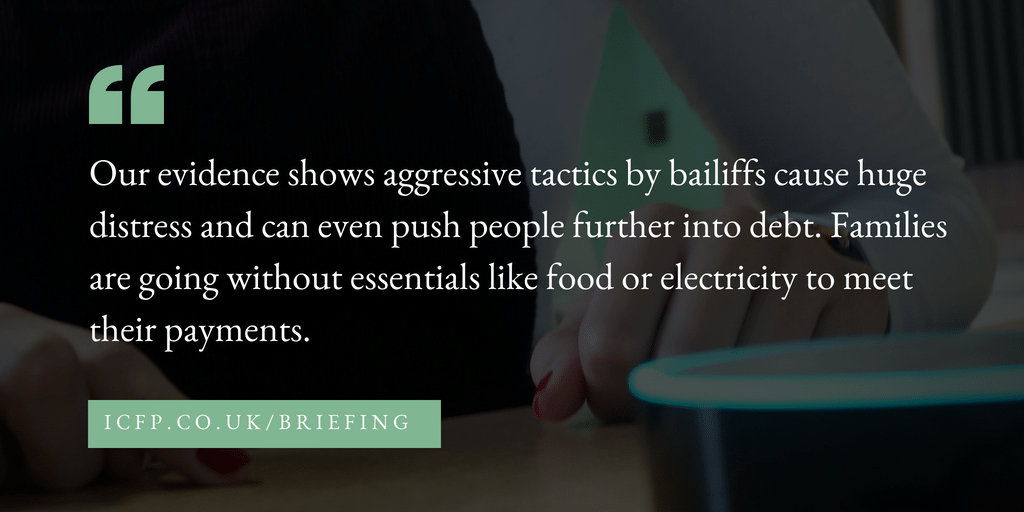 Business confidence falls
Business confidence in the British economy has fallen to its lowest level of the year to date, according to a new survey. The survey, carried out by the Institute of Directors employers group, asked the views of 750 UK business leaders. It found that general economic conditions were the biggest concern, followed by uncertainty around trade with the EU. Net optimism over the next 12 months fell to -16%, compared with -11% in June.
Tej Parikh, Senior Economist at the Institute of Directors, said:
Despite cautious optimism emerging amongst the business community earlier in the year, any momentum appears to have dwindled.

We're heading back to the levels of pessimism we saw before progress was made on phase one of Brexit talks.
Call for contactless limit rise
New research has shown that 42% of contactless payment users would like to see the limit for transactions increased. 38% of contactless payment users said the new payment limit could be £50 or higher, while 9% would like to be able to make payments of £100 or more. Currently, individual contactless card transactions are limited to £30 but research commissioned by GoCompare Money, found that many users want the figure to rise to enable them to pay for a wider range of goods and services.
Georgie Frost, consumer advocate at GoCompare Money said:
Since the introduction of contactless cards in 2007, the speed and ease of their use has seen millions of us embrace the technology for day-to-day shopping. But, from our research it's clear that simply waving a card or smartphone over a payment reader leaves some people disassociated from the money they're spending and can lead them to make more impulse purchases. Even with a payment limit capped at £30 – frequent, unmindful spending can quickly add-up and it's all too easy to spend more than you realise.
Public finance surplus
Official figures have shown government finances in surplus by £2bn in July. It's the biggest July surplus for 18 years, up from £1bn a year earlier. According to analysts, the higher surplus should give Chancellor Philip Hammond more flexibility in his autumn Budget. The ONS also reported that borrowing for the financial year to date has reached £12.8bn, down £8.5bn on the same period last year. Public sector net debt, excluding public sector banks, stood at £1,777.5bn, which is equivalent to 84.3% of GDP. Public sector net debt is £17.5bn higher than a year earlier, but lower as a percentage of GDP than in 2017, when it reached 86%.
Bank Holiday spending
New research from American Express has found more than 40 million UK adults will stay at home over the August bank holiday weekend and plan to spend £104 each. This equates to to £4.2 billion of spending across the UK over the long weekend. Stephen Steinhardt, Director at American Express, said:
It's the last bank holiday before Christmas, so it's great to see that so many people will be making the most of the extra day off. Whether it's a long weekend fixing up the house or enjoying a barbecue in the sun, it's also wise to make the most of bank holiday spending. Putting costs on a credit or charge card that offers rewards or cashback for spending means more treats can be enjoyed when it comes to the festive season later this year.
Informed Choice provides a regular personal finance and investment news summary, with an updated Flash Briefing for your Alexa enabled device. Search for The Briefing from Informed Choice in your Amazon Alexa app or visit https://www.amazon.co.uk/Informed-Choice-Radio/dp/B074DZZ1MF/ to enable this Flash Briefing.