The Briefing on Thursday 9th August 2018
In this edition of The Briefing from Informed Choice on Thursday 9th August 2018 – pound falls on Brexit fears, rent rises forecast, putting off life milestones, public sector pay rises wiped out, and unfashionable dogs abandoned.
Subscribe to The Briefing by email
Enable the Amazon Alexa Flash Briefing Skill
Pound falls on Brexit fears
Pound Sterling has fallen below $1.29 for the first time in nearly a year, amidst continuing concerns that Britain will experience a no-deal Brexit. Sterling also reached a nine-month low against the Euro, following comments from Bank of England governor Mark Carney that chances of a no-deal Brexit were now "uncomfortably high". International trade secretary Liam Fox was reported at the weekend as placing the odds of a no-deal Brexit at "certainly not much more than 60-40". Pound Sterling has fallen against other major currencies despite an interest rate rise last week. Since the start of August, the British pound is down 1.7% against the US Dollar and 0.8% against the Euro.
Neil Jones, foreign exchange expert at Mizuho Bank, said:
Some are thinking in the market that the Bank of England raised rates in order to give them ammunition to cut them in the face of a no-deal. The next move by the central bank could be a cut rather than another hike.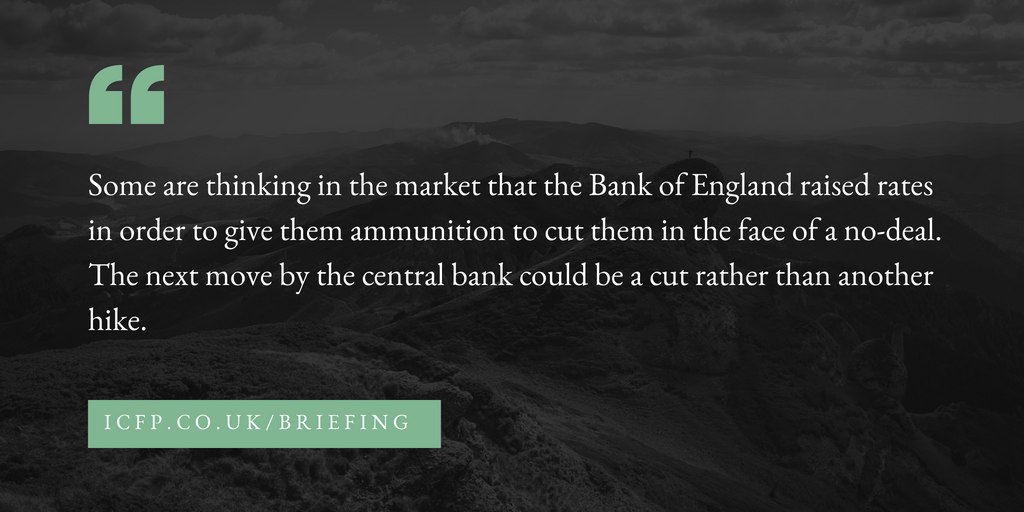 Rent rises forecast
Rents in the UK are forecast to rise by 15% during the next five years, with a falling supply of rental property and rising tenant demand. The survey from the Royal Institution of Chartered Surveyors found an expected rise in average rents of 2% in the next year. Supply of rental properties is falling following punitive tax changes for landlord, including an extra 3% on stamp duty on second homes. Combined with rising demand for rental property, rental prices are being pushed up. According to the survey, a net balance of 22% of respondents reported a fall in new landlord instructions during the last quarter. Its the eighth consecutive quarter the number of new rental properties on the market has fallen, with is a countrywide trend, according to Rics.
Simon Rubinsohn, chief economist at Rics, said:
The impact of recent and ongoing tax changes is clearly having a material impact on the buy-to-let sector, as intended. The risk, as we have highlighted previously, is that a reduced pipeline of supply will gradually feed through into higher rents in the absence of either a significant uplift in the build-to-rent programme, or government-funded social housing.

At the present time, there is little evidence that either is likely to make up the shortfall. This augurs ill for those many households for whom owner occupation is either out of reach financially or just not a suitable tenure.
Putting off life milestones
A new study from LV= has found that people in their early thirties are putting off life milestones such as having children or buying a home. This is due to being one of the least financially resilient groups in the UK. A quarter of the 30-35 year olds in the study, of which there are 4.7 million in the UK, feel worried about the financial impact of life milestones. This is double the national average. Nearly one in six say they've put off major life milestones because they don't feel financially mature enough.
Justin Harper, Head of Policy for Protection at LV=, said:
It's deeply concerning that many of those in their early thirties are delaying major life milestones because they feel worried, unconfident and ill prepared financially. And it is worrying that so few of the Peter Pan Generation can withstand the financial effects of an unexpected income shock – they have no Plan A, nor a Plan B.

With low financial confidence and little provision to handle a financial crisis, there is a need and opportunity for advisers to help this generation with their financial planning so they feel more secure. When it comes to the life milestone of buying a new home, advisers are ideally placed to include protection in every mortgage conversation with clients.
Public sector pay rises wiped out
New analysis by pension firm Royal London has found that thousands of public sector workers could see their newly-announced pay rises largely or wholly wiped out because of a series of 'cliff-edge' rules in their pension scheme. This includes NHS staff who have just received their pay increase in July as well as teachers, civil servants and others who have yet to have a pay uplift. NHS staff have told Royal London they were shocked to discover that their pay had hardly risen or in some cases even fallen following the recent 'pay rise', with Band 5 nurses particularly affected.
The problem arises from the way in which pension contribution rates are hiked when workers pass certain earnings thresholds. The new higher pension contribution rate is payable on the whole of their salary, not just on the pay rise. Nearly a third of any pay rise disappears in tax and NICs for a standard rate taxpayer, and the extra pension contribution can wipe out the benefit of a pay increase.
Steve Webb, Director of Policy at Royal London said:
After nearly a decade of pay squeezes, millions of public sector workers will have hoped and expected to see a meaningful pay rise this year. But because of the way in which pension contributions are structured, many thousands will see their pay rise wiped out in full or in part. Public sector employers have a duty to make sure that workers understand the impact of these factors on their take-home pay, rather than leaving them to find out when they get their first payslip at the new rate, which has been the experience for too many hard-working NHS staff.
Unfashionable dogs abandoned
New research from dogsblog.com and Direct Line has found that celebrities and social media may be driving the popularity of certain breeds, leaving 'unfashionable' dogs at a heightened risk of abandonment and increased likeliness of remaining in shelters, as their 'cuter' counterparts get adopted. Staffordshire Bull Terriers, Akitas, and Greyhounds are the three most-common breeds abandoned in rescue shelters, as owners search for 'fashionable' breeds popular among celebrities, such as French Bulldogs, Pugs and Miniature Dachshunds.
Despite not being amongst the most-common breeds abandoned to animal shelters, Pugs, French Bulldogs and Chihuahuas are the most requested by potential adopters. Just over half of shelters believe that celebrities and social media have influenced the desirability of certain breeds, leaving less 'fashionable' breeds stuck in shelters.
Ryan O'Meara, dogsblog.com co-founder, said:
"Not every person who buys or adopts a popular breed or cross-breed will do so having been inspired by celebrities or the Instagram culture that makes some breeds more fashionable than others. However, it is evident that changes in the popularity of certain breeds coincide with celebrity and influencer ownership, which often dictates which breeds we are most commonly seeing abandoned to shelters.
"Sadly, dogs that have fallen in numbers, such as Boxers or German Shepherds, are also some of the most common breeds in animal rescue shelters, as owners are more likely to pick 'fashionable' breeds when adopting. For those dogs abandoned by their owners, our research showed that the average age of a dog left in a rescue shelter is just two years and two months old, which supports our research showing a correlation between the fast pace of ever-changing social popularity and pet abandonment."
Informed Choice provides a regular personal finance and investment news summary, with an updated Flash Briefing for your Alexa enabled device. Search for The Briefing from Informed Choice in your Amazon Alexa app or visit https://www.amazon.co.uk/Informed-Choice-Radio/dp/B074DZZ1MF/ to enable this Flash Briefing.