The Briefing on Thursday 30th August 2018
In this edition of The Briefing from Informed Choice on Thursday 30th August 2018 – tightening purse strings, London house price forecast, US economic growth, hot weather impacts retail sales, car manufacturing falls, and British Gas compensation.
Subscribe to The Briefing by email
Enable the Amazon Alexa Flash Briefing Skill
Tightening purse strings
The latest Nationwide Spending Report suggests that nearly a quarter of Brits admit to regularly spending more than they earn. Rising living costs are causing people up and down the UK to tighten their purse strings, even if they are being selective with what they're cutting back on. The data suggests that despite two-thirds reducing their outgoings, expenses such as gym memberships, Wi-Fi and Internet packages and more expensive healthy foods are least likely to get the chop.
This quarter's figures show that, overall, 'discretionary' spends across the country have fallen year on year by an average of £60.76. These include the likes of holidays, recreation, lottery and charity donations. Conversely, spending on 'essential' household bills has risen by £87.80 to an average of £1,510.35. More than two thirds say their finances are tighter now than five years ago, with eight in ten saying they have seen bills increase – with utilities, council tax and cost of food highlighted as the main costs to have risen over the past 12 months.
Phil Smith, Nationwide's Head of Current Accounts, said:
Our Spending Report indicates that the rise in essential costs is beginning to have an impact of our day-to-day spending habits. Whether future reports continue this pattern remains to be seen although it does mark an interesting point as finances are clearly under some pressure.

Despite the reality that money is tight for some, there are encouraging signs that people are taking the right steps by cutting back on non-essential spending and finding ways to make their money go further.

When things become difficult we'd always advise sticking to a strict budget, shopping around for the best deals on your household bills, switching supplier to get the best value if necessary and if you use a credit card, find one that offers zero per cent interest on balance transfers and purchases. But make sure at least the minimum is paid off each month to avoid additional interest and ensure you are able to pay off the costs in full by the end of the term.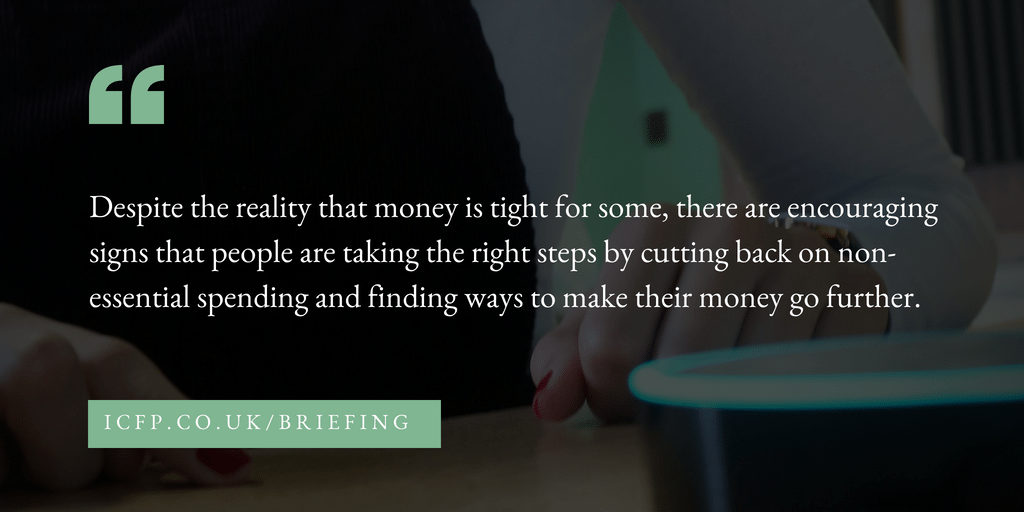 London house price forecast
House prices in London are expected to fall this year and next, according to a new poll. The Reuters poll of analysts and housing market experts is predicting a slide in London house prices in the event of a no-deal Brexit next year. House prices in the capital are forecast to fall by 1.6% this year and by 0.1% next year. According to the poll, Brexit uncertainty is already unnerving foreign investors. A disorderly exit from the European Union would result in an impact on the London housing market ranging from "short-term fall" to "damaging" to "disaster".
US economic growth
The US economy grew faster in the second quarter than originally forecast. Revised economic growth figures show the world's largest economy growing by 4.2% on an annnualised basis betwen April and June. This is revised up from an initial estimate of 4.1%. It's the strongest quarterly growth figure for nearly four years, placing the US economy on track to achieve President Donald Trump's 3% annual growth target. Stock markets in the US reached new record highs on Wednesday on the back of the figures.
Hot weather impacts retail sales
Retailers in Britain could experience a £320m loss in profits during September, due to the impact of predicted hot weather on their sales. Warm weather during September could cost non-food retailers an estimated £80m a week, according to a new forecast from the British Retail Consortium. The figures are based on analysis of Met Office weather data, showing a 'clear relationship' between temperature and retail sales. This correlation is strongest between mid-August and early October, with warmer spells of weather delaying the purchase of autumn-winter ranges.
Rachel Lund, the BRC's head of insight and analytics, said:
While few in the retail industry would deny that the weather impacts how we shop, the fact that this study reveals that its impact can be large and changeable only serves to highlight some of the complexity retailers have to navigate in serving consumers.

The ability to understand and respond to unseasonable weather is clearly crucial for retailers wanting to thrive in today's extremely competitive retail market.
Car manufacturing falls
Britain manufactured 11% fewer cars last month, according to new figures from the Society of Motor Manufacturers and Traders. The trade body reported a fall in manufacturing compared with July 2017 as a result of model changes, seasonal adjustments and the car industry preparing for stricter new emissions standards. It means a total of 121,051 cars were manufactured in Britain last month, down from 135,954 cars in July last year.
SMMT chief executive Mike Hawes said:
While the industry is undoubtedly feeling the effects of recent uncertainty in the domestic market, drawing long-term conclusions from monthly snapshots requires a health warning.

The bigger picture is complex and month-by-month fluctuations are inevitable as manufacturers manage product cycles, operational changes and the delicate balance of supply and demand from market to market.

To ensure future growth, we need political and economic clarity at home, and the continuation of beneficial trading arrangements with the EU and other key markets.
British Gas compensation
British Gas has compensated 94,000 customers who switched to new providers after incorrectly overcharging them. The energy supplier has paid £2.65m in refunds, compensation and redress to customers after charging them its more expensive standard variable tariff rate after their decision to switch to a new energy supplier. According to energy regulator Ofgem, this happened due to a system error. British Gas said following the system error, those who were charged too much were "promptly refunded as soon as we identified the issue and were paid an additional goodwill gesture".
Anthony Pygram, director of conduct and enforcement at Ofgem, said:
British Gas failed its customers who were coming to the end of their fixed contracts and switched supplier by unfairly penalising them and applying charges in error.

Many more customers could have been deterred from getting a better deal due to the incorrect terms and conditions.
Informed Choice provides a regular personal finance and investment news summary, with an updated Flash Briefing for your Alexa enabled device. Search for The Briefing from Informed Choice in your Amazon Alexa app or visit https://www.amazon.co.uk/Informed-Choice-Radio/dp/B074DZZ1MF/ to enable this Flash Briefing.