The Briefing on Monday 3rd September 2018
In this edition of The Briefing from Informed Choice on Monday 3rd September 2018 – women missing from financial services, Help to Buy could end, insurance sale completes, better off investing, and playground insurance risk.
Subscribe to The Briefing by email
Enable the Amazon Alexa Flash Briefing Skill
Women missing from financial services
A new report has found that fewer than one in seven partners at hedge funds and private equity firms are women. The report, which is based on Financial Conduct Authority data, also shows that progress towards equality is slow. Out of 9,957 partners at private equity, hedge fund and other financial services firms, only 1,381 are women. This is just 14% and represents only a 2% increase in the past five years, despite government and industry initiatives to boost the number of women in top finance roles.
Nicky Morgan, the chair of the Treasury committee, said:
The women in finance charter has been effective at raising awareness on gender diversity, but as this sluggish progress shows, there is still a considerable way to go. As the Treasury committee's report on women in finance concluded, one of the next steps must be for firms to set out how they will support the progression of women.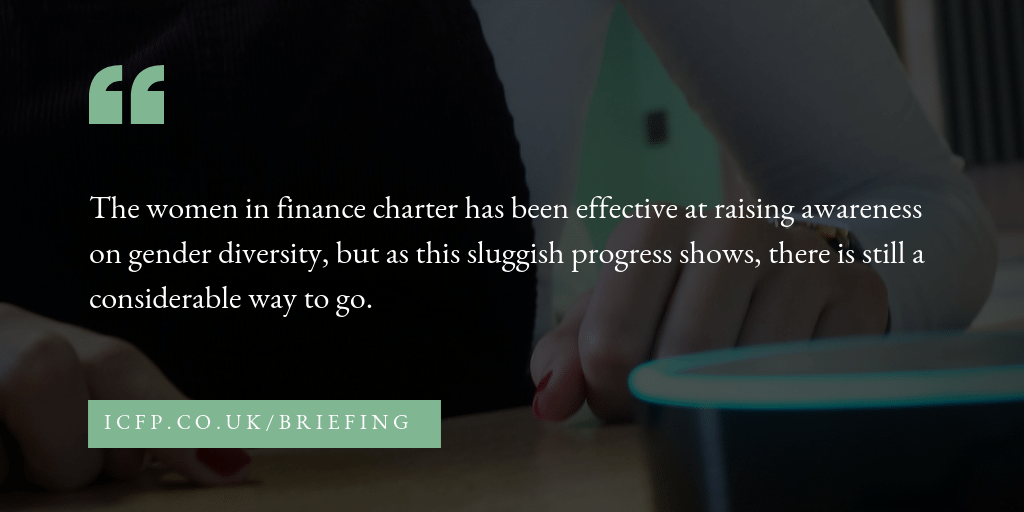 Help to Buy could end
Press reports over the weekend suggest the government is planning to scrap its Help to Buy scheme. The move would follow fears that the scheme is inflating house prices and supporting wealthier homeowners. According to reports, government ministers are planning a "fundamental review" of the Help to Buy policy. It was originally introduced by Prime Minister David Cameron in 2013, with the aim of getting more people onto the housing ladder. The scheme could be replaced with an alternative more targeted approach, according to a report in The Telegraph. According to official figures, the average household income of those benefiting from Help to Buy is just under £50,000 a year. In London, the average household income of Help to Buy participants is higher at almost £72,000 a year.
Insurance sale completes
Standard Life Aberdeen has completed its £3bn sale of its Standard Life Assurance business to Phoenix. The deal has resulted in around 3,500 employees of Standard Life Aberdeen moving to Phoenix, with most based in Edinburgh, where Phoenix says it is committed to having an operational headquarters. As a result of the deal, Standard Life Aberdeen now owns nearly 20% of Phoenix.
Clive Bannister, CEO of Phoenix, said:
I am delighted that we have completed the acquisition of Standard Life Assurance and I would like to extend a warm welcome to our new colleagues joining Phoenix.

This deal will result in Phoenix becoming Europe's largest consolidator of heritage life funds, and the ongoing Strategic Partnership with Standard Life Aberdeen plc will provide additional growth opportunities.

This strategically and financially compelling transaction supports our vision to be Europe's Leading Life Consolidator.
Better off investing
Those who invested in a stocks and shares ISA 15 years ago could have enjoyed gains of almost double that experienced by individuals leaving money in cash over the same period. However, with almost half of women still preferring to save in cash, those who have saved diligently may have had to wave good-bye to meeting those long-term life goals. These findings from Fidelity International are backed up by figures released from HM Revenue & Customs (HMRC) showing the UK's latest ISA sales with the numbers reflecting that more women subscribed to cash ISAs in 2015/16, while more men subscribed to stocks and shares ISAs. Analysis based on the full ISA allowance invested in the FTSE All Share over average cash savings rates over 5, 10 and 15 years, show the cost of cash. By taking the plunge and investing in the stock market, women (and men) can reach their financial goals sooner, whether that's building up a deposit for a first home, paying school fees or saving for retirement.
Maike Currie, Investment Director at Fidelity International, comments:
Many women will have long-term goals and diligently stick to these whether saving for a child's education or putting something away for a comfortable retirement. But while we tend to be diligent and committed savers, we often steer clear of the stock market altogether.

Factors such as the gender pay gap, time off work to cover childcare and more women engaged in part-time work already contribute to a significant gap in women's' earnings versus their male counterparts. That's why it's important not to put yourself at a further disadvantage by not making your money work as hard as you are. With interest rates at record lows for almost a decade now and inflation rapidly rising, anyone holding an investment in cash will struggle to achieve a decent real return -that's a return that keeps abreast of rising prices.

Granted, the stock market is a riskier option than cash, but it is a well-established fact that over the long term equities tend to outperform cash. Women risk falling into a glaring 'investment gap' by leaving their money languishing in cash. Don't lose out over the long term and run the risk of missing out on your long term financial goals – take the plunge and get invested.
Playground insurance risk
As children go back to school this week, more than £2.1 billion worth of valuables will be carried in school bags. The research from Policy Expert found that an average child aged 16 and under will take £242 worth of valuables to school. Despite this, the study of more than 3,700 adults found that a third of children have lost an item, 8% have had something stolen, and 22% have damaged an item. Despite this, over a third do not have away-from-home cover included as part of their home insurance, which would protect valuables financially if lost, damaged or stolen when away from the home. A further three in 10 aren't sure if they do or not, and two thirds don't have separate insurance for their gadgets, risking a potentially costly ordeal.
Adam Powell, Operations Director at Policy Expert, said:
Hidden on the playground this September will be £2.1 billion worth of valuables. While it's common to see kids carrying a mobile phone or laptop, some parents might be surprised at the actual value of the contents of their child's backpack. If you are sending your child to school with high cost items, it's best to make sure you have away-from-home cover included in your home insurance policy. Doing so will not only help avoid tears on the playground but will soften any financial loss as well.
Informed Choice provides a regular personal finance and investment news summary, with an updated Flash Briefing for your Alexa enabled device. Search for The Briefing from Informed Choice in your Amazon Alexa app or visit https://www.amazon.co.uk/Informed-Choice-Radio/dp/B074DZZ1MF/ to enable this Flash Briefing.