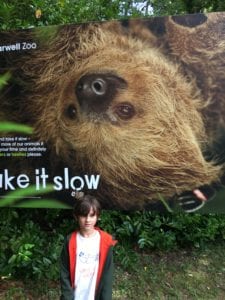 What is your favourite animal?
For my youngest grandson Samuel, it is undoubtedly the Sloth.
He can tell you the difference between the two and three-toed varieties.
He can also tell you about its rather odd toilet habits. Once a week it climbs down from the trees and poos 1/3rd of its body weight!
Marwell Zoo in Hampshire is, in my view a good zoo. It has wide open paddocks giving the animals plenty of space to roam.
It also has a good conservation breeding record.
Last Wednesday, we pre-booked our tickets and took ourselves off to the Zoo.
Every effort was made by the staff to ensure social distancing (although some people still seem to struggle with this concept) and the wearing of masks indoors. Plenty of hand sanitizer and handwashing stations were available.
For Samuel, the highlight was queuing for 20 minutes to get a glimpse of his Sloth, stationary and clinging to the top branch of her tree in the Tropical House.
Any observer could tell he was a big fan, from the huge smile on his face as well as the other clue, the Sloth T-shirt he was wearing!
As to my favourite, I am torn between the Giraffes (the Rothschild variety at Marwell) or Zebras, (three species Grevy's Hartmann's Mountain Zebra and the Plains Zebra at Marwell). Each is graceful and beautifully marked creatures.
Animals aside, the highlight for me was lunch, some of the best sausages and chips I have had in ages. However, about a third of them were consumed by Samuel.
He may love Sloths, but there is nothing slow about him when it comes to tucking into Grandad's food.
Here are some photos from our Marwell Zoo visit taken by grandson Barnaby: