Robot jobs boost, three day Jaguar week, and gender workplace confidence
In this edition of The Briefing from Informed Choice on Tuesday 18th September 2018 – robot jobs boost, three day Jaguar week, gender workplace confidence, long haul holidays, and social media checks for tenants.
Subscribe to The Briefing by email
Enable the Amazon Alexa Flash Briefing Skill
Robot jobs boost
Robots will carry out half of all workplace tasks by 2025, according to a new report from the World Economic Forum. Despite this prediction, the WEF is urging workers to consider the change as 'positive' because it should create almost twice as many jobs as it removes. Within the report, the WEF predicts the loss of around 75 million jobs worldwide by 2022. It also says 133 million new jobs will be created. The WEF said:
Despite bringing widespread disruption, the advent of machine, robots and algorithm could actually have a positive impact on human employment.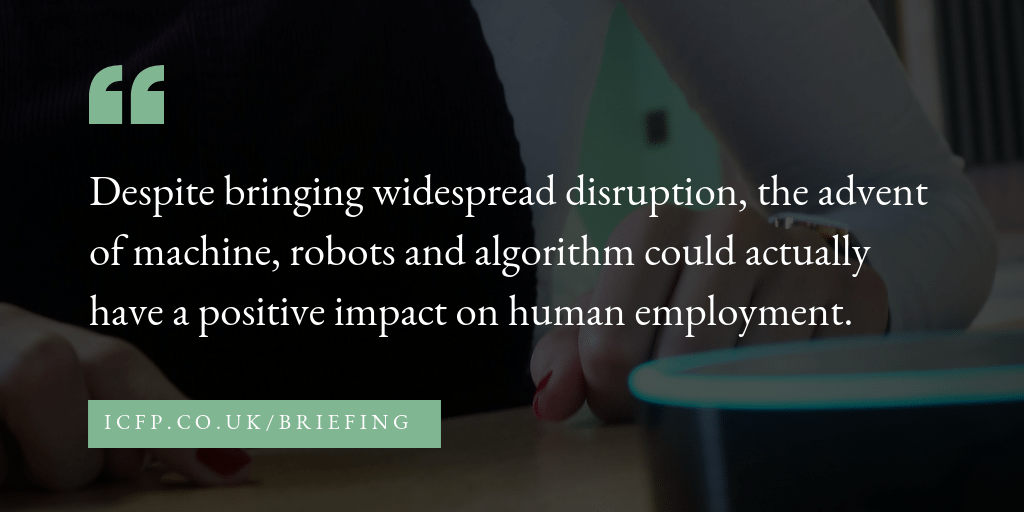 Three day Jaguar week
Around 1,000 Jaguar workers have been moved to a three-day week until Christmas. Workers at the Castle Bromwich plant in Birmingham are changing their working pattern due to Jaguar Land Rover making "temporary adjustments to our production schedules" at the factory. The carmaker said it was standard to "regularly review its production schedules to ensure market demand is balanced globally". The 1,000 plant workers, around half of the total at the factory, will remain on full pay despite the cut in working hours.
Jack Dromey, the Labour MP for Erdington, said the "Brexit chaos and the mishandling by ministers of the transition from diesel" was to blame for the three-day week. Speaking to the BBC, he said:
The message that somehow if you buy a diesel car, they'll be worthless, in circumstances where actually the new generation diesels are ultra low emission produced by the company. So there's been a real problem there.
Gender workplace confidence
A new survey of UK managers has reported on attitudes towards training and confidence in the workplace. According to the report, women were five times more likely to feel that their gender hinders confidence in them, with 20% of female managers admitting they would rather be managed by a male colleague. When it comes to confidence in their own abilities, almost half of men said that they were very confident in their management skills, compared to 30% of women. The findings also revealed that age played a part in management attitudes, with 68% of young leaders aged 20-24 saying they felt their age hindered colleague's confidence in them as a manager.
In an attempt to tackle these issues, digital transformation experts AVADO have partnered with CMI to launch a revolutionary new online qualification in leadership and management. The Level 5 Diploma will cover the key topics that apply to traditional leadership and management skills but will also apply a digital lens to ensure managers are able to use what they have learned in a digital context.
Amy Crawford, Managing Director of AVADO, said:
From our research, It was disappointing to see the negative impact gender and age had on confidence in management capabilities, but encouraging to see the powerful impact that being qualified can have on employees. At AVADO we recognise the importance of access to high quality training, helping managers across the UK to build on their skills. Our new qualification, in partnership with CMI, also allows us to ensure that employees in management don't get left behind in this fast-paced, digital age by helping to grow their digital skill set at the same time.
Long haul holidays
South Africa has been identified as the cheapest long-haul winter holiday destination. The Winter Sunshine Report from tailor-made long haul holiday specialist Travelbag, and Post Office Travel Money, shows that UK visitors will get more bang for their buck in almost two-thirds of long haul destinations this winter because of the rising value of sterling against most of their currencies. Travelbag has seen demand for tailor-made holidays to long haul destinations such as Bali rise significantly, with sales to the Indonesian island itself up by over 100% year-on-year looking at this year and last. Bookings through some providers to South Africa have also increased and are up 44% since 2014, while Brazil and Mexico have seen uplifts of 25% and 24%, respectively, compared with 2017 sales. In the Far East, Vietnam, Malaysia and Thailand are top choices for British winter sun tourists and all three are rated in the top 10 for value by the report. Even where prices for meals, drinks and other holiday items are higher, for example in Dubai and Abu Dhabi, opting to go all-inclusive can help savvy Brits get great value for money.
Social media checks for tenants
More than one in ten landlords check Facebook and other social media accounts to screen tenants before letting them live in their property. That's according to the latest sentiment research from Foundation Home Loans. Depending on the accounts available, information that could be gathered from social media could include everything from job and career history right through to friends and lifestyle. In addition to the social media screening, 14% of landlords say they visit their properties once a month to meet with tenants and make any necessary repairs. When considering suitable tenants, 29% of landlords choose to interview them to help decide whether they are right for the property. Personal references are chosen by 34% as a happy medium, allowing them to understand personalities whilst maintaining a reasonable distance.
Jeff Knight, Marketing Director, Foundation Home Loans, said:
Buy to Let is a business, so it's only natural that landlords would want to vet their potential tenants just as an employer would a potential employee. While Facebook and social media accounts may not be the best source of information if used in isolation, they can offer valuable insight when set against other checks such as personal references and credit checks. For tenants hoping to secure a good property, it wouldn't hurt to check their social media profile doesn't reflect badly on them, or present them in a negative light.
Informed Choice provides a regular personal finance and investment news summary, with an updated Flash Briefing for your Alexa enabled device. Search for The Briefing from Informed Choice in your Amazon Alexa app or visit https://www.amazon.co.uk/Informed-Choice-Radio/dp/B074DZZ1MF/ to enable this Flash Briefing.