It's taken a bit of getting used to but wearing a mask when shopping seems to have a high take-up rate in Cranleigh.
In M&S today, out of perhaps 30 shoppers, I only saw one person not wearing a mask or face covering.
For some people, there are substantial medical and psychological reasons not to do so, so we all, definitely me, need to be a bit careful about being judgemental.
As someone who wears glasses, the single biggest challenge for me seems to be steaming those up! Who knew so much hot moist air came out in a single normal breath?!
Another semblance of normal was the opening of the local pubs. Sadly we had lost one of those in Cranleigh during the lockdown.
I don't go to the pub very often; I am more of a drink at home with friends kind of person. But when my brother in law paid us a socially distanced visit last weekend, it presented an opportunity to sit outside in the High Street and enjoy a pint (well actually two!). Ordering could be done via an app, and the food and drink we ordered were delivered to our socially distanced table.
Once again, we very grateful for the lovely weather we have been having.
The sunshine also meant that the trip we took with our daughter Emma and her two boys to the Weald and Downland Living Museum in West Sussex ( a great place to bring young people, it's both fun and educational) meant that we could enjoy a picnic in the sunshine.
The Living Museum is the home of a very successful TV show "The Repair Shop", and we were lucky enough to say hello to the presenter of that programme Jay Blades. They have some very talented people who can save much prized and treasured heirlooms.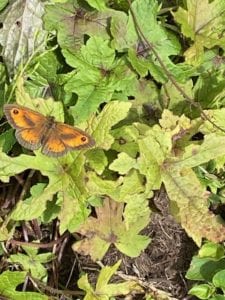 Back in the garden, this week's butterfly of choice was the Gatekeeper (also known as a Hedge Brown), and I taught my eldest grandson to identify it from the two white spots inside a black spot on its forewing.
He often feigns disinterest in Grandad's ramblings, but I know he listens because I tested him on this later and he knew it was two white spots!!
Here's to normal, whatever that looks like.