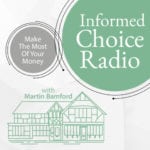 Informed Choice Radio is the personal finance podcast all about achieving your financial goals and living a better life.
New episodes are published every other Friday, featuring expert interviews and practical tips for making the most of your money.
You'll learn from best-selling authors, thought leaders and personal finance experts.
Your host for Informed Choice Radio is Martin Bamford; a Chartered Financial Planner, Fellow of the Personal Finance Society and personal finance author.