Purchase scams rise, Tesco Bank fine, & unpaid public services
In this edition of The Briefing from Informed Choice on Tuesday 25th September 2018 – purchase scams rise, Tesco Bank fine, unpaid public services, oil price rise, and South East funeral prices.
Subscribe to The Briefing by email
Enable the Amazon Alexa Flash Briefing Skill
Purchase scams rise
More than £500m was stolen by criminals through authorised and unauthorised fraud in the first half of this year. New figures from UK Finance show £503.4 million was stolen by fraudsters. In the same period, the finance industry prevented £705.7 million of unauthorised fraud, equivalent to £2 in every £3 of attempted unauthorised fraud. Purchase scams were the most prevalent authorised push payment (APP) scam in the first half of 2018, accounting for almost two thirds of reported APP cases with a total of £19.4 million lost. In these scams the victim pays in advance for a product or service, such as a car, electronics or a holiday rental, which is never received or does not exist. It often takes place online, through auction websites or social media.
Katy Worobec, Managing Director of Economic Crime at UK Finance, said:
Fraud and scams pose a major threat to our country. The criminals behind it target their victims indiscriminately and the proceeds go on to fund terrorism, people smuggling and drug trafficking, whether or not the individual is refunded. Every part of society must help to stamp out this menace, especially by stopping the data breaches which increasingly are fuelling fraud.

The finance industry is committed to fighting back, investing millions in security systems and cyber defences to protect customers. We have brought in new standards to ensure scam victims get the help they need from their payments provider; we are supporting law enforcement in disrupting the criminals and freezing stolen money; and we are assisting the government in improving intelligence sharing to extinguish the threat.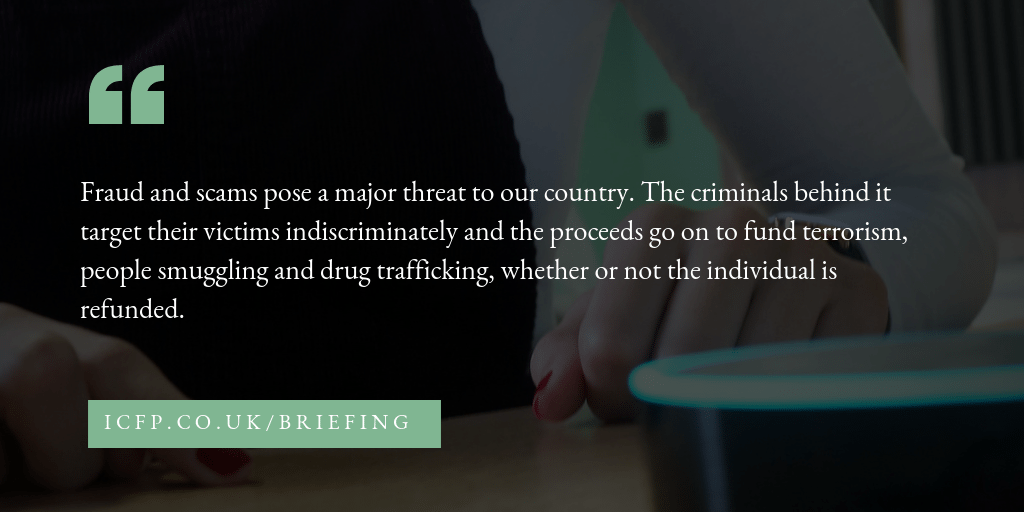 Tesco Bank fine
Tesco Bank is facing a £30m fine following a cyberattack in 2016. According to a Sky News report, Tesco is currently contesting the scale of the proposed fine with the Financial Conduct Authority. Citing a source, Sky says a "substantially lower" fine could be agreed within the next few weeks. Any fine would follow £2.5m stolen from 9,000 customer accounts in November 2016, the first mass hacking of accounts at a western bank. Tesco Bank and the FCA declined to comment.
Unpaid public services
Public services support staff – including teaching assistants, hospital porters and police community support offers (PCSOs) – are doing more than 40 million hours of unpaid overtime a year. That's according to a new report from UNISON. The figure is the equivalent of 25,000 extra public service staff working full time. The findings are from an analysis of employment data by think tank the Smith Institute. It warns that staff have reached a 'tipping point', which could have a knock-on impact on services and local communities.
UNISON general secretary Dave Prentis said:
Support staff such as healthcare assistants and catering workers are among the lowest paid in public services. All too often they're overlooked by politicians, despite the vital jobs they do.

It's no wonder they feel overworked and undervalued. Many are facing intolerable pressures because of cutbacks, which have triggered staff shortages.

The government must commit to funding the jobs needed to guarantee safe, high quality services. A failure to act will undermine standards further and weaken public confidence further still.
Oil price rise
Oil prices have risen to a four-high year exceeding $81 a barrel. The rise in the oil price follows a decision by Saudi Arabia and Russia to hold production levels, despite a call from US President Donald Trump for them to boost output. Brent crude hit its highest level since November 2014, reaching $81.16 a barrel, rising by 3% on the day. Opec and other producers had discussed raising output by 500,000 barrels a day, according to a report by Reuters.
South East funeral prices
The average cost of a basic funeral in South East England has fallen for the first time in 15 years, according to the SunLife Cost of Dying Report 2018. The cost of a basic funeral in the South East is now £4,469, which is a 4% drop on 2017's average of £4,656. The South East is one of only two regions in the UK to see a drop this year – the other is London, where funerals have dropped 1.2% from £5,951 in 2017 to £5,880 today. However, as the South East and London have always been the most expensive regions in the UK to die, despite the drop this year, the cost of a funeral in the South East is still 4.6% higher on average than in most other regions.
Ian Atkinson, SunLife's Director of Marketing, said:
One third of us say when it comes to our own funeral we want the cheapest funeral possible. Around 33% of people had to pay for some or all of their relative's funeral themselves this year and to pay the bill these relatives had to use their credit cards (6%) and spend their savings (9%). You don't have to spend thousands on a funeral.
Informed Choice provides a regular personal finance and investment news summary, with an updated Flash Briefing for your Alexa enabled device. Search for The Briefing from Informed Choice in your Amazon Alexa app or visit https://www.amazon.co.uk/Informed-Choice-Radio/dp/B074DZZ1MF/ to enable this Flash Briefing.