Informed Choice Radio 121: Tom Blomfield, A New Kind of Banking

[smart_track_player url="http://traffic.libsyn.com/informedchoice/ICR121_Tom_Blomfield_A_New_Kind_of_Banking-ICR121_Tom_Blomfield_A_New_Kind_of_Banking_.mp3″ title="ICR121: Tom Blomfield, A New Kind of Banking" social="true" social_twitter="true" social_facebook="true" social_gplus="true" social_linkedin="true" social_pinterest="true" social_email="true" ]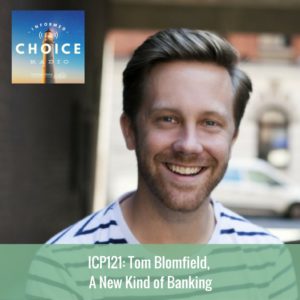 In this episode of Informed Choice Radio, I speak to Tom Blomfield, CEO and co-founder of Monzo, a new smartphone-based bank.
He previously founded GoCardless, the UK's largest Direct Debit Processor, which has gone on to raise over $12m from investors.
In 2013, Tom was nominated one of the top 5 Entrepreneurs under 30 by the European Commission.
His new startup is Monzo; a new smartphone-based bank which started last year and raised £1 million through crowdfunding in just 96 seconds.
I wanted to chat with Tom about Monzo, but also the future of the banking sector in light of new technology.
It's no secret that the traditional High Street banking model is suffering from a lack of trust with its customers. Traditional banks are seen as slow to innovate and seem to focus more on their own profits than things like customer satisfaction.
In this episode of Informed Choice Radio, I speak to Tom about the inspiration for Monzo, how digital disruption could change the face of banking, what the banking sector could look like in five years' time, whether smartphone-based banking will appeal to everyone, and what makes London such an attractive home for Financial Technology.
Welcome to A New Kind of Banking with Tom Blomfield, in episode 121 of Informed Choice Radio.
[tweet_box]Listen to @t_blom talking about @monzo & a new kind of banking on @InformedChoice Radio[/tweet_box]

Subscribe in iTunes | Click to listen now | Right click to download episode
Some questions I ask
-Where did the idea to start Monzo come from?
-Is Monzo part of the digital disruption that is going to change the face of banking?
-How are concerns about security and trust addressed with smartphone-based banking?
-Will this new kind of banking appeal to everyone?
-What makes London such an attractive hub for FinTech and how will Brexit change things?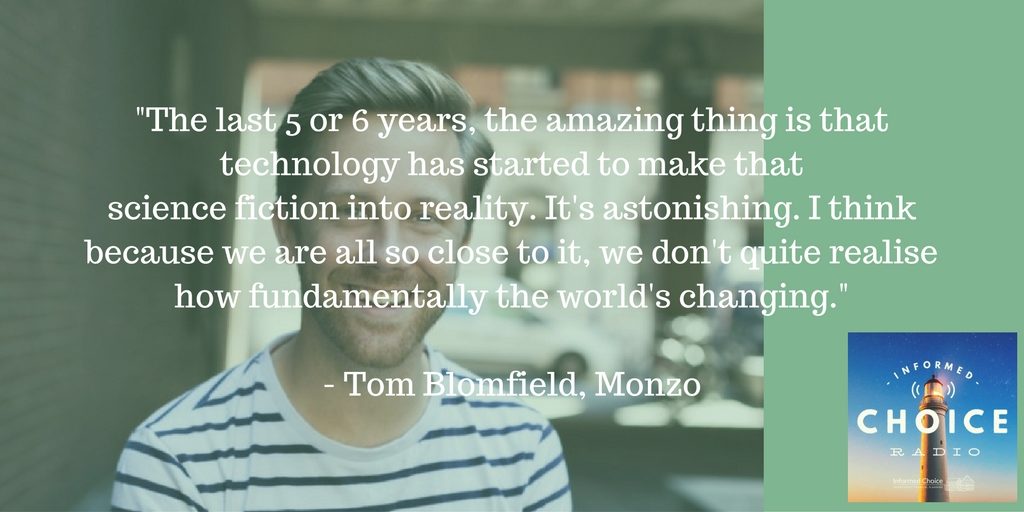 Thank you for listening!
To get new episodes of Informed Choice Radio sent directly to your device as soon as they are published, you can subscribe on iTunes or Stitcher
Your reviews on iTunes are incredibly helpful and really appreciated. We get notified about each one; please leave a note of your name and website URL so we can mention you in a future episode.
Subscribe in iTunes | Click to listen now | Right click to download episode
Useful links mentioned in this episode

Subscribe in iTunes | Click to listen now | Right click to download episode