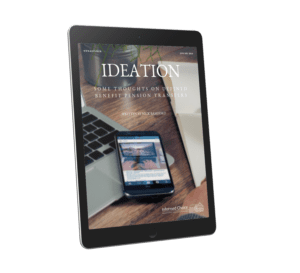 Ideation is the formation of ideas or concepts.
In the first of a new series of White Papers from Informed Choice, our executive director Nick Bamford examines one of the most debated topics in the world of financial planning – the transfer of defined benefit (final salary) pension benefits to private pension arrangements.
This 30-page White Paper includes Nick's latest thinking on the subject and is available to download free of charge.
Click here to download the white paper
Guide contents:
-The current situation
-A poor history of pensions
-Demand and supply for defined benefit pension advice
-Issues with contingent pricing
-The regulatory view
-A starting point for considering your choices
-High risk advice and pension scams
-The role of the Financial Ombudsman Service
-TVAS and proposed changes
-The Pensions Regulator
-Understanding your DB scheme and CETV calculation
-Partial transfers
-Suitability of advice
-Needs and wants
-Your attitude towards investment risk
-Tax-free cash
-Survivor's benefits
-Life assurance and your state of health
-Early retirement and flexibility
-The role of Financial Planning
-Good practice guide
-The future
Click here to download the white paper
If you have any questions about the areas covered in this White Paper, you can email Nick at nick@icfp.co.uk or call him on 01483 274566.