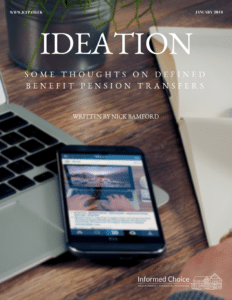 Ideation is the formation of ideas or concepts.
In the first of a new series of White Papers from Informed Choice, our executive director Nick Bamford examines one of the most debated topics in the world of financial planning – the transfer of defined benefit (final salary) pension benefits to private pension arrangements.
This 30-page White Paper includes Nick's latest thinking on the subject and is available to download free of charge.
Click here to download the white paper
If you have any questions about the areas covered in this White Paper, you can email Nick at nick@icfp.co.uk or call him on 01483 274566.
Get in touch
Informed Choice

Sundial House, 20 High Street, Cranleigh, GU6 8AE
Holders Barn, 5 Clarendon Close, Petersfield, GU32 3FR