Fuel duty freeze, Aston Martin listing, and Tesco profits rise
In this edition of The Briefing from Informed Choice on Wednesday 3rd October 2018 – fuel duty freeze, Aston Martin listing, Tesco profits rise, mainstream socially responsible investing, and women invest with tech.
Subscribe to The Briefing by email
Enable the Amazon Alexa Flash Briefing Skill
Fuel duty freeze
Prime Minster Theresa May is expected to announce a freeze on fuel duty for a ninth consecutive year. Speaking this afternoon at the Conservative Party conference, May will explain the government is "on the side of "hard-working families". She will say, "They are the people for whom this party must deliver." According to the Conservative Party leader, ownership of a car is not a luxury, but a necessity for millions of people. The announcement will follow an earlier statement from Chancellor Philip Hammond who explained whilst the policy of freezing fuel duty had saved drivers money, it would cost the Treasury £38bn if continued for a further three years. The average price of petrol in the UK is 130.6p per litre, with diesel at 134.5p a litre. Average fuel prices have risen by 11.5p and 14p a litre respectively during the past twelve months.
Aston Martin listing
Luxury car maker Aston Martin has listed on the London Stock Exchange at £19 a share. The share price values the firm at £4.3bn. At £19 a share, the share price falls in the middle of a range of £17.50 and £22.50 previously expected by the car maker. Aston Martin has a long history, having gone into liquidation on seven occasions in the past 105 years. It's the first London listing for a UK car maker in several years and will raise at least £1bn for the firm, with 27% of the business publicly listed.
Andy Palmer, president and group chief executive, said:
We are delighted by the positive response we have received from investors across the world and are very pleased to welcome our new shareholders to the register.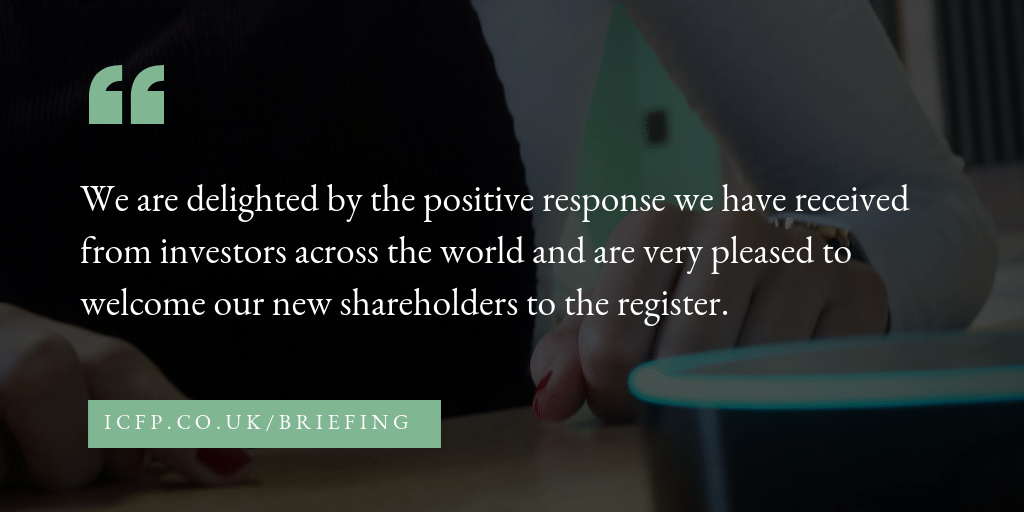 Tesco profits rise
Half year profits have risen by 2% at Tesco, at £564m. Like-for-like sales also rose in the six months to 25th August, up by 2.3%. Announcing the results, Tesco spoke about the "significant investment" made in lowering the prices of own-brand ranges. Sales of clothing were boosted by World Cup menswear, but sales of general merchandise declined as the business cut back in some areas, including electrical goods. The results come shortly after the launch of Tesco's new cut-price store chain Jack's, which is due to open 15 stores this year. Tesco has also recently announced a strategic alliance with the French supermarket giant Carrefour.
Mainstream socially responsible investing
Socially responsible investing is becoming more mainstream across the UK, as investors look to balance return with their ethics. Around half of the population believe the provider's social values including consistency, reliability, trustworthiness, and treating customers fairly are as important as the potential returns, according to new research from Foresters Friendly Society.
Concerned with how ethically conscious future generations might be, increasing numbers of parents are spending time investigating alternative investment options for their children. Around a quarter would accept lower returns to invest with a provider that demonstrates the company values they identify with personally. Comparatively, just one in five savers do not consider the company's social values and beliefs when selecting and investing in saving vehicles for their children.
Paul Osborn, Chief Executive for Foresters Friendly Society said:
People are increasingly motivated by the potential social and ethical good they can enact and instil in their children, rather than being solely focussed on monetary gains. Awareness and preference of mutual and friendly societies proves benefits that align with people's values stand the test of time. While fund performance remains important, being reliable and trustworthy is essential and sits at the core of mutual and friendly societies, and these values clearly resonate in today's world.

Securing the financial future of the younger generation is key and being savvy about the investment vehicles out there makes this process smoother. For example, the Junior ISA offers a simple, tax-efficient way to invest for your offspring's' tomorrow. Investing early is a great way to give them a financial helping hand for when the time comes for them to make those big life decisions.
Women invest with tech
Technology can play a pivotal role in helping women overcome the barriers they face when it comes to investing, according to new research from Fidelity International. While the majority of women still steer clear of the stock market, close to half of women who had downloaded an investment app in the past 12 months have increased the amount they invested. According to Fidelity's findings, technology is playing an increasingly significant role in women's lives. For example, over a third of women use travel apps to plan and manage their holidays, and over a quarter use apps to keep track of their fitness. However, currently just 11% of women overall use online tools to invest. With more using apps to manage other aspects of their lives there is an opportunity to encourage more women to invest by using technology.
Maike Currie, Investment Director at Fidelity International, said:
Our Women & Money research is about more than merely highlighting a problem, it's also about finding solutions to bridging the gender investment gap. Technology is changing every aspect of our lives and investment should be no exception. Applied correctly it could help bridge the gap and attract more women to investment. Beyond using apps to plan our daily lives, whether it be shopping, traveling or our fitness regime, technology can also help us to become financially fit.

We know from our ongoing research that women point to being time poor as one barrier to investing. Women also want more support in 'knowing where to start' – apps and online solutions are a step in the right direction. The amount of women using digital offerings alongside traditional banking is also telling, showing the potential this area holds in empowering women to act. This is incredibly important when just a 1% increase in pension contributions could close the gender pension gap.

Of course, it's by no means a 'quick fix' and there are still barriers to overcome. Women are still too reliant on saving into cash and we need to work on building that trust, but we also need solutions at a policy level so we are addressing this trust at source. Tackling the obstacles from all angles will ensure women are capable of reaching their financial goals and taking control, now and for the next generation.
Informed Choice provides a regular personal finance and investment news summary, with an updated Flash Briefing for your Alexa enabled device. Search for The Briefing from Informed Choice in your Amazon Alexa app or visit https://www.amazon.co.uk/Informed-Choice-Radio/dp/B074DZZ1MF/ to enable this Flash Briefing.