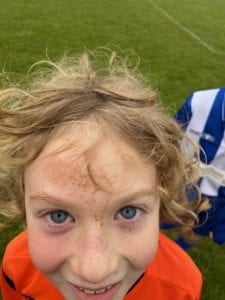 Here we are in August and the good news is the that "grassroots" competitive football can recommence.
After months of looking at the superb football pitches at our club's ground, Snoxall, on Saturday we got the chance to use them.
14 of our U10s players ably supported by their parents turned up for our first training session of the new season.
It was a glorious sunny day and yet so strange because of the restrictions with which we are faced.
Our club, Cranleigh FC, is taking the protection of our young players, parents and coaches alike very seriously by exercising a strong social distancing and hygiene regime.
Ahead of the training session, all attendees had to complete an on-line declaration that no one in their household was evidencing any Covid-19 symptoms.
No declaration and they were unable to join in the session. This to ensure we were able to support track and tracing
On arrival, we arranged for the parents to socially distance themselves by setting up a rope barrier with support poles 2 metres apart.
In addition, we set up a hygiene box with hand sanitiser, gloves and tissues for attendees to use. A bag for any waste produced was made available.
Before coming onto the pitch, each player had their hands sanitised and this was repeated during drinks breaks every half-hour.
The goalposts nets and footballs, as well as goalkeeper gloves and plastic marker cones, were also frequently sprayed with disinfectant.
Whilst outside sports activity represents a very low risk of infection we wanted to go the extra mile to protect all involved.
In September we expect to start to play matches in the South Surrey Youth Football League so we will use August to ensure our players are fit, skilled and ready for those matches.
The key goal at all times is to have fun and if like Ryan (see photo) you can play in goal and save shots with your head, so much the better!!