We continue to be so lucky with the weather.
I can't help but feel how harder it would have been if the weather had been cold and wet throughout the spring and into summer this year.
I would have continued my daily walk, but I am sure it would have been far less enjoyable.
As I made my way into Cranleigh this morning, I was delighted to see the groundsman at work on Snoxall fields where I coach my soon to be U10s footballers.
He was marking out the pitches ready for the new season ahead.
Over the weekend, the Football Association had sent out their communication to grassroots football announcing the start of the new season and the return to football training and matches.
For my group, this will start on Saturday 1st August, and I, for one, cannot wait.
Things though, will be different this season.
We will, of course, have to pay particular attention to social distancing amongst the adults and a lot of attention to hygiene in respect of both the coaches and players and indeed the equipment that we use.
Even basic things like avoiding throw-ins in training and goalkeepers having to sanitize their gloves regularly will make things different to how they were before.
Throughout the last few months each time I have crossed paths with one of my players they have had just one question for me "When are we starting football again?" At last, I know the answer to that question.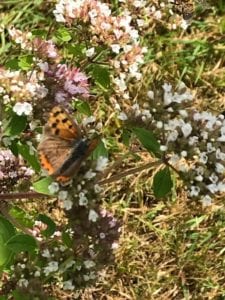 In the garden, it has been a lovely week with a lot of plants in bloom.
I have also added to my butterfly list in the last few days with sightings of a Small Blue and one of my favourites a Small Copper.
Although the last one was a bit of a tatty specimen but a lovely sighting none the less!