In this edition of The Briefing from Informed Choice on Tuesday 16th October 2018 – first time buyers on the rise, gambling failures fine, Ford warns on Brexit, life threatening cyber attacks, and Fidelity does crypto.
Subscribe to The Briefing by email
Enable the Amazon Alexa Flash Briefing Skill
First time buyers on the rise
The number of first-time buyers has reached its highest level since June 2017. That's according to the latest data from UK Finance, which shows there were 35,500 new first-time buyer mortgages completed in August. This is 2% more than in the same month a year earlier. The £6.1bn of new lending completed in August was 5.2% higher than last year. According to UK Finance, the average first-time buyer is 30 years old and has a gross household income of £42,000.
Commenting on the data, Jackie Bennett, Director of Mortgages at UK Finance, said:
Overall house purchase completions remain stable, driven largely by the number of first-time buyers which reached its highest monthly level since June 2017.

Buy to Let remortgaging saw relatively strong growth in August, due in part to the number of two year fixed deals coming to an end. This suggests that while new purchases in the buy-to-let market continue to be impacted by recent tax and regulatory changes, many existing landlords remain committed to the market.

However, the homeowner remortgaging market has softened slightly, reflecting the many borrowers who had already locked into attractive deals in the months preceding the Bank of England's base rate rise.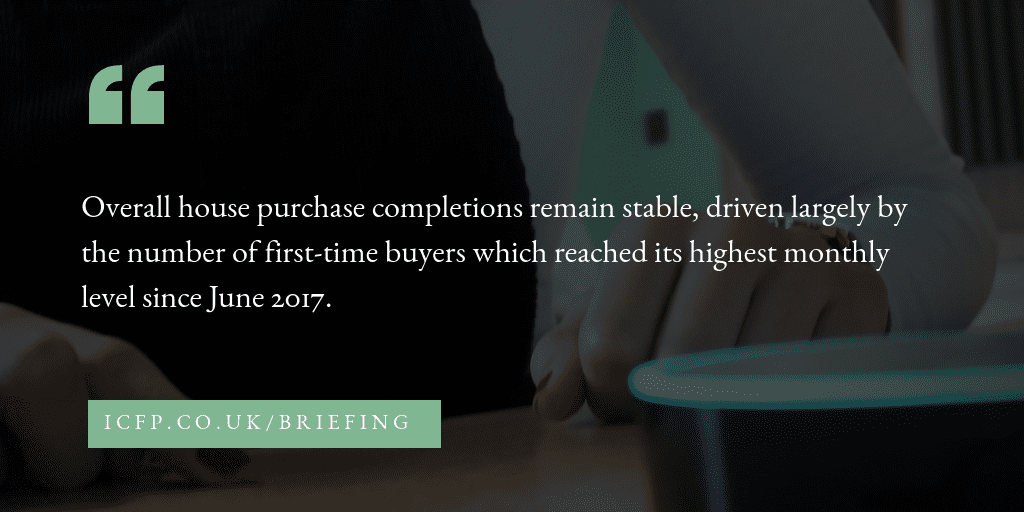 Gambling failures fine
Paddy Power Betfair has been fined £2.2m by the Gambling Commission after failings including allowing a gambler to bet with large sums of money stolen from a charity. The investigation discovered Paddy Power Betfair fell short when it came to interacting with problem gamblers and complying with anti-money laundering rules. The investigation centered on five customers in 2016, including one who had stolen a significant amount of money from his employer, a charity. Another customer was also using stolen money to gamble. The regulator identified weaknesses in the source of wealth and social responsibility checks in respect of three online customers of Paddy Power Betfair. Part of the settlement includes money returned to the charity. Gambling Commission executive director Richard Watson said:
As a result of Paddy Power Betfair's failings significant amounts of stolen money flowed through their exchange and this is simply not acceptable.

Operators have a duty to all of their customers to seek to prevent the proceeds of crime from being used in gambling.
Ford warns on Brexit
A no-deal Brexit "would be pretty disastrous" for UK industry, according to the European CEO of car manufacturer Ford. Steven Armstrong said he remains confident a tariff-free frictionless trade deal with will reached before the deadline, but a no-deal outcome would "force us to think about what our future investment strategy for the UK would be". He also said a post-Brexit trade deal based on the deal between the EU and Canada would not work for Ford, because it would still require border check and upset their just-in-time delivery model used in Europe. Ford makes engines in Dagenham and Bridgend, with a joint venture making gearboxes in Halewood. According to Mr Armstrong, a no-deal Brexit which resulted in the UK defaulting to World Trade Organisation rules and tariffs would, "put a significant amount of cost in our business," making the UK a less competitive place to do business. He said, "It would certainly make us think long and hard about our future investment strategy."
Life threatening cyber attacks
The National Cyber Security Centre has warned there is "little doubt" the UK will face a major life-threatening cyber attack in the near future. Its second annual review, published today, revealed more than 10 cyber attacks a week during the last two years. The majority of these attacks were traced back to "nation states in some way hostile to the UK". The NCSC became fully operational in 2016 and has since managed 1,167 cyber incidents, including 557 in the last 12 months. Ciaran Martin, CEO of the NCSC said the majority of these cyber attacks "were undertaken by groups of computer hackers directed, sponsored or tolerated by the governments of those countries. These groups constitute the most acute and direct cyber threat to our national security."
Fidelity does crypto
Investment provider Fidelity is launching a new cryptocurrency trading and storage platform. Fidelity Digital Asset Services has been created to provide cryptocurrency custody and trading services for enterprise clients. The division will be led by Tom Jessup, who said they hope to attract institutional investors, including hedge funds, family offices and market intermediaries. The move is significant as Fidelity is one of the largest financial services providers in the world, managing $7.2 trillion of client money. Jessup said:
The creation of Fidelity Digital Assets is the first step in a long-term vision to create a full-service enterprise-grade platform for digital assets.

In our conversations with institutions, they tell us that in order to engage with digital assets in a meaningful way, they need a trusted platform provider to enter this space. These institutions require a sophisticated level of service and security, equal to the experience they're used to when trading stocks or bonds.
Informed Choice provides a regular personal finance and investment news summary, with an updated Flash Briefing for your Alexa enabled device. Search for The Briefing from Informed Choice in your Amazon Alexa app or visit https://www.amazon.co.uk/Informed-Choice-Radio/dp/B074DZZ1MF/ to enable this Flash Briefing.