Cash machines disappear, retailer merger considered, and energy profit warning
In this edition of The Briefing from Informed Choice on Wednesday 12th September 2018 – cash machines disappear, retailer merger considered, energy profit warning, childcare costs rise, and gender pension gap.
Subscribe to The Briefing by email
Enable the Amazon Alexa Flash Briefing Skill
Cash machines disappear
Free-to-use cash machines are being withdrawn at a record rate exceeding 250 a month, according to a new warning issued by Link. The operator of the UK's largest cash machine network has reported more than 1,300 cash machines were closed down during the five months to the end of July. According to Link, this is the first decline in the size of the cash machine network in more than 20 years. Most cash machine removals were taking place in town and city centres, where alternative ways to access cash were available. However, 76 out of the 2,365 protected free-to-use cash machines were among those to be removed. A protected ATM is one that is more than a kilometre from any other cash machine or place where cash can be accessed without charge.
Link chief executive, John Howells, said:
Consumers are continuing to switch from cash to alternative payment methods, and ATM volumes are falling 6% year-on-year.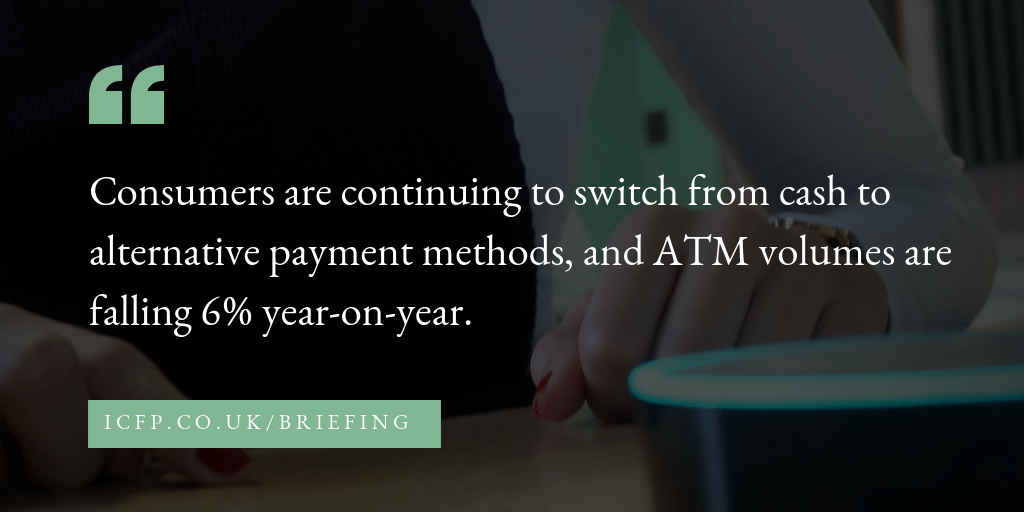 Retailer merger considered
An option to merge House of Fraser and Debenhams have been discussed, according to a non-executive director. Simon Bentley, who serves on the Sports Direct board, made the announcement at their Annual General Meeting. Bentley is leaving the business today after 11 years as a board director. Sports Direct owns House of Fraser after buying it last month and owns nearly a third of Debenhams. His comments follow the unexpected departure of Sports Direct chairman Keith Hellawell. The news follows speculation by analysts that the two firms could merge.
Energy profit warning
Energy supplier SSE has reported 'disappointing' and 'regrettable' performance in the first five months of its financial year. Blaming relatively dry, still and warm weather, and persistently high gas prices, the firm expects profits in the first half of the year to be around half of those reported a year earlier. Shares in SSE fell by 8% on the announcement.
Alistair Phillips-Davies, SSE's chief executive, said:
Lower than expected output of renewable energy and higher than expected gas prices mean that SSE's financial performance in the first five months has been disappointing and regrettable.
Childcare costs rise
New research has shown the true effect that the government's 30 hours free childcare scheme has had on hourly childcare costs. The research comes from Yoopies, one of Europe's biggest online care platforms, and shows families using in-home care – such as nannies – have suffered compared to parents with children in funded preschool or nursery places. Hourly prices for in-home childcare rose by by 4.1% in the last year alone, increasing from £8.16 in 2017 to £8.50 in 2018. This cost jump makes a huge difference to the bank balances of working parents. Those in full time jobs with a preschooler cared for at home are now spending an extra £68 per month compared with last year. The boost in rates has been seen just one year after the government launched its 30 hours of free childcare scheme in England, an initiative which was supposed to reduce childcare costs rather than increase them.
Lisa Lambert, spokesperson for Yoopies and a working mother of two said:
It's clear that the 30 hour scheme has really not delivered in reducing hourly childcare costs for working parents. The scheme has put so much financial pressure on early education providers that they are having to close or will only offer funded places on limited days. Parents have no other choice than to turn to the more flexible option of a nanny, which comes at a cost. If the trend continues then hourly rates are likely to get higher and higher. Nanny care is currently not part of the 30 free hours scheme but this needs to change if the government want to support working parents.
Gender pension gap
With Pension Awareness Day taking place this Saturday, Fidelity International have analysed pensions pots finding a significant 11% gap between men and women's future savings. Based on ONS projections and adjusting for inflation, the average pension pot for a man currently aged between 25-34 will be worth £142,836 at the State Pension age of 68. This falls to a pension pot of £126,784 for women. According to the research, more than half of women who hold a pension do not know where it is invested and close to a third of women don't know how much their pension is worth.
Maike Currie, Investment Director at Fidelity International said:
By the time women are nearing retirement (aged 55-64) our pension pots are on average half the size of a man's the same age. Yet, our life expectancy is longer than that of men, meaning we may require more care in old age and must make our money stretch over a longer time. Solving the gender pay gap may be some way off, but there are actions women can take now to secure their financial future."

Our research found that if a woman contributed an extra 1% of her salary to her pension than she could close the gender pension gap by retirement. Most of us don't consider ourselves investors, but it's more than likely we're already doing so through workplace pensions and this can make our money work as hard as we do. Taking this one small step could have a significant impact on finances in later life."

Employers and industry also have a role to play in making sure everyone feels informed about their pension and empowered to make the financial decisions required to ensure it grows to a pot size large enough to suit their lifestyle.
Informed Choice provides a regular personal finance and investment news summary, with an updated Flash Briefing for your Alexa enabled device. Search for The Briefing from Informed Choice in your Amazon Alexa app or visit https://www.amazon.co.uk/Informed-Choice-Radio/dp/B074DZZ1MF/ to enable this Flash Briefing.