Budget 2018 Briefing Note from Informed Choice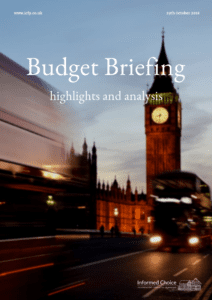 Following the Budget this afternoon, Martin has produced a free briefing note for our clients and professional contacts.
Within this briefing note we have described the main Budget announcements as they relate to personal financial planning.
Download the Informed Choice Budget Briefing Note for October 2018
Despite continued uncertainty around Brexit negotiations, there was some good news for taxpayers in this Budget, with the personal allowance and higher rate income tax thresholds both being increased from April.
Hammond repeated claims that austerity is coming to an end, but kept his powder dry in case more spending is needed when the UK leaves the European in March.
He even threatened to upgrade his Spring Statement next year to a 'full fiscal event', which could result in two Budgets in 2019.
As with every Budget and Spring Statement, the devil is often in the detail.
As more details come to light, we will add blogs on specific planning topics to our website.
Do call us on 01483 274566, email hello@icfp.co.uk, or follow us on Twitter @informedchoice if you would like to discuss your own investment, pension or Financial Planning as a result of the Budget today or any of the contents within this free briefing note.
Download the Informed Choice Budget Briefing Note for October 2018