Bank computer problems, Uber Deliveroo bid, and sandwich generation strain
In this edition of The Briefing from Informed Choice on Friday 21st September 2018 – bank computer problems, Uber Deliveroo bid, sandwich generation strain, Southern Water complaints, and student hardship forecast.
Subscribe to The Briefing by email
Enable the Amazon Alexa Flash Briefing Skill
Bank computer problems
Barclays, Natwest and Royal Bank of Scotland have experienced bank computer problems which prevented customer access to online accounts. The problems for Barclays started on Thursday morning and, according to reports on Twitter this morning, have contined into Friday, despite claims from the bank the issue is resolved. A spokesperson for Barclays said:
We're very sorry about the technical problems our customers have experienced today.

Everything is now back up and running and we're really grateful for customers bearing with us.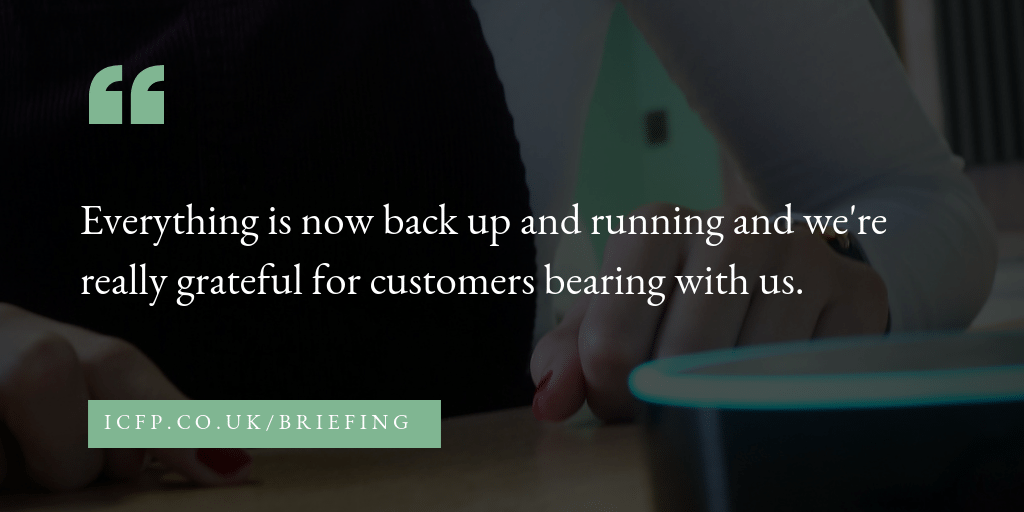 Uber Deliveroo bid
Uber is reportedly in talks to acquire food delivery service Deliveroo. The London-based startup was founded in 2013 and delivers to 200 cities in the UK, Europe, Asia and Australia. Deliveroo raised $482 million in venutre funding last year, valuing the business at around $2 billion. The interest from Uber comes as Deliveroo competes with Uber Eats, the food delivery service from Uber. With Uber planning an Initial Public Offering in 2019, it is focusing on its efforts around food delivery.
Sandwich generation strain
New research from LV= warns the UK's Sandwich Generation is feeling strained when it comes to their financial responsibilities. It has found this group of around 2.4million people – typically between 40 and 60 years old – lacks financial confidence and preparedness and, as this age group grows older, the issue is set to intensify. Shouldering significant responsibility – caring for children as well as an older relative or friend – means this group is more likely to worry about the impact of a financial shock on their dependents. More than half are worried about the consequences of a serious illness affecting themselves or their partner in the next 12 months, compared with 35% for the national average. They are also nearly two times more likely to worry about the prospect of themselves or their partner dying and leaving the family without an income.
Justin Harper, Head of Marketing at LV=, said:
It is clear this generation feel they are being pulled in many directions, with pressures to care for older relatives and ongoing responsibilities for their children. The Sandwich Generation have huge financial obligations and with the rising cost of living, are worrying more about what could be around the corner. Spreading their finances too thinly and dwelling on their worries, means the impact of having little or no plans in place, could expose them to a real income shock.

What this tells us is that there's a huge latent demand for advice that spans protection and retirement planning. Whether that's safeguarding their income during their working life or considering an investment strategy for their retirement that delivers both growth and security, as well as ways to supplement their income in retirement.
Southern Water complaints
A water company has been named the industry's worst performer for customer complaints for the sixth successive year, despite responding positively to pressure from the Consumer Council for Water. Southern Water reported more than a 20% reduction in written complaints in 2017/18 but still failed to improve its relative position in the Water Watchdog's annual complaints report. It remains bottom of 21 companies in England and Wales for complaints and for the number of telephone calls it received from customers wanting to resolve problems – known as 'unwanted contacts'.
Sir Tony Redmond, London and South East Chair for CCWater, said:
There are signs the company is heading in the right direction but we have not seen enough progress.

There will be no let up in the pressure from us until the company gets more into line with the rest of the industry.
Student hardship forecast
Students starting university this week could be heading for hardship by Christmas. This is according to money advice site Save the Student. Their National Student Money Survey 2018 finds many students end up struggling because Uni expenses are higher than they expect or can afford. This year's survey of 3,167 students reveals living costs of £770 a month – that includes money spent on rent, bills, books and socialising.
Jake Butler, Save the Student's money expert, said:
Every year we come across far too many students considering dropping out after Christmas simply because they've run out of money to live. Most 18 year olds have never seen four-figure sums sitting in their bank account, so it's vital they understand the money has to last them the full term. Setting a realistic budget (and sticking to it) is a must, and our annual survey helps new students get a clear picture of what's coming. If a student finds themselves in hardship, they should first speak to their university about special funding and support.
Informed Choice provides a regular personal finance and investment news summary, with an updated Flash Briefing for your Alexa enabled device. Search for The Briefing from Informed Choice in your Amazon Alexa app or visit https://www.amazon.co.uk/Informed-Choice-Radio/dp/B074DZZ1MF/ to enable this Flash Briefing.