Gordon Brown warning, London knocked off top spot, and divorce bill threat
In this edition of The Briefing from Informed Choice on Thursday 13th September 2018 – Gordon Brown warning, London knocked off top spot, divorce bill threat, more branch closures, and oil price rise.
Subscribe to The Briefing by email
Enable the Amazon Alexa Flash Briefing Skill
Gordon Brown warning
Former prime minister Gordon Brown has warned the world is 'sleepwalking' into a new financial crisis. He claimed the world is currently 'leaderless' and entering a period of economic vulnerability. Reflecting on his time as prime minister during the global financial crisis of 2008 and 2009, Mr Brown explained many of the issues emerging during that last financial crisis remain unresolved. Speaking to The Guardian, he said:
We are in danger of sleepwalking into a future crisis. There is going to have to be a severe awakening to the escalation of risks, but we are in a leaderless world.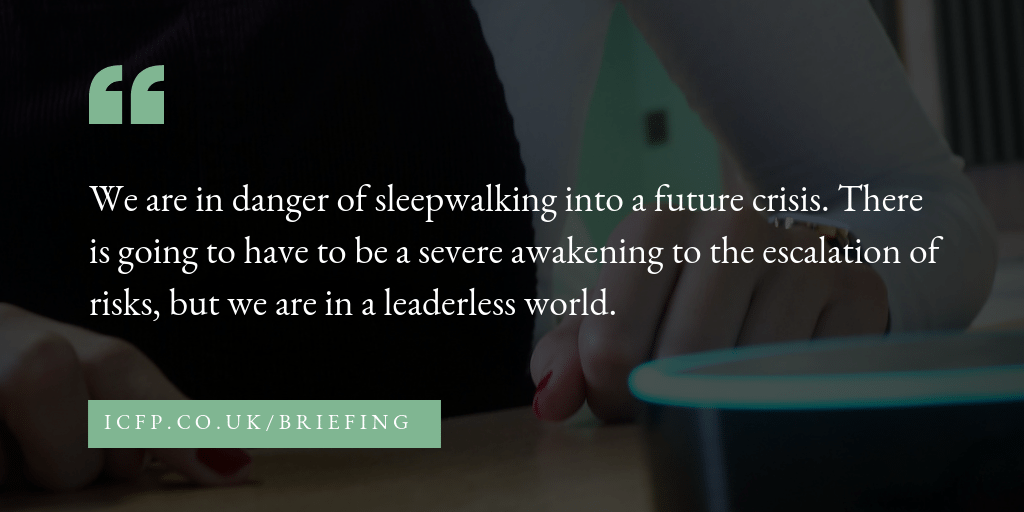 London knocked off top spot
New York has overtaken London as the world's top financial centre, according to a new ranking. The Z/Yen Global Financial Centres Index shows New York taking the top spot for the first time since 2015. According to the think tank, Brexit uncertainty is one factor knocking London off the top of the world rankings. Rival financial centres within the EU were among the cities making the greatest gains, along with some Asian centres. According to the study:
These centres may be the main beneficiaries of the uncertainty caused by Brexit. Surprisingly, despite some evident success in attracting new business, Dublin, Munich, Hamburg, Copenhagen, and Stockholm fell in the rankings, reflecting respondents' views of their future prospects.
Divorce bill threat
Britain could refuse to pay a £39bn 'divorce bill' when leaving the EU, if no trade deal is agreed. Brexit Secretary Dominic Raab made the claim as he increases pressure on Brussels to accept the Chequers Brexit plan. It follows tough rhetoric from Prime Minister Theresa May, who said a no-deal Brexit would change the UK's position on an exit settlement. Mr Raab said "there is no deal without the whole deal" ahead of the next round of negotiation talks with the EU on Thursday. Writing in the Daily Telegraph, he said the Government wanted to reach a good agreement, but also said:
It will require our EU friends to match the ambition and pragmatism we have demonstrated. If that doesn't happen, the UK will manage the challenges of no-deal, so we make a success of Brexit.
More branch closures
Lloyds Bank has announced the closure of another 15 branches, resulting in 23 job losses. The branch closures will take place by the end of March 2019. It follows a recent decision to close 49 branches between July and October this year, resulting in 325 job losses. A Lloyds spokeswoman said:
We have confirmed the locations of a small number of Lloyds bank branches which will close between January and March 2019.

These branch closures are in response to changing customer behaviour and the reduced number of transactions being made in branches.

All branches announced for closure have a Post Office less than half-a-mile away so customers can still access their banking locally.

We continue to make a significant investment in our branches and we are proud to have the largest network of branches in the UK.
Oil price rise
The oil price has risen above $80 a barrel with fears of a crisis in Iran and declining US stockpiles. The benchmark Brent crude rose by more than 1% to $80.13. It's the first time since May that the oil price has risen above $80 a barrel. One reason for the price rise is fears over the impact of US sanctions against Iran, targetting oil exports from the country. One analyst said there were 'real risks' that Brent crude could reach $100 a barrel.
Informed Choice provides a regular personal finance and investment news summary, with an updated Flash Briefing for your Alexa enabled device. Search for The Briefing from Informed Choice in your Amazon Alexa app or visit https://www.amazon.co.uk/Informed-Choice-Radio/dp/B074DZZ1MF/ to enable this Flash Briefing.