UK economy improving, Sterling rises on Brexit optimism, and card payments grow
In this edition of The Briefing from Informed Choice on Tuesday 11th September 2018 – UK economy improving, Sterling rises on Brexit optimism, card payments grow, remember a charity in your will, and Hong Kong bear market.
Subscribe to The Briefing by email
Enable the Amazon Alexa Flash Briefing Skill
UK economy improving
Britain experienced its fastest economic growth in nearly a year during the second quarter, as a result of strong consumer spending driven by the World Cup and warmer than usual spell of weather. The latest official figures show GDP up 0.6% compared to the first quarter. This represents the fastest economic growth since August 2017 and exceeds Bank of England forecasts.
Deloitte economist Ian Stewart said:
Far from running out of steam, UK activity has picked up after a very poor start to the year. Monthly data is choppy, but this pick-up shows that the UK is entering the crucial phase of Brexit talks in better shape than seemed likely six months ago.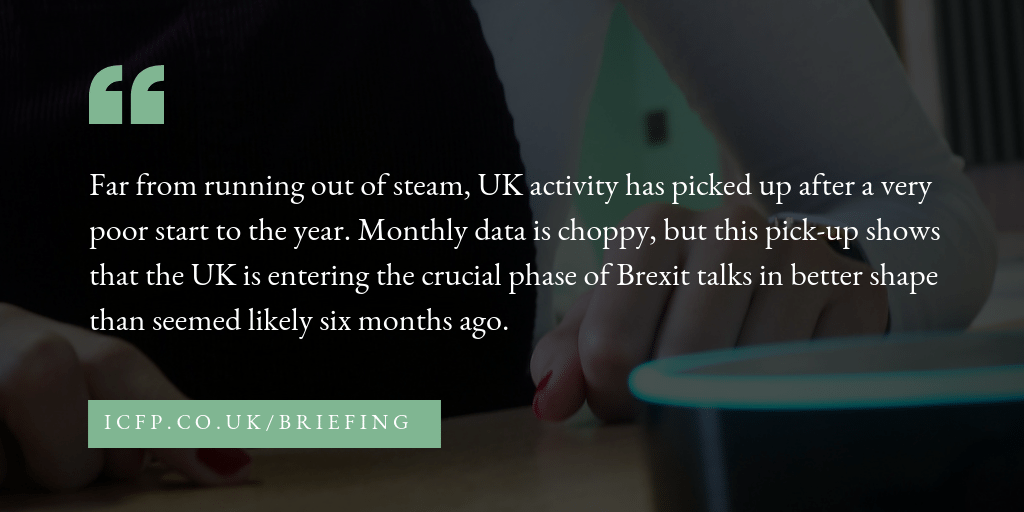 Sterling rises on Brexit optimism
Pound Sterling rose by more than 1% against the US Dollar on Monday following positive comments over Brexit negotiations. EU chief negotiator Michel Barnier said a deal was achievable within the next couple of months, "if we are realistic". It's the second positive statement from Barnier in the past week, which suggests the EU could be prepared to soften its negotiating position. Speaking at a business forum in Slovenia, Mr Barnier said:
"I think that if we are realistic we are able to reach an agreement on the first stage of this negotiation which is the Brexit treaty within six or eight weeks."
Card payments grow
Card payments now represent three out of four retail transactions, according to new data from the British Retail Consortium. Their latest Payments Survey found cash payments fell by 1% year-on-year, now representing just 22% of retail sales in the UK. Overall retail sales were up by 4.3% last year to reach £366bn. Of this, cards were used to pay for £277.1bn of goods. The costs to retailers for accepting card payments rose 39% last year, with costs forecast to rise between 30% and 100% this year.
The BRC's head of payments and consumer credit Andrew Cregan said:
EU payment regulation introduced in 2015 delivered savings for the retail industry and consumers, but these benefits have now been eroded by increases in other card fees. In fact many smaller retailers have questioned whether savings were ever passed on by card companies.

The BRC are now looking to the Government and Regulator to tackle the alarming increases to card scheme fees imposed on retailers, and for action to simplify the complex fees and charges levied by the card payments industry.
Remember a charity in your will
Co-op Legal Services is urging the nation, and will providers, to take action as national Remember A Charity in your Will Week 2018 commences. The findings in a recent survey into death and dying uncovered that 68% of UK adults have not yet written a will. However, amongst those who have put provisions in place Co-op's latest business data reveals that the financial value of gifts being left to charity has increased by over 30% in the last 12 months.
Gifts left in wills are vital to charities, with Cancer Research UK stating it remains its single biggest source of fundraising income. Co-op's business data, based on thousands of wills, highlights that whilst its clients are leaving gifts most frequently to charities that tackle cancer, animal charities are continuing to rise in popularity, with almost a quarter of all legacy gifts being given to them. This has risen by almost 10% in the last 12 months. As well as donating to make a difference with medical advancements, people are also wanting to give back to their communities and local causes, with 11% of legacy gifts having been pledged to these this year.
Hong Kong bear market
Hong Kong stocks briefly slipped into bear market territory on Monday, with growing fears of a trade war between China and the US weighing on investor sentiment. The Hang Seng Index of 50 Hong Kong stocks fell 1.9% to reach an intraday low of 26,453.29 points during afternoon trading. It means the index has fallen by 20% since January, bringing an end to a 23-month long bull run during which the index rose by more than 80%. It's the first time since August 2015 that the Hang Seng has entered bear market territory.
Informed Choice provides a regular personal finance and investment news summary, with an updated Flash Briefing for your Alexa enabled device. Search for The Briefing from Informed Choice in your Amazon Alexa app or visit https://www.amazon.co.uk/Informed-Choice-Radio/dp/B074DZZ1MF/ to enable this Flash Briefing.