Debenhams business review, Ma to retire, and four-day working week
In this edition of The Briefing from Informed Choice on Monday 10th September 2018 – Debenhams business review, Ma to retire, four-day working week, falling business optimism, and Brexit economic toll.
Subscribe to The Briefing by email
Enable the Amazon Alexa Flash Briefing Skill
Debenhams business review
Department store Debenhams has called in business consultants from KPMG to consider a variety of options for the business. The move comes during a turnaround plan aimed at cutting costs and increasing sales. Debenhams has already acknowledged retail conditions are "challenging". According to reports, Debenhams and KPMG are exploring a number of potential options, including a company voluntary arrangement.
Debenhams said in a statement:
Like all companies, Debenhams frequently works with different advisers on various projects in the normal course of business.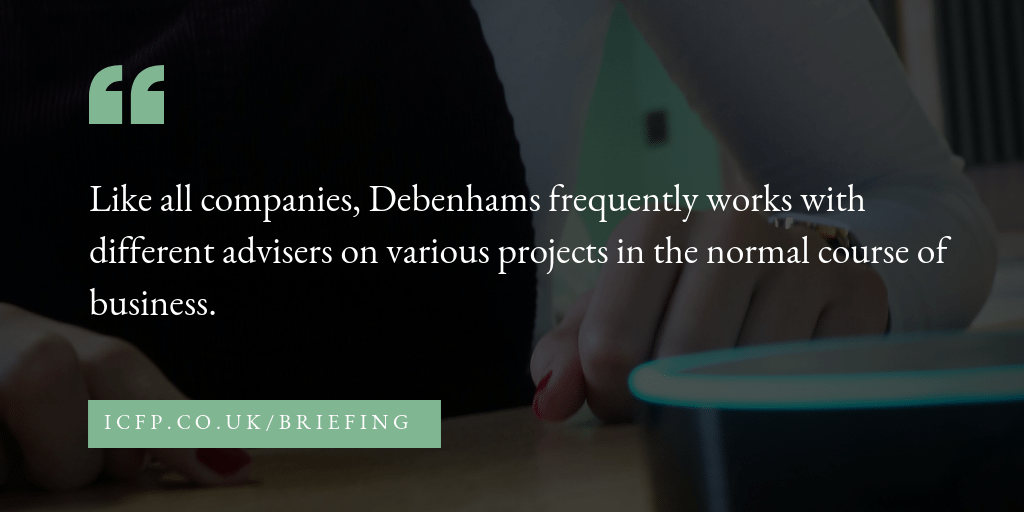 Ma to retire
E-commerce giant Alibaba co-founder Jack Ma has announced his plans for retirement. Mr Ma announced the decision in a letter to shareholders and customers released on his 54th birthday. Alibaba chief executive Daniel Zang will take over running the company, one of the most valuable in the world, which has seen its share price almost double in the last year. The changeover will take place on 10th September 2019, with the handover period aimed at delivering a "smooth and successful transition."
In his letter, former teacher Mr Ma said:
"Teachers always want their students to exceed them, so the responsible thing to do for me and the company to do is to let younger, more talented people take over in leadership roles."
Four-day working week
Trade union TUC has called on employers to introduce a four-day working week in order to share the benefits of technology efficiencies with their workforce. The TUC is calling on government to help people work less but get paid the same. It claims improvements in artificial intelligence, advanced robotics and automation could result in £200bn boost for the UK economy within the next decade.
TUC general secretary Frances O'Grady said:
We know that some people are pessimistic about whether technology will make their lives better but technology could be a force for good, we can also make everyone's working lives better and richer.

It doesn't have to be about surveillance and exploitation. This could be about creating more satisfying work.
Falling business optimism
Business optimism has fallen to a 17-month low, according to the latest Optimism Index from BDO. The fall in optimism coincides with nervousness around Brexit negotiations and the possibility of a 'no deal' exit from the European Union. BDO's Optimism Index records how UK businesses expect their output to develop during the next three to six months. It fell by 0.43 points in August to reach 101.93. An index reading above 100 indicates growth.
Peter Hemington, a partner at BDO, said:
With the services sector accounting for more than 80 per cent of UK GDP, the government must do more to reassure businesses that it will protect Britain's 26 million services sector workers as Brexit negotiations take place, particularly considering the UK has the highest share of services exports than any leading economy.
Brexit economic toll
Consultancy KPMG is forecasting a sharp fall in consumer spending and business investment in the second half of the year. It expects UK economy growth to fall to 1.3% this year, with Brexit uncertainty taking its toll. Consumer spending growth is forecast to fall from 1.9% in 2017 to 1.2% this year. Business investment growth is forecast to fall from 3.4% last year to 0.8% this year. The report also warned about a growing difficulty in finding suitable staff, greater pressures on profit margins, and the impact of Brexit uncertainties driving consumer and business caution.
KPMG said:
If productivity growth remains at around 1% then, as a basic rule of thumb, we would expect wages to rise by around 3% on average.
Informed Choice provides a regular personal finance and investment news summary, with an updated Flash Briefing for your Alexa enabled device. Search for The Briefing from Informed Choice in your Amazon Alexa app or visit https://www.amazon.co.uk/Informed-Choice-Radio/dp/B074DZZ1MF/ to enable this Flash Briefing.