RBS branch closures, economically damaging debt & energy price cap
In this edition of The Briefing from Informed Choice on Thursday 6th September 2018 – RBS branch closures, economically damaging debt, energy price cap, funeral costs update, and tariff worries shake European equities.
Subscribe to The Briefing by email
Enable the Amazon Alexa Flash Briefing Skill
RBS branch closures
Royal Bank of Scotland (RBS) is drawing up plans to close a further 54 branches. The next round of branch closures will result in the loss of 258 jobs. It follows a decision in May to close 62 bank branches, resulting in 792 job losses. The latest closures, combined with those announced in May, are linked to its decision not to sell the Williams & Glyn business. A quarter of the branches earmarked for closure in this latest round represent the last bank in town, prompting criticism from consumer and business groups in respect of customers who rely on branch services. 62% of RBS is owned by the taxpayer following a bailout in 2008. It says it is seeking to close branches in close proximity to other branches, with the aim of reducing overlap.
An RBS spokesman said:
As we are no longer launching Williams & Glyn as a challenger bank we now have two branch networks operating in close proximity to each other in England and Wales – NatWest and Royal Bank of Scotland.

As a result we have reviewed our overall branch footprint in England and Wales and have made the difficult decision to close 54 Royal Bank of Scotland branches. Customers of Royal Bank of Scotland in England and Wales will be able to use NatWest branches and local post offices for their everyday banking needs.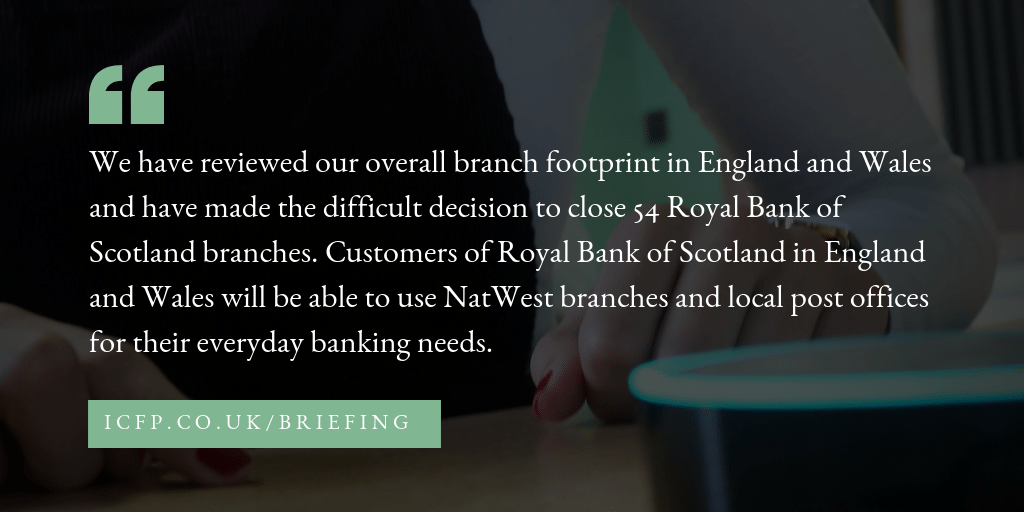 Economically damaging debt
£900m a year is being lost in the British economy as a result of rising personal debt problems. That's according to a new report from the National Audit Office. They found that reduced levels of worker efficiency, people staying away from work and the greater propensity for those in debt to commit crime meant there is a wider economic cost of £897m a year to the wider economy. The taxpayer is carrying the burden of personal debt problems as a result. The NAO also suggested the government's debt collection practices could be exacerbating the situation.
Sir Amyas Morse, head of the NAO, said explained government attempts to address problem debt were insufficient, saying:
The Treasury needs a better understanding of the scale of people's debt problems and how it is impacting their lives and the taxpayer so it can effectively resolve the problem.
Energy price cap
Energy regulator Ofgem has published proposals for a new energy tariff cap. They say it will result in 11m households on poor value deals saving around £75 a year, on average. Those on the worst value energy tariffs will save up to £120 as a result of the price cap. Once implemented, energy suppliers would have to cap their annual tariffs at £1,136. Ofgem was given powers by government as part of the Domestic Gas and Electricity (Tariff Cap) Act, which became law in July, to introduce the price cap.
Ofgem said:
The exact savings each individual household would make will depend on the price of their current deal, how much energy they use, whether they have both gas and electricity and how they pay for their energy. Those who buy their electricity and gas from different suppliers would also save more.
Funeral costs update
New research from Royal London reveals the average cost of a funeral is £3,757, with costs having stabilised this year. The Royal London National Funeral Cost Index, in its fifth year, shows that London has consistently been the most expensive region in the UK for a funeral, with the average funeral costing £4,838. Kensal Green, in London, remains the most expensive location, with the average cost of a funeral at £7,489. Burial funerals in Kensal Green have also increased and now cost almost £12,000. Northern Ireland also remains the least expensive region, with a funeral in Belfast costing an average of £2,950.
Royal London's funeral cost expert, Louise Eaton-Terry, said:
High funeral costs have left many families taking on a mountain of debt, with our research showing a huge increase in the amount being borrowed by the bereaved over the last five years. More support needs to be offered to families struggling to pay for funeral costs, and as a result being forced into debt.

The funeral payment is seriously lacking, and it's shocking that the government do not consider funeral director's fees and a coffin to be a "necessary" cost. We want the social fund to cover the cost of a basic funeral, as no one should have to struggle to give their loved ones a decent send-off.
Tariff worries shake European equities
European equities fell to a five-month low in early trading on Thursday, with concerns about US tariffs. If implemented, Washington plans to levy an additional $200 billion on Chinese imports, causing concern for investors. The STOXX 600 benchmark in Europe fell to its lowest level since early April during early trading. Germany's DAX and the UK's FTSE 100 also fell on the concerns. The consultation period for new Chinese import tariffs ends today, although it remains unclear how quickly a decision on the tariffs could be implemented.
Informed Choice provides a regular personal finance and investment news summary, with an updated Flash Briefing for your Alexa enabled device. Search for The Briefing from Informed Choice in your Amazon Alexa app or visit https://www.amazon.co.uk/Informed-Choice-Radio/dp/B074DZZ1MF/ to enable this Flash Briefing.