The Briefing on Friday 31st August 2018
In this edition of The Briefing from Informed Choice on Friday 31st August 2018 – Wonga has gone, Brexit deal optimism, pensions committee chair resigns whip, unmarried bereavement benefits ruling, and new car accidents.
Subscribe to The Briefing by email
Enable the Amazon Alexa Flash Briefing Skill
Wonga has gone
Wonga, the largest payday loan company in Britain, has collapsed following a deluge of customer claims. The lender collapsed only weeks after receiving an extra £10m of funding from existing investors. It warned at the time that it was in danger of becoming insolvent, due to mounting customer claims. According to one report, the cash injection prompted a new round of compensation demands led by claims management firms.
In a statement, Wonga said:
Chris Laverty, Daniel Smith and Andrew Charters of Grant Thornton UK LLP are in the process of being appointed as joint administrators.

Wonga customers can continue to use Wonga services to manage their existing loans but the UK business will not be accepting any new loan applications. Customers can find further information on the website.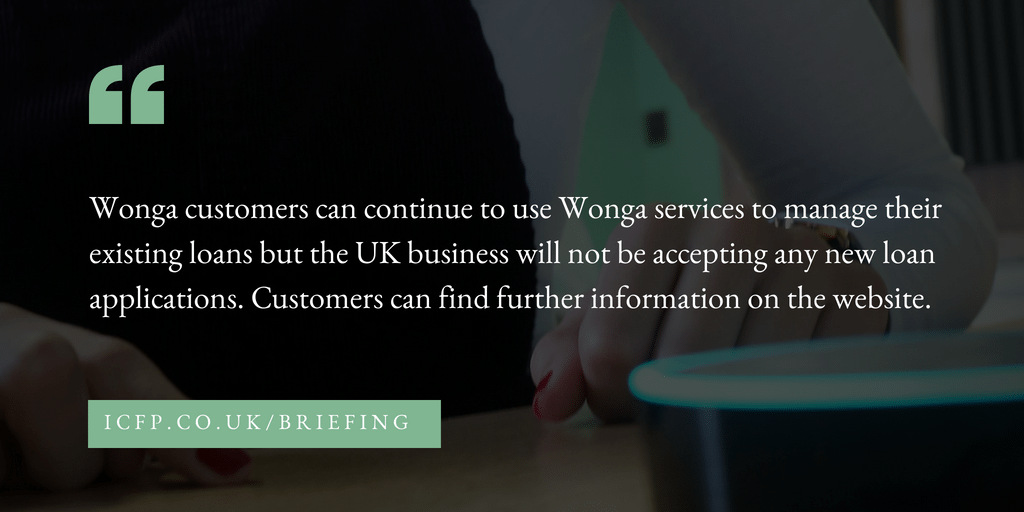 Brexit deal optimism
EU Brexit chief negotiator Michel Barnier has issued an update on the current state of negotiations, resulting in a surge in the pound. Barnier said the EU is ready to offer "a partnership with Britain such as has never been with any other third country." The comments were interpreted by markets that a no-deal Brexit was less likely, with the pound rising 1% against the euro. Despite the optimistic update, Barnier then warned in a later statement that a no-deal Brexit remains a possibility. He said:
"Our responsibility is to be well prepared for all possible outcomes in any case. This includes the no-deal scenario…because at the moment we are not ready to reach an agreement. So we have to be prepared."
Pensions committee chair resigns whip
Frank Field MP, chairman of the Work and Pensions committee, has resigned the Labour whip due to an "appalling culture" within the party. After representing his Birkinhead contituency for more than 40 years, Field said under Jeremy Corbyn's leadership, Labour was now "a party where anti-Semitism is more than tolerated".
Steve Webb, Director of Policy at Royal London said:
"It is vitally important that Frank Field's decision to resign the Labour whip does not affect his role as chair of the work and pensions committee. Although we do not see eye to eye on every issue, there is no doubt that he is one of the most knowledgeable MPs in Parliament when it comes to pensions. In particular, I am sure that his pressure on the former owner of BHS played an important part in ensuring that BHS pensioners got a better outcome. I hope that MPs of all parties will support Frank Field in retaining this key role"
Unmarried bereavement benefits ruling
Siobhan McLaughlin, an unmarried mother of four children who was denied bereavement payments after her partner died has won a landmark Supreme Court case to access widowed parent's allowance for her children. Johnny Timpson, protection specialist at Scottish Widows, said:
The number of cohabiting households has more than doubled from 1.5 million in 1996 to 3.3 million in 2017, according to the Office for National Statistics. Times have moved on and cohabitees should qualify for this vital support at a time when they need it most.

The outcome today on Mrs McLaughlin's case is a landmark ruling, helping improve financial outcomes for cohabiting families and women, as well as raising awareness of their resilience and protection needs.
New car accidents
As the new 68-registration plate is introduced, Admiral car insurance has revealed that drivers in new cars are 21% more likely to have an accident than those driving an older car. Their claims figures show drivers of a car that is new to them have a 27% higher claim frequency than those who have had their car for longer than twelve months. Female drivers were found to be more likely to have an accident in a new car, while men are more likely to have a bump in an older car.
Lorna Connelly, Head of Claims at Admiral, said:

"Whether you have a brand-new car or even one that's new to you, adjusting to the different size and dimensions of the vehicle can take some time. It doesn't matter whether you've just passed your driving test or have been driving for some time, the likelihood of having an accident increases when you change your car so it's important drivers buying a new car this week take care to avoid bumping their new wheels.

"We found that many claims for accidents in new cars were the result of not being aware of obstacles around the car, such as bollards, walls and posts. Nobody wants to scrape a lovely new car, so drivers should spend some extra time getting familiar with it, it's dimensions and size, and the way it drives. It could end up preventing any needless bumps. Thankfully more and more new cars are fitted with technology which can help reduce parking accidents such as rear view cameras, so hopefully we'll start seeing these types of accidents reducing in the future."
Informed Choice provides a regular personal finance and investment news summary, with an updated Flash Briefing for your Alexa enabled device. Search for The Briefing from Informed Choice in your Amazon Alexa app or visit https://www.amazon.co.uk/Informed-Choice-Radio/dp/B074DZZ1MF/ to enable this Flash Briefing.