The Briefing on Wednesday 22nd August 2018
In this edition of The Briefing from Informed Choice on Wednesday 22nd August 2018 – don't blame fraud victims, Ryanair cheques bounce, putting off potential buyers, social media car choice, and inaccurate price comparison sites.
Subscribe to The Briefing by email
Enable the Amazon Alexa Flash Briefing Skill
Don't blame fraud victims
Banks have been warned by the Financial Ombudsman Service to stop automatically blaming customers when money is lost through scams. They have been warned by the Ombudsman that it's not fair to automatically blame customers in this scenario. They also said that fraudsters are using increasingly sophisticated techniques, which means banks are wrong to assume losses are the result of customer carelessness. Customers transferred an estimated £240m to fraudsters last year, and only a quarter of this money was refunded by financial firms.
Caroline Wayman, chief ombudsman and chief executive of the Financial Ombudsman Service said:
It's not fair to automatically call a customer grossly negligent simply because they've fallen for a scam.

That's especially true in light of the sophisticated way criminals exploit banks' security systems – and convince customers that their money is at risk.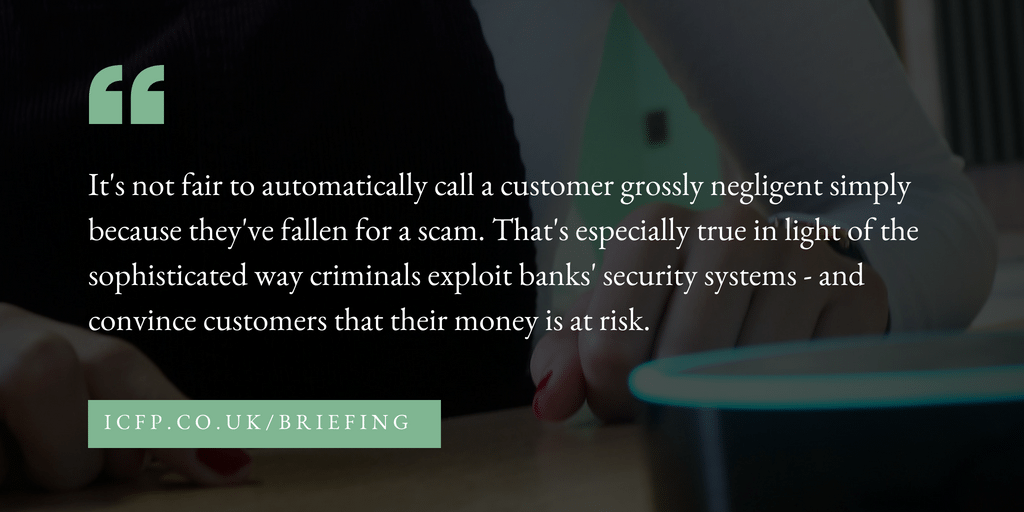 Ryanair cheques bounce
Budget airline Ryanair is being accused of sending cheques to customers for compensation claims which have subsequently bounced. Ryanair has apologised, saying "a very small number of cheques" processed in July had been issued without a signature due to an "administration error". The cheques were in respect of compensation claims for cancelled flights or flight delays. In July, thousands of Ryanair customers had their flights cancelled or delayed due to a strike by Irish pilots over seniority, promotion and annual leave.
Speaking to Sky News, a Ryanair spokesman said:
Due to an administrative error, a very small number of cheques (processed on 27 July 2018) were issued without a required signatory.

Once this error became evident, these cheques were re-issued to customers along with a letter of explanation (on 15 August 2018) and we apologise again for any inconvenience caused to customers.
Putting off potential buyers
An online services marketplace has partnered with a panel of 20 estate agents and other home improvement service professionals to highlight some of the top issues putting off potential homebuyers. Experts revealed that DIY disasters and cluttered bedrooms could knock £10k off the price of an average home in the UK, while a messy garden can devalue a property by up to 20%. The guide has been put together to help homeowners add as much value to their properties as possible this Bank Holiday Weekend. Bark.com teamed up with a panel of 20 estate and lettings agents, interior decorators, plumbers and gardeners that advertise their services through the site to create a comprehensive guide to help home owners secure the highest possible asking price. The experts also revealed that on average, homeowners in the UK planning a renovation of their property in the next year will spend more than £20,000 on home improvements.
Kai Feller, co-founder of Bark.com, said:
Selling a house can be a complicated process, especially when it comes to trying to please potential buyers. However, there are several steps homeowners can take to add as much value to a property as possible.

We've been monitoring the demand for our home improvement service providers and decided to do some research into the effect these services could have on house prices. Some of these changes are simple, such as thoroughly tidying bedrooms for example, but research has shown that they really do make a huge difference to potential buyers.
He continued:
The resulting guide highlights the most common things that affect property value and we hope that it will be a useful reference for homeowners around the UK, potentially earning them thousands of pounds when they come to sell. If you do spot something you're guilty of in our guide, there's a local service provider on Bark.com who can help.
Social media car choice
A new investigation from Admiral Car Finance has found that the desire to match what's seen on social media extends beyond personal image and fashion choices, to the cars we choose to drive. This may have financial implications on younger generations too, as over half of drivers aged 19-36 admit to feeling pressure to buy a specific car for status or prestige. Admiral found that whilst almost a third of millennial drivers were guided by their budget when selecting a car to buy, almost a quarter of the same age group admitted it was their friends who influenced their purchase. When it comes to social media, many drivers aged between 19-36 are swayed by what they see on their phone screens. 22% found Facebook had a big impact on their car buying decision, while 16% were influenced by Instagram. By comparison, just 6% of drivers aged 37-54 were influenced by Facebook and 4% by Instagram.
Scott Cargill, CEO at Admiral Loans said:
While budget is still the main influence for all generations when choosing a car, for many millennials in particular it would seem that social media influencers matter too. It's really important that anyone taking out finance on a car remembers that the most important factor is not what social media, or their mates, think is cool, but picking a car that is affordable to ensure they don't put themselves under undue financial strain.

Celebrities and online influencers in particular are likely to be photographed in cars that they have been loaned as part of sponsorship or are using for advertising purposes, there's a good chance they don't actually own or pay the finance for those cars themselves and stretching yourself to copy them could land you in financial difficulty.
Inaccurate price comparison sites
Price comparison sites are presenting car insurance policies full of errors, according to a new investigation. Which? found that millions of customers are failing to get a clear picture when they use price comparison websites to search for car insurance. The consumer body looked at four of the biggest price comparison sites. They found at least one detail different between the comparison website and policy documents in six out of 10 policies examined. Which? cross-checked information presented by Compare The Market, GoCompare, MoneySupermarket and Confused.com with policy information on the insurers' websites and in policy documents to identify the discrepancies.
Which? money editor Harry Rose said:
We were staggered to see such a high amount of errors across the policies listed on price comparison sites.
Informed Choice provides a regular personal finance and investment news summary, with an updated Flash Briefing for your Alexa enabled device. Search for The Briefing from Informed Choice in your Amazon Alexa app or visit https://www.amazon.co.uk/Informed-Choice-Radio/dp/B074DZZ1MF/ to enable this Flash Briefing.