The Briefing on Wednesday 8th August 2018
In this edition of The Briefing from Informed Choice on Wednesday 8th August 2018 – life expectancy slowdown, Tesla privatisation plan, British Gas price hike, Fox Sky takeover bid, and crypto selloff continues.
Subscribe to The Briefing by email
Enable the Amazon Alexa Flash Briefing Skill
Life expectancy slowdown
The UK has experienced one of the biggest slowdowns in life expectancy improvements in the world, according to new official figures. ONS data shows rises in life expectancy fell from 12.9 weeks per year for women from 2006 to 2011 to 1.2 weeks per year from 2011 to 2016. It means the increase in life expectancy for women is now one of the slowest of the 20 countries studied for the report. For men, only the US experienced slower life expectancy improvements.
Alan Evans from the Office for National Statistics said:
The slowdown in life expectancy improvements that has been observed in the UK since 2011, is also evident in a number of countries across Europe, North America and Australia. However, the UK has experienced one of the largest slowdowns in life expectancy at birth and at age 65 years for males and females.

By contrast, Japan has come through a period with low life expectancy gains and has recently experienced an acceleration of mortality improvements, showing that even after a period of slow growth in life expectancy, a country may again return to faster improvements.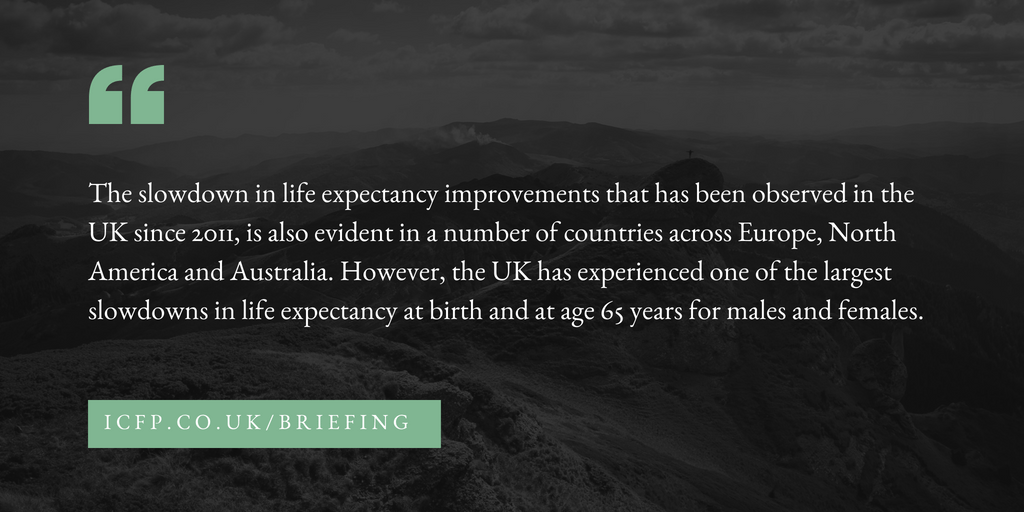 Tesla privatisation plan
Billionaire tech entrepreneur Elon Musk is considering taking Tesla private, claiming the move was the "best path forward" for the business. He said that de-listing the electric car maker would remove short-term pressure from investors. He made the comments on Twitter, rather than via an official regulatory disclosure, saying shareholders would be offered $420 a share, valuing the business at more than $70bn. He also claimed to have the funding in place to buy shares from its current shareholders. Such a move would require a shareholder vote, and Musk said "a final decision has not been made." Trading in Tesla shares was initially suspended following the tweets, pending a formal announcement.
British Gas price hike
British Gas has announced a price hike for its 3.5m customers. Its standard variable tariff will increase by 3.8% in October, taking an average bill £44 higher to £1,205 a year. It represents the second price rise this year, with parent company Centrica saying wholesale energy prices have risen again. As of March, new British Gas customers can no longer access the standard variable tariff. The energy supplier also has 2.4m customers with fixed tariffs, who will be unaffected by the price rise.
Mark Hodges, chief executive of Centrica's consumer arm, said:
We understand that any price increase adds extra pressure on customers' household bills. However, this reflects the sharp rise in wholesale energy costs.
Fox Sky takeover bid
Twenty-First Century Fox Inc has posted an offer document and form of acceptance for its £14 a share offer to buy Sky. Fox is planning to acquire Sky using a takeover offer, rather than the previously thought scheme of arrangement. It means the deal is condition on at least three quarters of Sky shareholders accepting the offer by the deadline of 22nd September. The Fox offer for Sky remains lower than the £14.75 a share offered by Comcast. An independent committee at Sky will respond to Fox's offer within 14 days.
Crypto selloff continues
A cryptocurrency selloff has continued, following an announcement by the U.S. Securities and Exchange Commission postponing its decision on whether to approve a Bitcoin Exchange Traded Fund. The broad selloff of digital currencies has reduced its market value, as tracked by Coinmarketcap.com, by $230 billion. It now stands at the lowest level since November. Digital currencies have lost around $606 billion in value since a peak in January. The SEC postponement is a blow to the market which hoped confirmation of a Bitcoin-backed ETF would help sustain a tenuous rally from last month. Mainstream adoption of cryptocurrencies is hoped to help support prices.
The SEC now has until 30th September to "approve or disapprove, or institute proceedings to determine whether to disapprove" a proposed rule change that would allow the listing of an ETF from VanEck Associates Corp. and SolidX Partners Inc. An initial deadline was due to expire next week.
Informed Choice provides a regular personal finance and investment news summary, with an updated Flash Briefing for your Alexa enabled device. Search for The Briefing from Informed Choice in your Amazon Alexa app or visit https://www.amazon.co.uk/Informed-Choice-Radio/dp/B074DZZ1MF/ to enable this Flash Briefing.