The Briefing on Tuesday 7th August 2018
In this edition of The Briefing from Informed Choice on Tuesday 7th August 2018 – World Cup spending boost, safeguard energy tariff rise, euro parity warning, Facebook seeks bank data, and UK car sales rise in July.
Subscribe to The Briefing by email
Enable the Amazon Alexa Flash Briefing Skill
World Cup spending boost
England's strong performance in the World Cup and the spell of hot weather boosted sales of food, drink and electric fans during July. According to the British Retail Consortium, total retail sales rose 1.6% compared to the same month a year earlier, which represents the weakest growth since February, excluding an anomaly in April due to the timing of Easter. The BRC also reported non-food retail sales falling after reporting a rise in the two previous months.
BRC chief executive Helen Dickinson said:
Last month's sweltering temperatures kept shoppers focused on eating, drinking and keeping cool. Food sales had their best July in five years, while fans and cooling equipment flew off the shelves. However, total sales growth slowed as the heat laid bare the underlying weakness in consumer spending.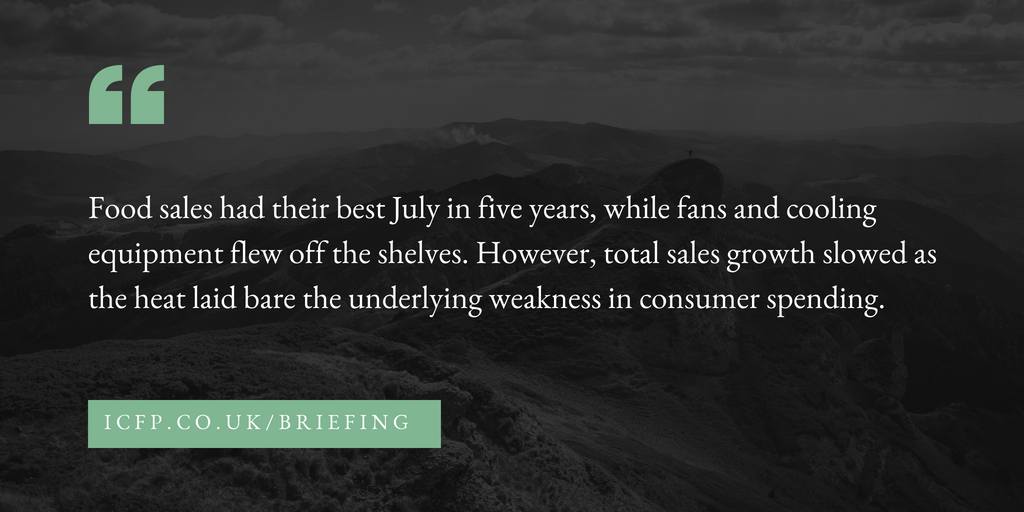 Safeguard energy tariff rise
Energy regulator OFGEM has increased the maximum energy companies can charge customers on variable tariffs by £47 a year, as a result of rising wholesale energy prices. OFGEM's safeguard tariff, which applies to those who pre-pay for their fuel, will rise to £1,136 a year in October. The price cap is designed to protect five million energy customers from overcharging. It was extended to cover an additional one million households earlier this year.
Dermot Nolan, chief executive of Ofgem, said:
Any price rise for customers is unfortunate.

But while the level of the tariff will rise in October, these customers can be confident that this increase is justified and that their energy bill reflects the real cost of supplying gas and electricity.

There are also better deals on the market for those who want to save even more money by switching.
Euro parity warning
A leading foreign exchange analyst has warned Pound Sterling could reach parity with the Euro, if the UK and EU fail to reach a Brexit trade deal. Jane Foley, Head of FX Strategy at Rabobank in London, has issued the warning the currencies could trade one for one, with foreign currency traders increasingly concerned about the failure for negotiators to reach a trade deal over Brexit. The exchange rate has declined from a high of 1.1599 on 17th April to 1.13 today.
Foley said:
This is all about politics now for the Pound.
Facebook seeks bank data
Social media giant Facebook is asking US banks to share detailed financial information about their customers, so it can deepen user engagement on its Messenger Platform. The Wall Street Journal is reporting the move as a way for Facebook to deepen relationships with customers, whilst still reeling from the Cambridge Analytica scandal. According to the report, JPMorgan Chase, Wells Fargo, US Bank and Citigroup are among the US banks approached by Facebook to discuss deeper use of its messaging service. Facebook is reportedly interested in access to card transaction data and current account information. Facebook users would then be able to check their account balances and receive fraud alerts.
A JPMorgan spokeswoman told the Wall Street Journal that the bank isn't "sharing our customers' off-platform transaction data with these platforms, and have had to say no to some things as a result."
UK car sales rise in July
New car sales in the UK rose by an annualised 1.2% in July as a result of good weather and attractive sales offers. The Society of Motor Manufacturers and Traders reported sales reaching 163,898 units last month. The UK new car market is down 5.5% year to date, in line with market expectations.
SMMT Chief Executive Mike Hawes said:
The feel-good factor from a sun and sport-packed July, combined with some fantastic deals on a raft of exciting new models, clearly helped keep showrooms relatively busy last month.
Informed Choice provides a regular personal finance and investment news summary, with an updated Flash Briefing for your Alexa enabled device. Search for The Briefing from Informed Choice in your Amazon Alexa app or visit https://www.amazon.co.uk/Informed-Choice-Radio/dp/B074DZZ1MF/ to enable this Flash Briefing.