The Briefing on Monday 6th August 2018
In this edition of The Briefing from Informed Choice on Monday 6th August 2018 – Wonga rescue package, falling confidence, green belt affordable housing, HSBC costs rise, and crypto miner listing.
Subscribe to The Briefing by email
Enable the Amazon Alexa Flash Briefing Skill
Wonga rescue package
Payday lender Wonga has received a £10m cash injection from investors, to rescue the firm from collapse. Venture capital firms Accel Partners and Balderton Capital were both participants in the fundraising, according to reports by Sky News. Wonga has faced difficulties in recent months following a rise in compensation claims and greater regulatory intervention in the payday lending sector.
A spokesperson for Wonga Group said:
In recent months the short-term credit industry has seen a marked increase in claims related to legacy loans, driven principally by claims management company activity.

As a result, Wonga has seen an increase in claims related to loans taken out before the current management team joined the business in 2014.

The team has raised £10m of new capital from existing shareholders, who remain fully supportive of management's plans for the business.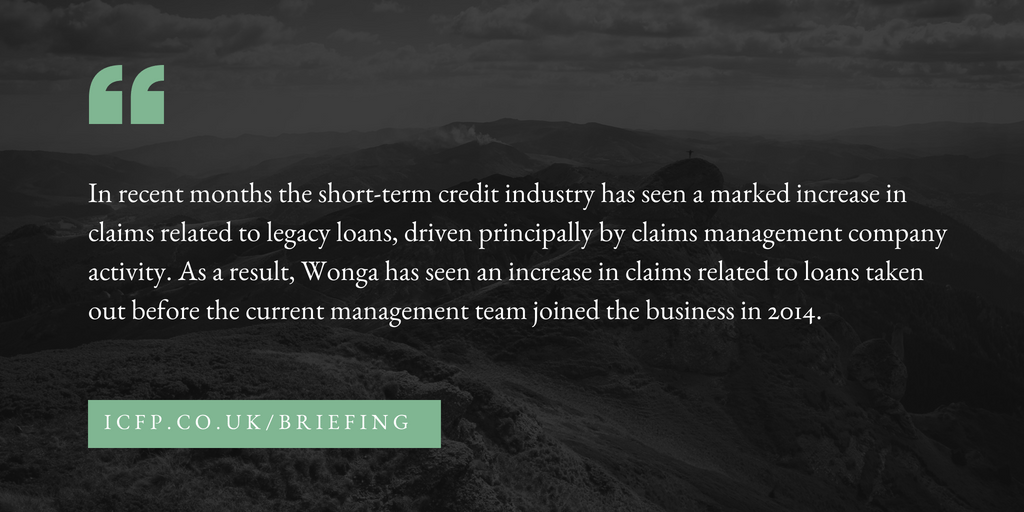 Falling confidence
Business confidence has fallen, with slow progress over Brexit negotiations prompting doubts about the UK economic outlook. According to a poll of FTSE 350 companies, carried out by ICSA, 55% of UK company board members are expecting their business to decline during the next twelve months. Six months ago, this stood at 24%.
Despite continued Brexit fears, these worries have declined slightly from 54% of respondents a year ago to 42% today. However, none of those surveyed rated Brexit as "positive", whilst 9% did when surveyed at the end of 2016.
Peter Swabey, the policy and research director at ICSA, said:
It is hard to see any other reason for continuing pessimism over the economy other than the ongoing government infighting over Brexit and the lack of a clear plan if there is no deal at the end of the negotiations.
Green belt affordable housing
Young families will not be helped onto the property ladder by plans to build 460,000 new homes on green belt land. This is according to the Campaign to Protect Rural England, which says 78% of planned property developments on greenfield sites do not meet the government defintion of 'affordable'.
CPRE director of campaigns and policy, Tom Fyans, said:
We are being sold a lie by many developers.

As they sell off and gobble up the green belt to build low density, unaffordable housing, young families go on struggling to afford a place to live.

The government is failing in its commitment to protect the green belt – it is being eroded at an alarming rate.

But it is essential, if the green belt is to fulfil its main purposes and provide 30 million of us with access to the benefits of the countryside, that the redevelopment of brownfield land is prioritised, and green belt protection strengthened.
HSBC costs rise
HSBC Holdings PLC has reported second quarter adjusted revenue up 2% compared to a year earlier, at $13.7bn. This comes in below the average estimates from analysts. Costs at HSBC rose by 7% in the second quarter, following increased investments in technology.
HSBC group chief executive John Flint said:
The significant benefit we have this year is the balance sheet has grown and net interest margin is expanding. Both factors give us confidence that the net interest income for the group should continue to grow through the second half of the year.
Crypto miner listing
Cryptocurrency mining company Argo Blockchain PLC has become the first business of its kind to join the London Stock Exchange. The firm listed 156,250,000 standard shares at 16p a share, more than half of the company's total. It means Argo has a market capitalisation of £47m.
Argo Blockchain offers a way to mine one of four cryptocurrencies through their own computers or devices by paying a monthly subscription. Customers get access to the rigs of the crypto mining company, allowing direct deposits of the coins into the digital wallets of the users.
Informed Choice provides a regular personal finance and investment news summary, with an updated Flash Briefing for your Alexa enabled device. Search for The Briefing from Informed Choice in your Amazon Alexa app or visit https://www.amazon.co.uk/Informed-Choice-Radio/dp/B074DZZ1MF/ to enable this Flash Briefing.