The Briefing on Friday 3rd August 2018
In this edition of The Briefing from Informed Choice on Friday 3rd August 2018 – rate rise, one trillon dollars, Amazon pays less tax, RBS dividend expected, and rent crisis spills into towns.
Subscribe to The Briefing by email
Enable the Amazon Alexa Flash Briefing Skill
Rate rise
The Bank of England's Monetary Policy Committee has raised interest rates for only the second time in ten years. The rate rise, from 0.5% to 0.75%, was widely expected and represents the highest rate since March 2009. As a result, an estimated 3.5 million people with a variable rate mortgage deal will pay more each month. According to the Bank of England, further 'gradual' and 'limited' interest rate rises should be expected, although this will depend largely on the outcome of Brexit negotiations.
Responding to the rate rise decision, Jackie Bennett, Director of Mortgages at UK Finance said:
The majority of borrowers will be protected from any immediate effect from today's increase, with 95 per cent of new loans now on fixed rates and almost two-thirds of first-time buyers opting for two-year fixed rate products over the last 12 months.

There is no single indicator of the cost of funds to lenders. Lenders have individual funding models, with the cost and mix of funding sources varying considerably from lender to lender. As a result, when costing their Standard Variable Rate (SVR) or reversion rates, lenders are not necessarily led by the Bank of England Base Rate so any increase or decrease in the Rate may not be passed on to borrowers.

Rates are still at an historic low and borrowers remain well-placed to get a good deal from the UK's competitive mortgage market. And following an industry-wide agreement announced earlier this week, those borrowers on SVR or reversion rates who were previously unable to switch to a new product with their lender due to stricter affordability criteria now have the option to move to another product.

Anyone with concerns about managing their mortgage should contact their lender to discuss the advice and support available.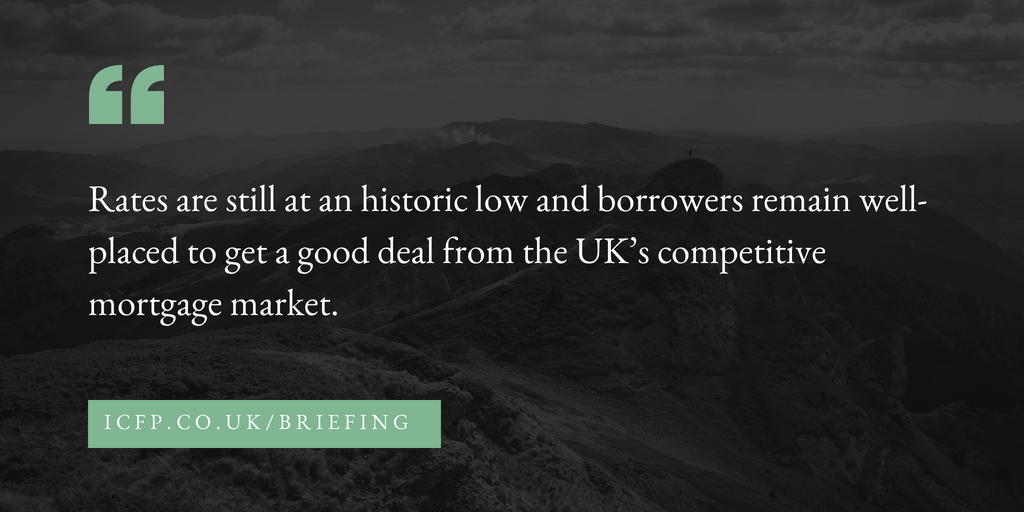 One trillion dollars
Technology giant Apple has become the first US-listed company to achieve a one trillion dollar valuation. Apple beat Amazon, Google owner Alphabet, and Microsoft in the race to a one trillion dollar valuation. It took Apple less than a year to reach the milestone after breaking through the $900bn valuation mark. Within its latest set of quarterly results, Apple reported a rise in iPhone sales to reach 41.3 million, slightly up on last year. The quarterly results pushed the Apple share price higher, within touching distance of the one trillion dollar market capitalisation.
Amazon pays less tax
Online retailer Amazon paid less tax in the UK last year, despite rising profits. Amazon Services UK paid taxes of £1.7m last year, lower than the £7.4m paid the year before, despite operating profits rising by £32m to £80m. The lower tax bill has been explained, in part, by a rise in share-based payments to its staff, resulting in some deferred tax payments. According to a spokesperson for Amazon UK, the company paid all of the tax it was required to "in the UK and every country where we operate".
They said:
Corporation tax is based on profits, not revenues, and our profits have remained low given retail is a highly competitive, low-margin business and our continued heavy investment.
RBS dividend expected
Royal Bank of Scotland has reported a fall in its first-half profits, but is planning to pay its first dividend to shareholders in 10 years. RBS announced a 2p a share interim dividend, which will be paid once a £3.8bn settlement with the US Department of Justice, relating to mortgage-backed securities, had been settled. Attributable profits at the bank fell from £939m in 2017 to £888m. The bank has already put aside the money to deal with the US regulatory settlement.
RBS chief executive Ross McEwan explained the bank was pleased with the progress it has made, but the operating environment was uncertain and highly competitive. He continued:
We still have a lot more to do to achieve our ambition of being the best bank for customers in the UK and Republic of Ireland.

However, with our major legacy issues largely behind us, we are able to fully focus on closing this gap.
Rent crisis spills into towns
Rents in England have risen 60% faster than wages since 2011. That's according to new analysis from housing charity Shelter, which is highlighting a renting crisis now spilling out of cities into 'Middle England' towns. Their figures show private rents up by 16% since 2011, with average wages rising by 10% during the same time. They analysed figures from the Annual Survey of Hours and Earnings, and the Index of Private Housing Rental Prices, to draw the conclusions. According to Shelter, towns including Tunbridge Wells and Milton Keynes now face a similar rental crisis to big cities like London, Cambridge, Bristol and Birmingham.
Greg Beales, campaign director at Shelter, said:
With this surge in private renters the housing market has shifted massively and yet as a country we've failed to respond. This has resulted in consecutive governments focusing on better-off home owners while not doing enough for hardpressed renters. We need politicians of all parties to sit up and take notice of the rising numbers of renters, and ensure they're doing all they can to protect them.
Informed Choice provides a regular personal finance and investment news summary, with an updated Flash Briefing for your Alexa enabled device. Search for The Briefing from Informed Choice in your Amazon Alexa app or visit https://www.amazon.co.uk/Informed-Choice-Radio/dp/B074DZZ1MF/ to enable this Flash Briefing.