The Briefing on Thursday 2nd August 2018
In this edition of The Briefing from Informed Choice on Thursday 2nd August 2018 – rate rise expected, CFD restrictions, Barclays profit fall, Pound Sterling bitcoin support, and sexy savvy singles.
Subscribe to The Briefing by email
Enable the Amazon Alexa Flash Briefing Skill
Rate rise expected
The Bank of England's Monetary Policy Committee is widely expected to raise interest rates today. If the MPC hikes rates from 0.5% to 0.75% as expected, it would represent the highest rate for nearly a decade. It would be only the second interest rate rise since the onset of the global financial crisis. Rates were last increased in November from 0.25% to 0.5%.
Howard Young from the EY Item Club, said:
"We believe that the odds still favour the Bank of England lifting interest rate from 0.50% to 0.75% on Thursday after the August MPC meeting – most likely following a split vote."

"With interest rates down at 0.50%, the Bank of England would clearly likely to gradually normalise monetary policy given that it is essentially an emergency low rate.

"Furthermore, inflation remains above target and the labour market looks relatively tight with the MPC considering that there is little slack left in the economy."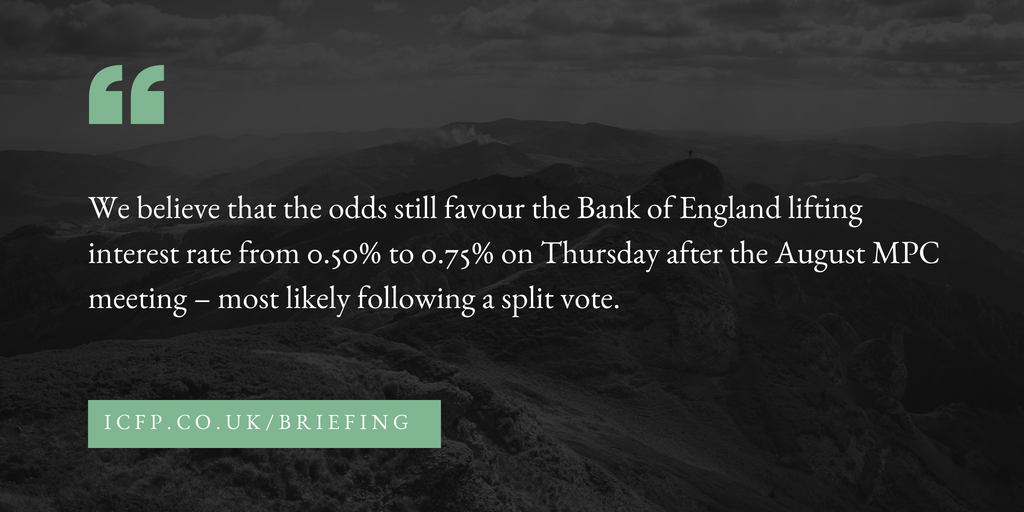 CFD restrictions
Measures to restrict the sale, marketing and distribution of high-risk contracts for difference (CFD) to retail clients have come into force across the EU. It follows the introduction in June of temporary restrictions by the European Securities and Markets Authority (ESMA). The measures, which are designed to protect retail investors, as fully supported by the Financial Conduct Authority (FCA) in the UK.
The FCA said in a statement:
In common with other regulators across Europe, we know that other products can create the same kinds of risks to consumers as CFDs, particularly where they expose the investor to significant leverage. ESMA's recent Q&A on its product intervention also highlighted these risks. These substitute products could be sold under a variety of labels but share common features with CFDs and these features may cause large trading losses to retail clients.

We are concerned that firms may consider getting around ESMA's measures by selling other similarly complex products to retail clients. ESMA's Q&A makes clear that firms "should pay particular attention to the leverage made available to retail clients and consider whether the product is offered on terms that act in the best interests of the client" for products that have comparable features to CFDs, such as Turbo Certificates.

We will therefore work with ESMA and other European regulators to monitor and assess the sale of these alternative, speculative products to retail clients. If we have evidence that these products are causing similar harms, we will work with ESMA and will, if necessary, support further action to extend the scope of its intervention.
Barclays profit fall
Barclays have reported their first half profits, falling from £2.3bn to £1.6bn. Profits at the bank fell after it paid out around £2bn in costs, including a £1.4bn settlement with the US Justice Department over the sale of mortgage-backed securities in the US. Barclays also made a £400m provision for payment protection insurance mis-selling. Total income for the first half remained level at £10.9bn.
Barclays CEO Jes Staley referred to the profit figures as 'strong', saying the bank is now starting to show 'its true potential and value.' Mr Staley referred to the last three months as the:
first quarter for some time with no significant litigation or conduct charges, restructuring costs or other exceptional expenses which hit our profitability.

In effect, then, it is the first clear sight of the statutory performance of the business which we have re-engineered over the past two and a half years – Barclays' transatlantic consumer and wholesale bank – and it is a positive sight.
Pound Sterling bitcoin support
The UK could have a fully fledged bitcoin bank after San Francisco-based cryptocurrency exchange Coinbase launched support for pound sterling. The move is designed to make it easier for UK customers to deposit and withdraw pound sterling, using it to trade cryptocurrency including bitcoin. Coinbase's UK chief executive Zeeshan Feroz described the move as "progress towards becoming a primary bank account" for its customers. In addition to the introduction of pound sterling support, Coinbase customers will have access to the UK Faster Payments system, resulting in faster deposits and withdrawals. Coinbase received an e-money licence in the UK in March.
The price of bitcoin has fallen by nearly 10% in the past three days, wiping out gains made during July. Global cryptocurrency investors are fearful of further regulation and also blockchain adoption by established financial institutions.
Sexy savvy singles
Being financially savvy is the new sexy with singles, particularly women, looking for partners who are good with money. A new study by free-for-life credit report and score provider Noddle.co.uk reveals that, as financial instability takes hold, one in five single Brits sees good 'financial awareness' as among the most attractive qualities in a potential partner. For women, financial awareness is the third most attractive characteristic after personality and cleverness, and rates more highly than good job prospects and looks. And while men also value personality and looks, financial awareness is enticing for one in 10, more so than being well off or owning a home.
Jacqueline Dewey, Managing Director at Noddle.co.uk said:
As we become more financially aware and savvy in terms of what's coming in and out of our bank accounts it makes sense that we would look for these characteristics in a partner. Money can be a source of stress and disagreements in relationships, so it's a good idea to find someone with a similar outlook.

With financial as well as physical attraction key to modern dating, checking your credit report can help get you in great shape. It gives you a snapshot of all your financial obligations such as debts and outstanding credit to help you keep on top of your commitments and show that you're a good catch.
Informed Choice provides a regular personal finance and investment news summary, with an updated Flash Briefing for your Alexa enabled device. Search for The Briefing from Informed Choice in your Amazon Alexa app or visit https://www.amazon.co.uk/Informed-Choice-Radio/dp/B074DZZ1MF/ to enable this Flash Briefing.