The Briefing on Monday 30th July 2018
In this edition of The Briefing from Informed Choice on Monday 30th July 2018 – interest rate hike expected, Brexit operations move, Foxtons losses, access to cash review, and International Friendship Day.
Subscribe to The Briefing by email
Enable the Amazon Alexa Flash Briefing Skill
Interest rate hike expected
The Bank of England's Monetary Policy Committee is expected to raise interest rates to 0.75% on Thursday, as it starts a process of normalising rates. A consensus view of economists shows the Bank voting 7-2 for the quarter point increase. If the rate rise were to materialise, it would be the first since last November, when rates returned to 0.5%. Financial markets have priced in a 90% chance of a rate rise on 2nd August.
Martin Beck, senior economic adviser to the EY ITEM Club think tank, said:
Reading the runes, the direction of travel is that there will be a rate rise.

They [the MPC] believe that the economy can grow at only 1.5 per cent or so before inflation kicks off.

There is no slack in the economy and their logic is that it will be worth short-term pain from a rate rise now to prevent inflationary pressures from building up.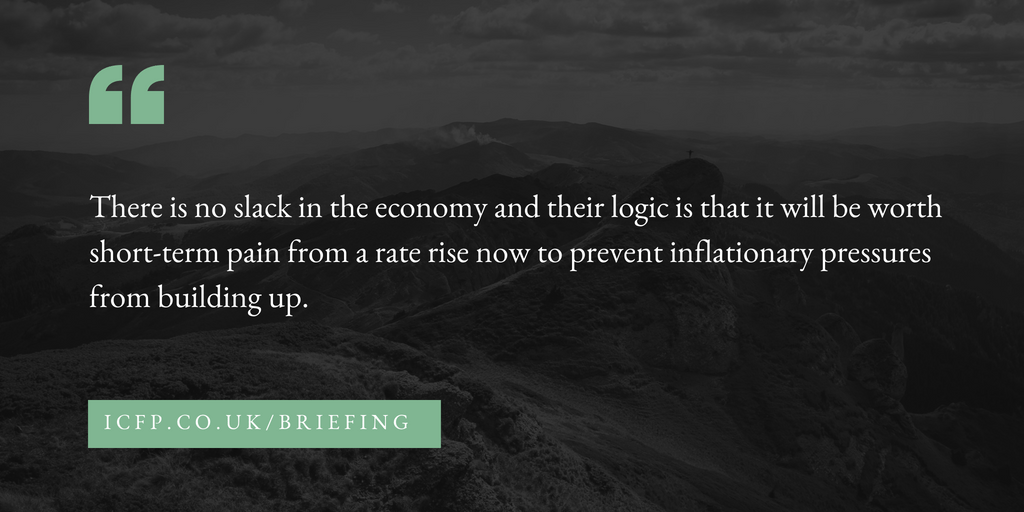 Brexit operations move
Investment bank Deutsche Bank has moved nearly half of its euro clearing business out of London. The business has been relocated in part to Franfurt as a result of Brexit. Deutsche's euro clearing business settles euro-based financial transactions. London is currently a leader in this market, but Brexit has prompted fears European rivals will dominate in the future.
A report published in 2016 by consultancy firm EY suggested that a departure of euro clearing could cost 83,000 jobs in the City. However, the decision by Deutsche to relocate half of its euro clearing operations to Franfurt has not had any impact on UK jobs. Despite the move, Deutsche has said it is committed to the UK. It recently signed a 25 year lease on a new London headquarters at 21 Moorfields.
Foxtons losses
Estate agents Foxtons, which are focused on the London market, have reported a half year loss of £2.5m. It follows a £3.8m profit last year and is the result of a London property market which continues to stagnate. According to Foxtons, sales in London were "undergoing a sustained period of very low activity" and taking longer than usual to complete. It did however report a strong rental market and reported confidence in the long-term prospects for the business.
Foxton's chief executive, Nic Budden, said:
We continue, however, to achieve market leading share of listings giving us confidence that our service led, results-based model remains highly relevant to consumers.
Access to cash review
An independent review has been launched to examine the impact on consumers of the declining use of cash. The Access to Cash Review, chaired by former Financial Ombudsman Service head Natalie Ceeney, will look at the impact of new technology, including contactless payments, examining future consumer needs. Whilst the review is being funded by cash machine network Link, it will be independent. It will spend the next six months gathering information.
Ms Ceeney said
The rise of contactless and digital payments has changed the relationship between cash and consumers.

Many people in the UK have already made a shift to paying for most things digitally, but at the same time, there are between two and three million people across the UK who are entirely reliant on cash.
International Friendship Day
Today is International Friendship Day, a UN initiative based on the recognition of the relevance and importance of friendship as a noble and valuable sentiment in the lives of human beings around the world. To mark the International Day of Friendship local and national governments, international organizations and civil society groups are encouraged to hold events, activities and initiatives that contribute to the efforts of the international community towards promoting a dialogue among civilizations, solidarity, mutual understanding and reconciliation.
Paul Osborn, Foresters Friendly Society Chief Executive said:
While technology has made it easier to communicate, people are becoming increasingly isolated. Having someone to talk to, give you a helping hand, celebrate the good times with or to lean on when things get tough is really important. Foresters Friendly Society was established more than 180 years ago with this as its founding principle, therefore we understand this more than most.

As well as offering members discretionary grants to give them a financial boost, both in times of need and to support their future, local branches sit at the heart of local communities. By bringing people together to help create and strengthen lasting friendships, we help strengthen local communities and give people the power to achieve their goals.
Informed Choice provides a regular personal finance and investment news summary, with an updated Flash Briefing for your Alexa enabled device. Search for The Briefing from Informed Choice in your Amazon Alexa app or visit https://www.amazon.co.uk/Informed-Choice-Radio/dp/B074DZZ1MF/ to enable this Flash Briefing.