The Briefing on Friday 27th July 2018
In this edition of The Briefing from Informed Choice on Friday 27th July 2018 – crowdfunding consultation, TSB IT losses, London house prices stablise, fixed rate preference, and Shell buyback scheme.
Subscribe to The Briefing by email
Enable the Amazon Alexa Flash Briefing Skill
Crowdfunding consultation
Following a post-implementation review of its crowdfunding rules, the Financial Conduct Authority (FCA) is opening a consultation on new rules for loan-based crowdfunding platforms. The changes the FCA is proposing are designed to address the ways in which the loan-based crowdfunding model has developed since the FCA last reviewed the sector in December 2016. The FCA has observed the variety of loan-based crowdfunding business models, some of which have become increasingly complex.
Based on its findings the FCA is now inviting responses to a number of specific proposals to change the rules for loan-based firms which cover proposals to ensure investors receive clear and accurate information about a potential investment and understand the risks involved; ensure investors are adequately remunerated for the risk they are taking; and transparent and robust systems for assessing the risk, value and price of loans, and fair/transparent charges to investors.
Christopher Woolard, executive director of strategy and competition at the FCA said:
When we introduced new rules for crowdfunding, we said we'd review the market as it developed. We believe that loan-based crowdfunding can play a valuable role in providing finance to small businesses and individuals but it's essential that regulation stays up to date as markets develop. The changes we're proposing are about ensuring sustainable development of the market and appropriate consumer protections.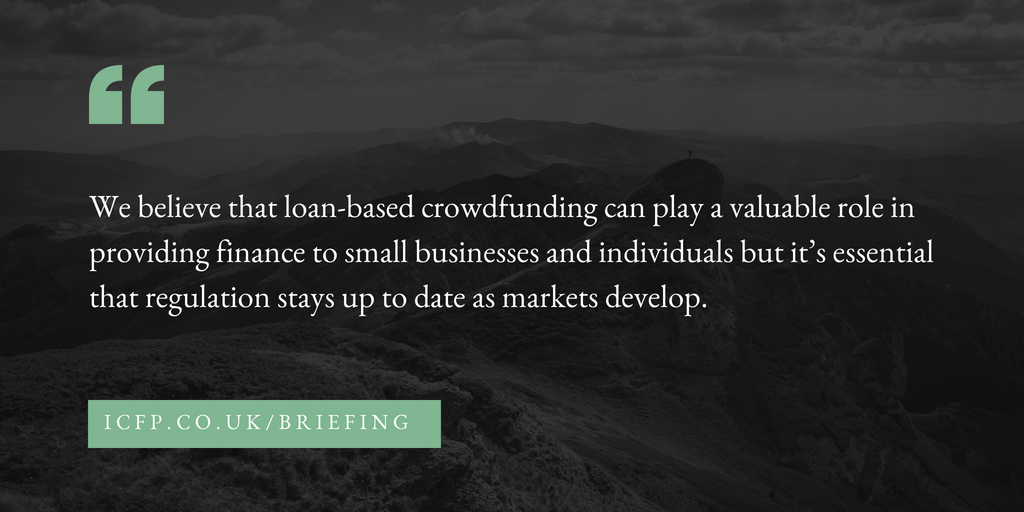 TSB IT losses
An IT fiasco at bank TSB earlier in the year has resulted in costs to the bank of £176.4m, prompting a half-year loss. Nearly two million customers lost access to online banking services in April, during the botched transition of computer systems. According to TSB, only 37% of the more than 130,000 complaints it received has so far been resolved. They continue to struggle with some IT problems. TSB reported a loss of £107.4m in the half year to June, compared with a profit of £108.3m in the same period last year.
TSB chief executive Paul Pester said:
I know how frustrated many customers have been by what's happened.

It was not acceptable, and was not the level of service that we pride ourselves on – nor was it what our customers have come to expect from TSB.
London house prices stablise
London City house price growth has picked up over the last quarter as the capital's housing market starts to stabilise. That's according to the latest Hometrack UK Cities House Price Index. In the three months to June, house prices in the capital rose by an average of 1.8%, having fallen by 1% over the previous six months. After two years of weak demand and falling sales, there are signs that London's housing market is beginning to steady, although the annual rate of growth remains low at +0.7%. The recent trend is supported by the fact that 61% of postcodes in London are currently registering month-on-month price rises according to Hometrack's most granular indices.
Richard Donnell, Insight Director at Hometrack, said:
After 2 years of falling sales volumes and rising discounts to achieve a sale there are some signs of life returning to the London housing market. Discounts are finally starting to narrow as sellers become more realistic over pricing.

While prices in London have picked up over the last quarter, we expect the annual rate of growth to remain weak for the foreseeable future. The positive news is that greater realism on the past of sellers will support transactions, which have fallen by 20% since 2014.

The UK market is operating at two-speeds at the moment, with growth in regional cities in the Midlands and North West far outstripping those in the South. However, affordability pressures in the South East in particular are having a slowing effect on house prices as borrowers are priced out of the market.
Fixed rate preference
Most buy to let landlords want to use fixed rate mortgage deals, with a growing number choosing five year deals. The latest buy to let mortgage index published by Mortgages for Business shows 93% of landlords financing buy to let property chose a fixed rate mortgage in the second quarter of 2018. 69% of landlords opted for a five year lending deal and deals without arrangement fees were also popular.
David Whittaker, chief executive of Mortgages for Business, said:
We've been recommending five year fixed rates for a long time. At the moment there is very little difference in pricing between fixed and variable rate product.

In today's uncertain economic climate, particularly the road crash Brexit negotiations, fixing makes a lot of sense, especially as the average price is just 3.52%.
Shell buyback scheme
Royal Dutch Shell has seen its share price fall by more than 3% in mid-morning trading, despite announcing higher than expected second quarter profits and confirming a £19bn share buyback. The oil giant revealed second quarter profits 30% higher than analyst expectations. The share buyback scheme, which will take place between now and 2020, is dependent on the oil price.
Royal Dutch Shell chief executive Ben van Beurden said:
This move complements the progress we have made since the completion of the British Gas acquisition in 2016 to reshape our portfolio through a $30bn divestment programme and new projects, to reduce net debt and to turn off the scrip dividend.

Our financial framework remains unchanged. Our free cash flow outlook and the progress we have made to strengthen our balance sheet gives us the confidence to share our share buyback programme.
Informed Choice provides a regular personal finance and investment news summary, with an updated Flash Briefing for your Alexa enabled device. Search for The Briefing from Informed Choice in your Amazon Alexa app or visit https://www.amazon.co.uk/Informed-Choice-Radio/dp/B074DZZ1MF/ to enable this Flash Briefing.