The Briefing on Monday 2nd July 2018
In this edition of The Briefing from Informed Choice on Monday 2nd July 2018 – estate agents in distress, financial power of women, High Street job losses, package holiday protection, and manufacturing confidence falls.
Subscribe to The Briefing by email
Enable the Amazon Alexa Flash Briefing Skill
Estate agents in distress
More than a quarter of estate agents are in financial difficulty, according to a new report. Accountancy firm Moore Stephens found that more than 7,000 estate agents are showing signs of financial distress. Growing online competition and fewer homes for sales are prompting the difficulties. The number of property transactions in London has fallen by 20% between 2014 and 2017. Across the whole of the UK, transaction volumes fell by 1% in the last year.
Chris Marsden, restructuring partner at Moore Stephens, said:
Insolvencies of High Street estate agents are increasing as online competitors continue to chip away at their sales and undermine commission rates.

Some areas in the UK appear to have an excess capacity of estate agents, which could mean there is not enough business to spread around as property transactions stagnate.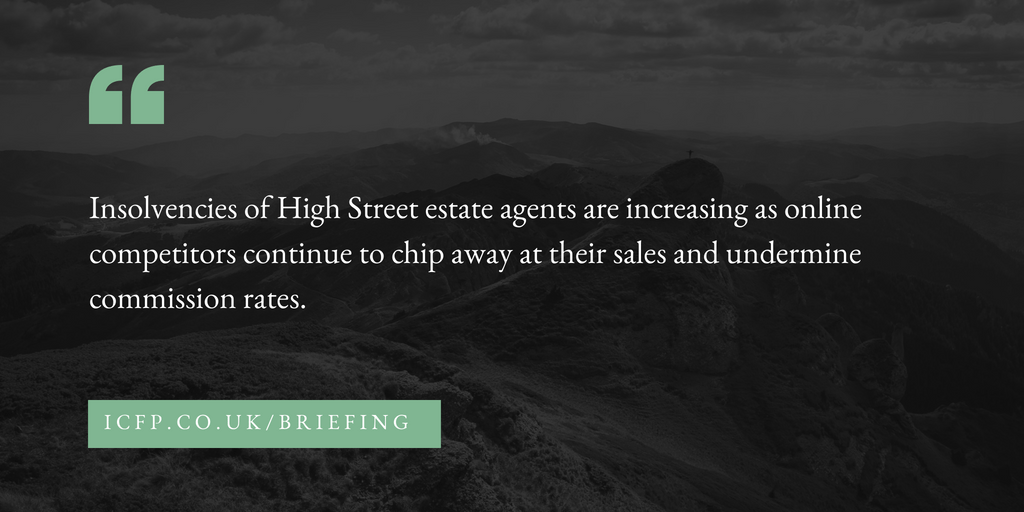 Financial power of women
Young women putting money into a pension in line with the government's auto-enrolment contributions may still end up with a pension pot that is more than 10% smaller than their male counterparts. This is according to analysis from Fidelity International in its state of the nation report, 'The Financial Power of Women'. The report shows that women could close the gender pension gap by dedicating an additional 1% of their salary towards their pension early on in their careers. This is an average of just £35 per month in contributions over 39 years.
Without action, it will take more than 200 years to close the gender pay gap, with a glaring pension gap further underpinned by societal 'penalties'. Women could close the pension gap by investing, however, according to Fidelity International's report, the majority of women tend to be apathetic when it comes to engaging with pensions – funds already invested. In fact, more than half of women who hold a pension do not know where it is invested, while close to a third don't know how much their pensions are worth.
Maike Currie, Investment Director at Fidelity International, said:
Financial inequality is one of the greatest challenges we face today. We live longer, earn less and are more likely to take career breaks or work part-time. To unlock the financial power of women, we need to address the personal, professional and policy barriers stopping women from investing. On a personal level, women still shy away from risk and prefer the perceived safe haven status of cash. On a professional level, the investment industry needs to do more to build trust and an understanding of their products and services among women. Finally, at a policy level, we need to look at the way pensions are designed and question whether they take account of the unique life choices and challenges women face.
High Street job losses
More than 50,000 High Street jobs in the UK have been lost or face the threat of being lost in the first half of the year. The Press Association reported that most of the job losses and threats of redundancy were from big name chains. A variety of factors have placed greater pressure on retailers, including falling consumer confidence, higher business rates and the impact of Brexit on price inflation. More than 6,000 jobs were put at risk at House of Fraser last month and 5,100 at Poundworld.
TUC General secretary Frances O'Grady said:
Retail depends on customers having money in their pockets. One reason why some shops are struggling is because wage growth has been very weak.

Government needs to up its game, boost the economy and invest in great jobs that people can live on.
Package holiday protection
Holidaymakers will receive more protection under new rules coming into force today. The Package Travel Directive aims to give new consumer protections for the 10 million people who purchase a package holiday each year. It's designed to protect those who purchase a package holiday, including customers who opt for a different flight and hotel through the same company.
Business Minister Andrew Griffiths said:
"Britain is a nation of travellers and we each put aside around £23.10 per week to go towards package holidays. Given that commitment, when we are booking holidays it is reasonable for all of us to expect that if something goes wrong we are protected financially. The measures that come into effect today will ensure holidaymakers are properly compensated if things do go wrong, removing the risks for consumers and building on our long, proud history of high standards when it comes to travel protections."
Manufacturing confidence falls
Confidence among British manufacturers fell to a seven-month low in June, with concerns about global trade and Brexit negotiations. The latest IHS Markit/CIPS UK Manufacturing Purchasing Managers' Index (PMI) had a reading of 54.4 in June, up from 54.3 in May and ahead of a consensus of 54.0 from a Reuters poll of economists. A reading above 50 indicates growth. June was the end of the weakest quarter for British manufacturing PMI in one and a half years. IHS Markit said the outlook for the sector, which represents around a tenth of the UK economy, looks doubtful.
Rob Dobson, director at IHS Markit, said:
The turnaround in (manufacturing) performance since the start of the year has been remarkable, with impressive growth rates late last year turning into some of the weakest rates of expansion seen over the past two years."

With industry potentially stuck in the doldrums, the UK economy will need to look to other sectors if GDP growth is to match expectations in the latter half of the year.
Informed Choice provides a regular personal finance and investment news summary, with an updated Flash Briefing for your Alexa enabled device. Search for The Briefing from Informed Choice in your Amazon Alexa app or visit https://www.amazon.co.uk/Informed-Choice-Radio/dp/B074DZZ1MF/ to enable this Flash Briefing.