The Briefing on Thursday 28th June 2018
In this edition of The Briefing from Informed Choice on Thursday 28th June 2018 – retirement income review, bank expenses criticism, hotel booking sites probe, review of banking models, and protecting problem gamblers.
Subscribe to The Briefing by email
Enable the Amazon Alexa Flash Briefing Skill
Retirement income review
The Financial Conduct Authority (FCA) has launched a consultation on a package of measures designed to protect consumers, improve engagement and promote competition in the retirement income market. The consultation accompanies the publication of the final report of the Retirement Outcomes Review, the FCA's in-depth look at how the pensions and retirement income sector has been working since the pension freedoms were introduced in 2015.
The FCA found that, while consumers have welcomed the freedoms, some are at risk of harm. For example, the FCA estimates that some drawdown customers could receive 37% more retirement income from their pot every year by investing in a mix of assets rather than cash. Defined contribution pension pots will grow significantly in the coming years, so it's important to put this market on a good footing and keep it under review.
The measures will help consumers at key points when they make decisions about what to do with their pension pot, as well as providing ongoing support to consumers once they have accessed their pension savings. They include improvements to the clarity and timings of communications prior to people making decisions about what to do with their pension pot, simplifying the options that people have, and the ongoing communications people receive.
Christopher Woolard, Executive Director of Strategy and Competition at the FCA said:
We know that the choices introduced by the pension freedoms have been popular with many consumers. However, they're now required to make more complicated decisions than ever before. Many people need more support when making choices. The measures we have outlined today will help them think about that earlier, create investment pathways to help them with their choices and make costs and charges easier to understand.

This is an important market that is still relatively new and is continuing to evolve. This is not the end of the work we are doing and we will continue to keep the market under review as it develops.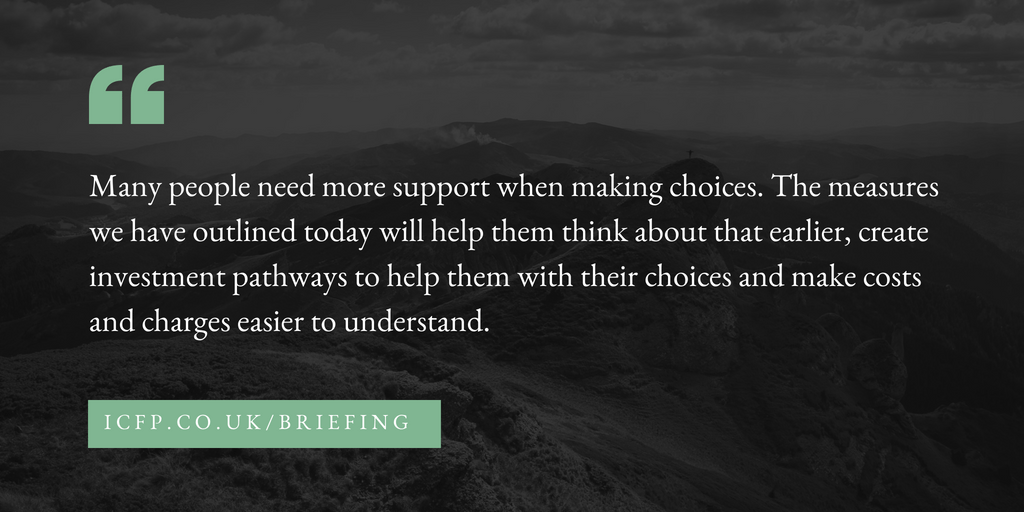 Bank expenses criticism
Two Bank of England officials have had their expenses bills described as "staggering" by an MP. Simon Clarke MP, who sits on the Treasury Select Committee, described the £390,000 expenses bill from two US based members of the Bank's Financial Policy Committee as a "simply staggering sum". The criticism came during questioning of Bradley Fried, the new chairman of the Bank of England's court of directors.
Clarke said:
One of the most important aspects of the culture of any public institution is that it provides value for money to the taxpayer.
Hotel booking sites probe
The Competition and Markets Authority (CMA) is launching enforcement action against a number of hotel booking sites that it believes may be breaking consumer protection law. As part of its ongoing investigation, the CMA identified widespread concerns, including issues with search results, pressure selling, discount claims and hidden charges.
Andrea Coscelli, Chief Executive of the CMA, said:
Booking sites can make it so much easier to choose your holiday, but only if people are able to trust them. Holidaymakers must feel sure they're getting the deal they expected, whether that's securing the discount promised or receiving reliable information about availability of rooms. It's also important that no one feels pressured by misleading statements into making a booking.

That's why we're now demanding that sites think again about how they're presenting information to their customers and make sure they're complying with the law. Our next step is to take any necessary action – including through the courts if needed – to ensure people get a fair deal.
Review of banking models
The Financial Conduct Authority (FCA) has published an update on its Strategic Review of Retail Banking Business Models. The Review is an in-depth and wide-ranging piece of work to give the FCA a greater understanding of retail banks' business models, and how these may change in the future. This includes looking at how personal current accounts (PCAs) are paid for, the possible impact of technological and regulatory developments such as Open Banking and changes to payment services due to the revised Payment Services Directive (PSD2). It sets out the progress made on the analysis of the issues and planned next steps.
The review shows that most current account customers contribute to their bank's profits, but a small proportion pay significantly more than others – around 10% of customers generate between a third and a half of all contributions to profits from current accounts. The data also show that many consumers go to their current bank rather than shopping around when looking for other financial products.
Andrew Bailey, FCA Chief Executive, said:
This is an important piece of work to help us understand the complexities of the retail banking market and how this may develop in the future.

It provides more evidence that there is no such thing as free banking. In particular, this evidence will inform the work we are doing on overdrafts, so we can fully understand the potential effects of the significant action we are considering taking in this market.
Protecting problem gamblers
A new report from the Gambling Commission has given a "call for action" to gambling firms over their attitudes towards consumer welfare. The report has highlighted a range of measures firms must take to protect gamblers and prevent money laundering. Speaking to the BBC, Gambling Commission chief executive Neil McArthur said more needed to be done. He said:
Overall the companies can do a lot more to demonstrate they care about consumers and want to treat them right and keep them safe.

We want to use our powers to hopefully drive a culture where operators' compliance is set right from the start and which innovates to protect consumers, plus drive profits.

Our hope is that the report will be received as a call to action for the leaders of the industry. We want them to set the tone from the top in terms of leading a culture of compliance and really try to do the right thing for the consumer and work to raise standards for them.
Informed Choice provides a regular personal finance and investment news summary, with an updated Flash Briefing for your Alexa enabled device. Search for The Briefing from Informed Choice in your Amazon Alexa app or visit https://www.amazon.co.uk/Informed-Choice-Radio/dp/B074DZZ1MF/ to enable this Flash Briefing.