The Briefing on Wednesday 27th June 2018
In this edition of The Briefing from Informed Choice on Wednesday 27th June 2018 – extra tax for elderly care, progress on Brexit financial risks, house price growth slows, John Lewis profit warning, and civil partnership pension implications.
Subscribe to The Briefing by email
Enable the Amazon Alexa Flash Briefing Skill
Extra tax for elderly care
Two influential committees of MPs have said over 40s in England should pay additional tax to help pay for elderly care. Those in retirement should also pay the tax, if they have sufficient pension or investment wealth, according to MPs. The tax, called a social care premium, would then be used to pay for care in later life. The proposal comes as ministers consider how to reform adult social care funding, ahead of a green paper expected later in the summer. One in ten people face lifetime care costs exceeding £100,000. According to new polling, only 15% of people believe the current funding system is fair.
Sarah Wollaston, chair of the Health and Social Care Committee, said:
We can no longer delay finding a fair and sustainable settlement for social care.

Too many people are being left without the care and support they need and it is time for a decision to be made about how the costs are shared.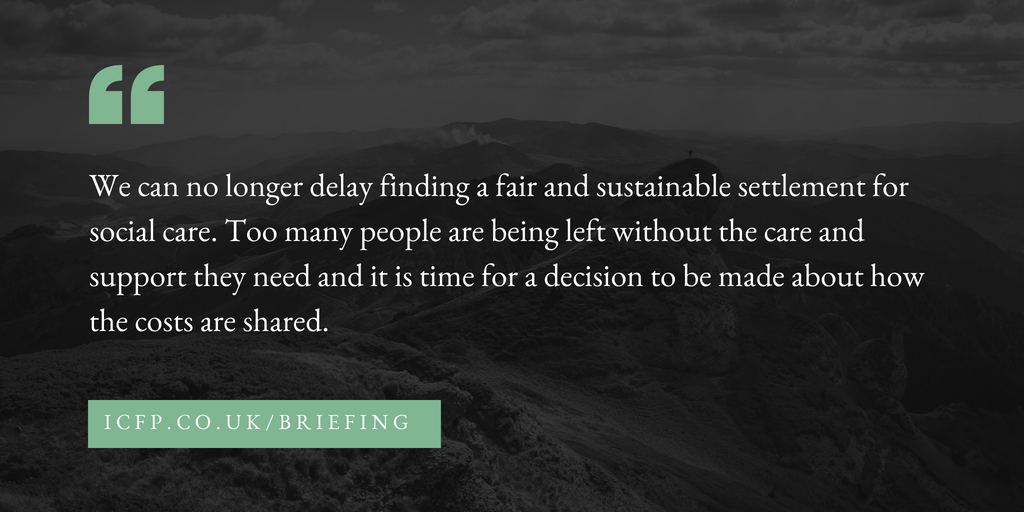 Progress on Brexit financial risks
The Bank of England has reported positive progress on managing the financial services risks related to Brexit. It also claimed there has been a lack of similar progress from the EU. Within the Bank's bi-annual Financial Stability Report, it warns of material risks to trillions of pounds worth of financial contracts supporting the flow of business activities between the UK and European Union.
The report said:
Progress has been made in the UK towards mitigating risks of disruption to the availability of financial services to UK-end users. The EU (Withdrawal) Bill has been passed by Parliament.

The UK government has committed to legislate, if necessary, to put in place temporary permissions and recognition regimes – this will allow banks [and] insurers to continue their activities in the UK for a time-limited period after the UK has left the EU, even if there is no implementation period, thus mitigating a number of risks of disruption to UK customers.
House price growth slows
Annual house price growth has slowed to a five-year low, according to the latest Nationwide house price index. The closely watched index of house prices shows a 2% annual growth rate, down from 2.4% in May. Monthly prices rose by an average of 0.5% in June, after adjusting for seasonal factors. Nationwide said house price growth was in a "fairly narrow range" of 2-3% during the past year, suggesting little change in the supply and demand balance.
Robert Gardner, Nationwide's chief economist, said
There are few signs of an imminent change. Surveyors continue to report subdued levels of new buyer enquiries, while the supply of properties on the market remains more of a trickle than a torrent.

Looking further ahead, much will depend on how broader economic conditions evolve, especially in the labour market, but also with respect to interest rates.
John Lewis profit warning
John Lewis Partnership has warned that profits in the first half of the year will be "close to zero" and full year profits will be "substantially" lower than last year. The news comes along with an announcement it will close four Waitrose convenience shops and a supermarket. It justified the profits warning as a result of "market uncertainty" and "greater IT investment" costs. Waitrose is expected to see profit growth, with profits at John Lewis in decline. The Waitrose supermarket in Camden will close, along with convenience shops in Manchester Piccadilly, Spinningfields in Manchester, Colmore Row in Birmingham and Portman Square in London.
In a statement, the firm said:
It is widely acknowledged that the retail sector is going through a period of generational change and every retailer's response will be different. For the partnership, the focus is on greater differentiation – not scale.

We have clear plans to build on our strengths and to sharpen our points of difference in both Waitrose and John Lewis.
Civil partnership pension implications
It was announced today that a heterosexual couple have won their legal bid for the right to have a civil partnership instead of a marriage. The Supreme Court unanimously ruled in favour of 37 year old Rebecca Steinfeld and 41 year old Charles Keidan, both from London. The court ruled that the Civil Partnership Act 2004, which currently only applies to same sex couples, was incompatible with the European Convention on Human Rights.
Commenting on the announcement Steve Webb, Director of Policy at Royal London said:
"If opposite sex couples who live together could register a civil partnership this could have a significant impact on those pension schemes which currently only provide survivor benefits to spouses and surviving civil partners. But in some ways, allowing opposite sex partners to register a civil partnership would be administratively helpful to schemes as they would not need to draw up their own rules for who qualifies as a partner for the purposes of survivor benefits."
Informed Choice provides a regular personal finance and investment news summary, with an updated Flash Briefing for your Alexa enabled device. Search for The Briefing from Informed Choice in your Amazon Alexa app or visit https://www.amazon.co.uk/Informed-Choice-Radio/dp/B074DZZ1MF/ to enable this Flash Briefing.