The Briefing on Tuesday 19th June 2018
In this edition of The Briefing from Informed Choice on Tuesday 19th June 2018 – longevity improvements slow, oil price fall, no plans to purchase, fleeced at the pumps, and financial guidance delay.
Subscribe to The Briefing by email
Enable the Amazon Alexa Flash Briefing Skill
Longevity improvements slow
New official statistics have highlighted changing trends in mortality in England and Wales. They suggest that the increases in longevity experienced in recent decades are starting to slow down. According to insurer Royal London, the new data could result in planned increases to the state pension age being delayed.
Helen Morrissey, personal finance specialist at Royal London said:
We have seen steep increases in state pension age in recent years and only last year the government accepted the results of a review which suggested bringing forward state pension age to 68 by 2039 – seven years earlier than currently legislated for. If the trends suggested by these figures continue, the government could find itself having to push back a previously announced increase in state pension age.

The ONS does say that these latest figures are in part affected by flu and cold spells, which is obviously not a solid basis for long term policy making. However, if the figures repeatedly show that something has changed then policy makers need to do more to understand the underlying drivers and their implication for policy making going forward.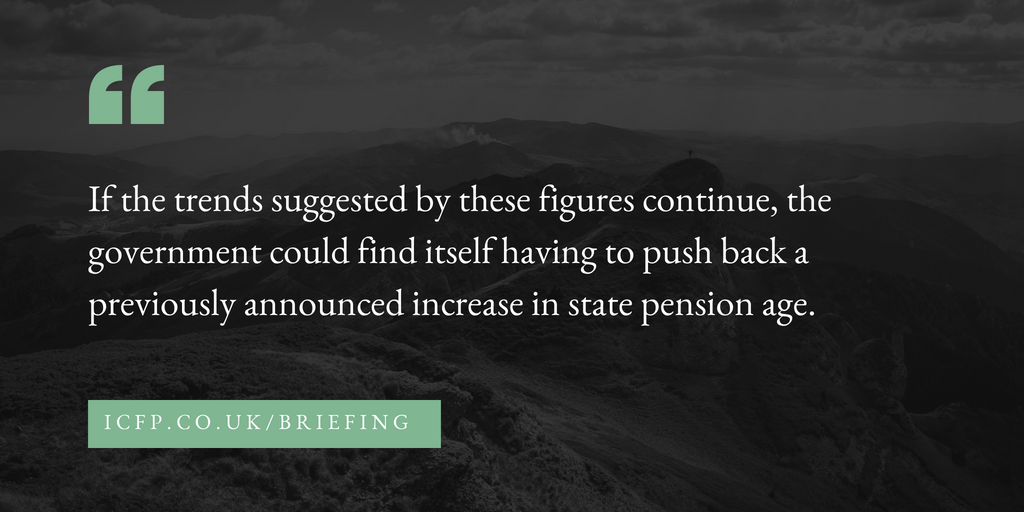 Oil price fall
The price of oil has fallen below $66 a barrel following OPEC discussions on a compromise on an output increase. Escalating trade tensions between the US and China have also dampened investor sentiment. The price fall represents a 0.9% fall following a 1.2% gain yesterday. OPEC members are planning for a more modest production increase, aimed at bridging a gap between demands from Russia for a big increase and Iran insisting on maintaining current production levels. In the US, President Donald Trump ordered officials to find another $200bn of Chinese goods for additional tariffs.
No plans to purchase
Of the estimated 17 million renters in the UK, over two thirds have no plans to purchase a property. This is according to new research by landlord insurer Direct Line for Business. The research shows Britain is moving towards a German housing model with a greater percentage of the population renting. Official statistics place the UK ahead of only Denmark, Austria and Germany in terms of the proportion of owner-occupied dwellings.
Direct Line for Business' analysis suggests that the adage "an Englishman's home is his castle" may be set to change, with future generations more likely to live in properties owned by other people. The average price paid by first-time buyers in 2017 was £207,693, more than 50% higher than five years previously when the same property cost on average £138,663. This is an increase of nearly £70,000, or £1,150 every month.
Christina Dimitrov, Business Manager at Direct Line for Business, said:
The UK housing market continues to change and we are seeing a major attitudinal shift when it comes to renting. While price is a factor, many people are increasingly comfortable with the flexibility afforded by renting a property rather than jumping into home ownership.

In line with the greater demand for rental properties, the Government has introduced tougher controls and regulation. Recent legislative changes mean landlords have stringent guidelines to adhere to in order to ensure the health and wellbeing of their tenants. It is important that landlords ensure all of their properties are adequately insured to minimise distress to them and their tenants should something go wrong.
Fleeced at the pumps
Drivers are being overcharged for fuel by around £2.50 a tank, according to a new report. FairFuel UK reported a big variance in petrol prices, following a recent rise to a three-year high for motorists. Average prices rose by 9p a litre between early May and mid-June, despite wholesale prices only rising by around 5p a litre during this time. The report also identified a big difference in prices between nearby petrol stations.
Howard Cox from FairFuel said drivers are being "fleeced at the pumps". He said:
In Germany and France pump prices can fluctuate daily, even hourly. The cost of filling up in these countries accurately reflects oil and wholesale prices. Here in the UK motorists and businesses are exploited ruthlessly by greedy speculators and the fuel supply chain.
Financial guidance delay
The launch of the government's new single financial guidance body is reportedly being delayed until the winter. The news, reported by Money Marketing, comes only a fortnight after former Financial Conduct Authority chairman Hector Sants was announced as chairman of the new organisation. It follows months of uncertainty around the timing of the launch. An earlier consultation said April 2018 would be the earliest possible date for the existing financial guidance bodies – the Money Advice Service, The Pensions Advisory Service and Pension Wise – to be merged into a single financial guidance body. This launch date was then pushed back to Autumn 2018 in a subsequent consultation paper.
Speaking to Money Marketing, personal finance broadcaster Paul Lewis said:
The majority of the population will not want the single financial guidance body to give them information on the many complex choices, but to cut through complexification by the financial services industry.
Informed Choice provides a regular personal finance and investment news summary, with an updated Flash Briefing for your Alexa enabled device. Search for The Briefing from Informed Choice in your Amazon Alexa app or visit https://www.amazon.co.uk/Informed-Choice-Radio/dp/B074DZZ1MF/ to enable this Flash Briefing.