The Briefing on Monday 18th June 2018
In this edition of The Briefing from Informed Choice on Monday 18th June 2018 – cards overtake cash, Virgin Money sold, fossil fuel divestment, Carney criticism, and economic forecast cut.
Subscribe to The Briefing by email
Enable the Amazon Alexa Flash Briefing Skill
Cards overtake cash
The popularity of contactless payments, online shopping and smartphones is having a significant effect on how we manage our money and pay for things. It has led to debit cards overtaking cash as the most frequently used payment method in the UK, according to the latest research from UK Finance.
The latest UK Payment Markets report shows how new technology, payment innovation and changing consumer habits contributed to 13.2 billion card payments at the end of 2017 overtaking cash payments (13.1 billion) for the first time. This beats previous forecasts by one year when debit cards would overtake cash within one year. In comparison, cash payments were down 15% year-on-year.
The popularity of contactless payments among UK consumers is a key driver of debit card growth. In total, across both debit and credit cards, the number of contactless payments increased by 97% during 2017 to 5.6 billion. Almost two thirds of people in the UK now use contactless payments, and no age group or region falls below 50% usage.
Stephen Jones, Chief Executive, UK Finance said:
The choice of payment options available in the UK is allowing people to choose to pay the way that best suits them. But we're far from becoming a cash-free society and despite the UK transforming to an economy where cash is less important than it once was, it will remain a payment method that continues to be valued and preferred by many.

These trends are likely to shift further over the next decade. Developments such as Open Banking are expected to bring extensive changes to the payments landscape, something that will likely shape how we interact with our money in the coming years.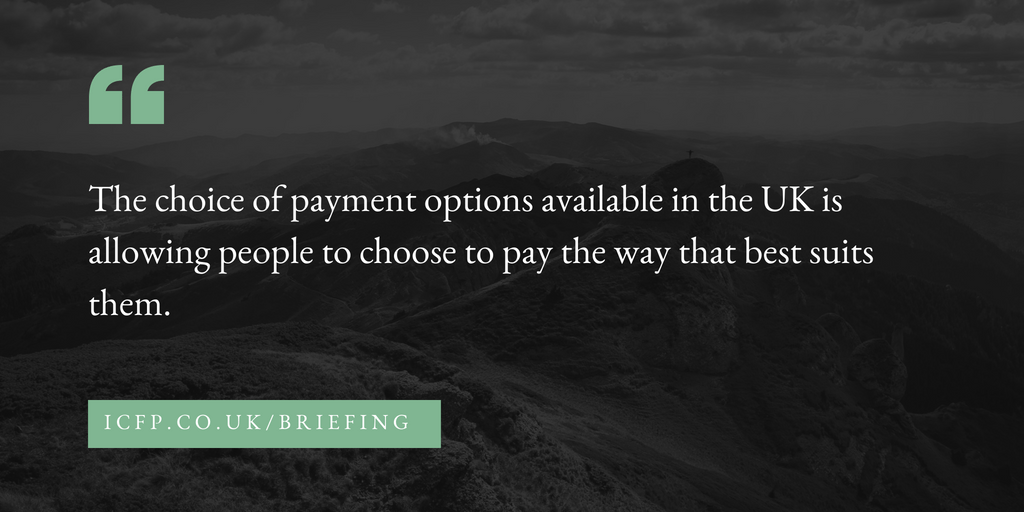 Virgin Money sold
Virgin Money has been sold for £1.7bn. The sale, to Clydesdale Bank and Yorkshire Bank owner CYBG, will result in all of the group's retail customers moving to Virgin Money over the next three years. The purchase of Virgin Money will create the sixth-largest bank in the UK, with around six million customers. There are expected to be around 1,500 job losses as a result of the deal. The Virgin Money brand is being licenced to CYBG for £12m a year initially. Shareholders in Virgin Money will receive 1.2125 new CYBG shares for each Virgin Money share they hold, resulting in ownership of around 38% of the new combined business.
In a statement, CYBG said the takeover would "bring together the complementary strengths of two successful challenger banks to create the UK's first true national competitor to the large incumbent banks".
Fossil fuel divestment
New government proposals will allow pension scheme trustees to divest from shares in oil, gas and coal companies, instead taking long-term stakes in green and social impact investments. The proposals are designed to allow pension trustees to divest from environmentally damaging fossil fuels and invest in green alternatives, in line with their members' wishes. The new rules will remove the burden of pension trustees feeling they need to seek the highest possible returns, regardless of environmental damage.
The paper published today, Clarifying and Strengthening Trustees' Investment Duties, from the Department for Work and Pensions (DWP) said:
Our proposed regulations are intended to reassure trustees that they can (and indeed should) take account of financially material risks, whether these stem from investee firms' traditional financial reporting, or from broader risks covered in non-financial reporting or elsewhere.
Carney criticism
Former Bank of England Monetary Policy Committee member Andrew Sentance has attacked governor Mark Carney, accusing him of failing to understand the UK economy. He said the Canadian governor should be replaced with someone who is not foreign when he steps down from the role next year. Sentance delivered his verdict ahead of the next MPC meeting, where no change to the interest rate is expected to be announced. He has consistently argued for higher interest rates, most recently in order to deal with rising price inflation and prevent higher prices from causing economic damage.
Andrew Sentance said Carney's "lack of confidence with raising interest rates has been due to the fact he's not familiar with the UK economy".
He continued:
I don't think we should appoint somebody else from overseas. I don't think having people who aren't familiar with the UK economy jetted in would be a good thing.
Economic forecast cut
Business organisation the British Chambers of Commerce has cut its economic growth forecast for this year, warning of the weakest year for the UK economy since the global financial crisis. It cut its forecast from 1.4% to 1.3%, at the same time cutting its forecast for next year from 1.5% to 1.4%. It warned of a "lacklustre outlook" for consumer spending, business investment and trade, with the coming years a "testing time" for UK businesses. The BCC explained that Brexit uncertainties, the threat of trade wars and higher oil prices were all hurting economic sentiment.
In a statement, the BCC said:
The BCC urges the government to focus as much as possible on the domestic business environment, reducing the uncertainty that firms face, and take action on skills shortages and poor mobile connectivity, which lower productivity and hold UK businesses back.
Informed Choice provides a regular personal finance and investment news summary, with an updated Flash Briefing for your Alexa enabled device. Search for The Briefing from Informed Choice in your Amazon Alexa app or visit https://www.amazon.co.uk/Informed-Choice-Radio/dp/B074DZZ1MF/ to enable this Flash Briefing.