The Briefing on Friday 15th June 2018
In this edition of The Briefing from Informed Choice on Friday 15th June 2018 – ECB stops QE, Universal Credit criticism, alarming branch closures, dads digging deep, and package holiday warning.
Subscribe to The Briefing by email
Enable the Amazon Alexa Flash Briefing Skill
ECB stops QE
The European Central Bank (ECB) has announced an end to its bond-buying programme of quantitative easing. The decision marks a landmark moment a decade after the global financial crisis. The ECB announced plans to reduce the pace of asset purchases, down from the current level of €30bn a month to €15bn a month between September and December. Net purchases will then end at the end of December, according to a statement.
The ECB also announced changes to its forward guidance on interest rates. It left interest rates unchanged at its latest meeting and said they would remain unchanged "at least through the summer of 2019". This represents a more definitive set of forward guidance than previously offered by the ECB.
Silvia Dall'Angelo, Senior Economist at Hermes Investment Management, said:
The headline-grabber outcome of the ECB meeting today was the announcement of an end-date for the QE programme: the ECB now anticipates net purchases to grind to a halt at the end of this year. However, the decision was hardly a surprise, following the hints from the ECB's Chief Economist Peter Praet two weeks ago. Importantly, the ECB made sure to keep in place significant accommodation by strengthening its forward guidance on rates and it retained plenty of flexibility should circumstances change going forward.

As largely expected, the ECB announced an extension of QE net purchases at a slower monthly pace of €15bn after September and until the end of the year. According to Draghi, recent "substantial progress" in the inflation adjustment towards the ECB's 2% target justifies further tapering and the conclusion of the QE programme.

Of course, the process is conditional on development in incoming data but it feels like the bar for disappointment is quite high.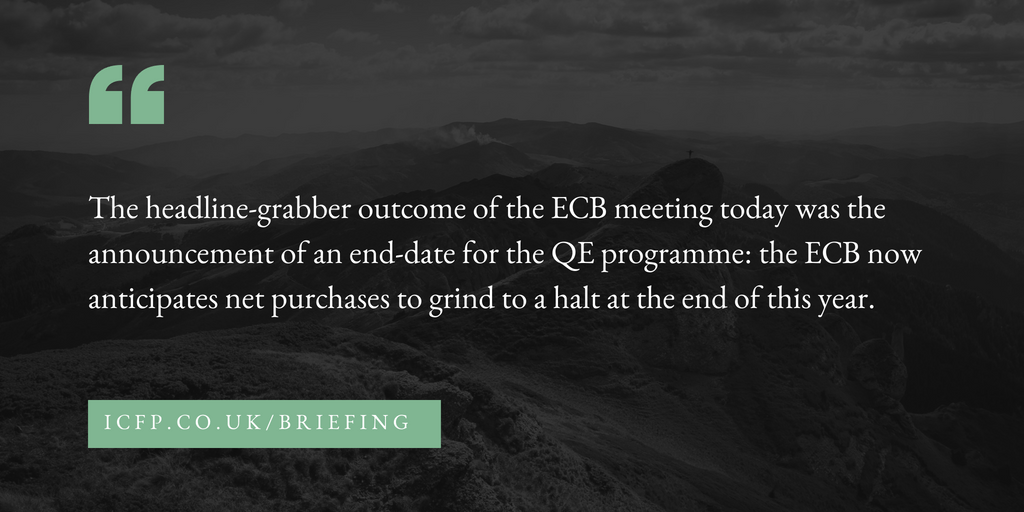 Universal Credit criticism
Universal Credit has been implemented too slowly, created hardships and is failing to deliver good value for money. That's according to a report from the National Audit Office, which concluded the £1.9bn Universal Credit system could ultimately be more expensive to administer than the previous six benefits system it's designed to replace. The NAO found that some claimants were waiting up to eight months for benefit payments following the switch. According to the government, Universal Credit could result in a return of £34bn over the course of the next decade.
Alarming branch closures
Banks are closing around 60 branches a month, according to consumer group Which? RBS is leading banks with the highest number of branch closures. Which? found that 2,868 bank branches will be closed between 2015 and end of this year. It referred to the trend of branch closures as 'alarming' as it risks leaving customers without proper access to banking services.
Which? money expert Gareth Shaw said:
While the decision is clearly a commercial one for a bank to take, it is also crucial that banks do recognise the needs of their customers and the communities they serve, before simply shutting their doors – and their customers out.
Dads digging deep
More than half of dads and granddads aged 50 and over are digging deep to provide financial support and childcare assistance. At the same time, these fathers are worrying they will become a financial burden to their family. The study of 20,000 dads and grandads by over 50s specialist SunLife revealed a third of dads give adult sons and daughters money to pay for their day to day living expenses. One in four fathers are welcoming children back to the family home while they save for a deposit for their first home.
One in four UK housing transactions and one in five car purchases for new drivers now relies on a parental cash injection as more than four in ten dads and granddads aged over 50 admit to giving adult children and grandchildren money for one-off purchases.
Ian Atkinson, SunLife's Director of Marketing, said:
Dads and granddads in their 50s, 60s and 70s are still doing so much for children and grandchildren, with more than half providing financial support and a third helping with childcare. Father's Day is a chance to say 'thanks' and show your appreciation for everything they do.

Our research shows the more personal you can be with your card or present, the more dads and granddads aged over 50 will appreciate your thoughtfulness and generosity. For dads, life after 50 is more about gaining new experiences than accumulating more things, so a family gathering is the perfect way to spend Father's Day.
Package holiday warning
Defaqto, the financial information business, has identified a worrying lack of cover for some travellers booking holidays independently without a travel agent. Despite new regulations coming in that are designed to protect those who travel outside of a 'package' holiday, many will not benefit from this protection unless they book everything through the same agent or website.
The new EU Package Travel Directive has been designed to give holidaymakers more protection against a firm going bust. Currently, when a person buys a 'package' holiday from a travel agent and the airline or accommodation provider goes bust, the individual is guaranteed a full refund or return travel home to the UK if already abroad. Holidaymakers can also get a refund if adverse weather or industrial action means that some or all of the holiday can't go ahead.
From 1st July this year, this protection will also be extended to customers who buy travel services, such as flights and accommodation, from a single website, call centre or shop; even if it is not technically a 'package' as the website is aggregating products and services from different suppliers. However, if the holidaymaker buys the elements through different agents or websites, they will have no protection and this is where travel insurance cover is absolutely vital.
Defaqto analysis of all the travel insurance policies on the market found that 41% of all policies do not have any cover for scheduled airline failure, and only 14% of single trip policies and 7% of annual policies offer it as an optional extra. Historically, it has been rare for an airline to fail but with Monarch collapsing last year leaving thousands of holidaymakers without flights, there is a real need for anyone booking flights to make sure they have cover in place should the worst happen.
Informed Choice provides a regular personal finance and investment news summary, with an updated Flash Briefing for your Alexa enabled device. Search for The Briefing from Informed Choice in your Amazon Alexa app or visit https://www.amazon.co.uk/Informed-Choice-Radio/dp/B074DZZ1MF/ to enable this Flash Briefing.