The Briefing on Tuesday 17th April 2018
In this edition of The Briefing from Informed Choice on Tuesday 17th April 2018 – mortgage lending rises, renting forever, worse off than expected, Pound Sterling rises, and pay squeeze reduces.
Subscribe to The Briefing by email
Enable the Amazon Alexa Flash Briefing Skill
Mortgage lending rises
Mortgage lending for first-time buyers, home movers and remortgagors increased in February 2018 compared to the previous year. This is according to the latest mortgage trends update from UK Finance. Total homeowner purchases, which combine both home movers and first-time buyers, reached 50,000, the highest level for February since 2007.
According to the data, there were 25,200 first-time buyer mortgages completed in February 2018, some 2.4% more than in the same month a year earlier. The £4bn of new lending in the month was 2.6% more year-on-year. The average first-time buyer is 30 with a gross household income of £41,000.
There were 24,800 home mover mortgages completed in the month, the same as in February a year earlier. The £5.3bn of new lending in the month was 1.9% more year-on-year. The average home mover is 39 and has a gross household income of £55,000.
Jackie Bennett, Director of Mortgages at UK Finance, said:
Homebuyers have shaken off the winter blues, with purchases by first-time buyers and home movers reaching their highest levels for February in over a decade. Remortgages are also up year-on-year, as homeowners look to fix costs amid anticipation of further interest rate rises.

Meanwhile the buy-to-let market continues to operate at stable but subdued levels, due in part to the impact of recent legislative and tax changes.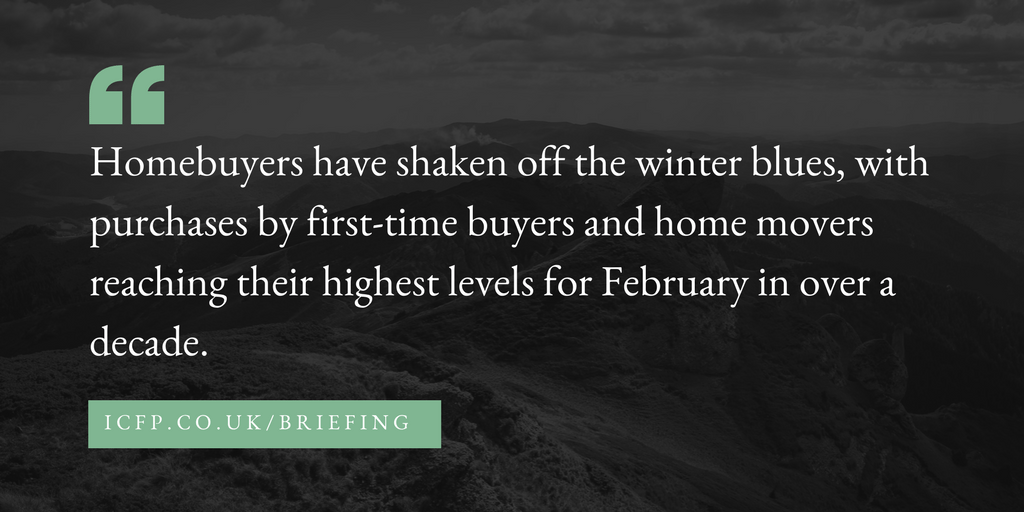 Renting forever
As many as a third of millennials face the prospect of never buying their own home. This is according to a new report by the Resolution Foundation. The think tank report said that 40% of younger people, defined as being born between 1980 and 1996, were living in rented accommodation by the age of 30. Resolution found this was twice as many as those members of Generation X, born between 1965 and 1980.
It found that 1.8m families are living in privately rented housing, up from 600,000 15 years earlier. According to the Home Improvements report, the so-called 'generation rent' needed more help to get on the housing ladder. Resolution called for more affordable homes to be built and greater protection for tenants.
Lindsay Judge, senior policy analyst at the Resolution Foundation, said:
Britain's housing problems have developed into a full-blown crisis and young people are bearing the brunt – paying a record share of their income on housing in return for living in smaller, rented accommodation.

While there have been some steps recently to support housebuilding and first-time buyers, up to a third of millennials still face the prospect of renting from cradle to grave.

If we want to tackle Britain's housing crisis we have to improve conditions for the millions of families living in private rented accommodation. That means raising standards and reducing the risks associating with renting through tenancy reform.
Worse off than expected
New research from SunLife shows one in five people over 55 feels worse off than they expected to be. The research also found that four in ten over 55s worry whether they have enough money in their pension to cover their retirement, and 43% are concerned that their money will run out before they die.
In the study of more than 1,000 homeowners aged 55 and over, two thirds of baby boomers blame the rising cost of living for not being as comfortable as they had hoped and almost half believe poor interest rates have dented their savings. While the average pension pot of someone over 55 is around £105,496, SunLife's research found that they have around £280,000 of equity in their homes, and that eight in ten homeowners are ready to use their housing wealth to fund retirement options with a third considering equity release to access some of the value tied up in their home.
SunLife's CEO Dean Lamble said:
In some ways, there has never been a better time to retire – we're living longer, enjoying healthier, more active lifestyles, and thanks to the new flexible rules around pensions, we have more freedom to spend our pension savings as we choose. But with the average pension pot of someone over 55 around £105,000, many don't want to take out a lump sum and so reduce their pension income further, and people are clearly worried that they haven't got a big enough pension to fund their retirement.
Pound Sterling rises
Pound Sterling has risen to its highest level against the US Dollar since the UK voted to leave the European Union in June 2016. The pound had risen 0.2% against the dollar by 9am this morning, to reach 1.4363, higher than the most recent high point reached in January. Pound Sterling has risen by 6% against the Dollar to date in 2018, making it the best performing currency among G10 economies.
It remains below its pre-referendum levels, but analysts believe some momentum is now building. Recent strengthening to Sterling is based on expectations the Bank of England will raise interest rates this year, with the British economy performing better than expected. Progress with Brexit negotiations and an agreement to a 21 month transitional period is also contributing to higher Sterling.
Pay squeeze reduces
Average wages rose by 2.8% in the three months to February, according to the latest official figures. Wage growth came in lower than forecasts but was the highest reported quarterly figure since September 2015. It remains below price inflation as measured by the Consumer Prices Index, which rose by 2.9% during the same period.
Official figures published this morning also show unemployment falling by 16,000 between December and February, to 1.42m. The number of people in work reached a new record high of 32.2m.
Subscribe to The Briefing by email
Enable the Amazon Alexa Flash Briefing Skill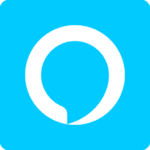 Informed Choice provides a regular personal finance and investment news summary, with an updated Flash Briefing for your Alexa enabled device. Search for The Briefing from Informed Choice in your Amazon Alexa app or visit https://www.amazon.co.uk/Informed-Choice-Radio/dp/B074DZZ1MF/ to enable this Flash Briefing.