The Briefing on Thursday 22nd March 2018
In this edition of The Briefing from Informed Choice on Thursday 22nd March 2018 – US interest rate hike, higher wage growth, EU digital tax, US-China tariffs, and rates expected to hold.
Subscribe to The Briefing by email
Enable the Amazon Alexa Flash Briefing Skill
US interest rate hike
The US Federal Reserve has raised its benchmark interest rate by 0.25% to a target range of 1.5% to 1.75%. The Fed described a stronger economic outlook as the driver behind the rate rise and signalled another two rate rises this year, also raising the forecast for interest rate hikes next year.
In its statement, the Fed said "the economic outlook has strengthened in recent months," also noting that household and business fixed investment "have moderated from their strong fourth-quarter readings."
The Fed is now forecasting a total of eight quarter-point interest rate hikes between now and the end of 2020, including three in total this year. Its current forecast means that, by the end of 2020, US interest rates would be 3.4%.
Higher wage growth
The latest official figures show rising wage growth and lower unemployment in the UK. The Office for National Statistics reported earnings grew by 2.6% compared with a year earlier, for the three months to the end of January.
Wage growth rose from 2.5% in the previous quarter, suggesting a squeeze on household income may be coming to an end. The unemployment rate fell from 4.4% to 4.3%. However, the number of unemployment benefit claimants rose to 838,000 in February, up by 9,200 from the previous month to reach the highest level in more than three years.
EU digital tax
The European Union have announced plans to charge higher rates of tax to big technology firms. Companies with significant online revenues would pay a 3% tax on turnover, generating an estimated €5bn (£4.4bn) in taxes. Firms with global annual revenues exceeding €750m and taxable EU revenue above €50m would be caught by the new taxes.
EU economics affairs commissioner Pierre Moscovici said the "current legal vacuum is creating a serious shortfall in the public revenue of our member states".
The proposed tax would only apply to some online revenue streams, including online advertising in search engines or social media, and the sale of user data. In order to become law, the proposals need the backing of the 28 EU countries and the European Parliament, with some EU member countries already expressing their doubts the taxes would raise additional money.
US-China tariffs
In a move that could prompt a further trade war, the Trump administration in the US is planning to announce sanctions against China later today. It comes in response to a belief China is encouraging the theft and transfer of intellectual property from US businesses. The plan is expected to include $30-60bn of tariffs and other punitive measures.
America's top trade negotiator, Robert Lighthizer, told members of Congress on Wednesday the US is looking to put "maximum pressure on China and minimum pressure on US consumers" and protecting US intellectual property is critical to the economy. Lighthizer said:
It's an enormously important issue. We think it is perhaps the most important thing that will have been done in terms of rebalancing trade.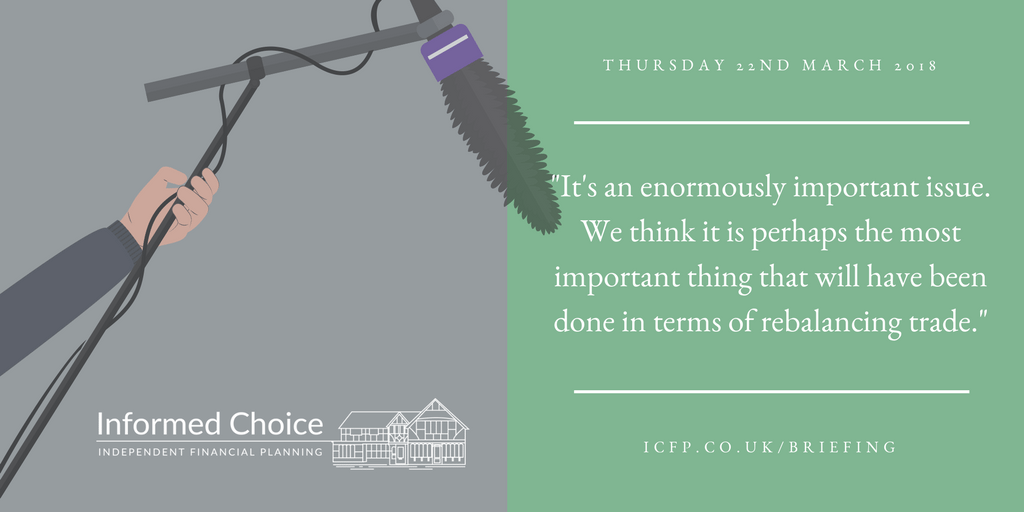 Rates expected to hold
The Bank of England is expected to keep interest rates on hold when its Monetary Policy Committee publishes minutes later today. The move could pave the course for an interest rate rise in May, taking borrowing costs above the emergency levels established following the global financial crisis more than a decade earlier.
In a Reuters poll of economists, none expected the Bank of England to follow up on its previous rate hike in November, which was the first since 2007. However, most economists polled believe the Bank will increase interest rate at their meeting in May.
Subscribe to The Briefing by email
Enable the Amazon Alexa Flash Briefing Skill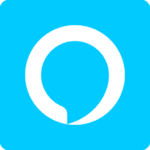 Informed Choice provides a regular personal finance and investment news summary, with an updated Flash Briefing for your Alexa enabled device. Search for The Briefing from Informed Choice in your Amazon Alexa app or visit https://www.amazon.co.uk/Informed-Choice-Radio/dp/B074DZZ1MF/ to enable this Flash Briefing.