The Briefing on Wednesday 21st March 2018
In this edition of The Briefing from Informed Choice on Wednesday 21st March 2018 – slowing price inflation, cap on punitive care costs, grandparents missing out, money worries, and pay awards rising.
Subscribe to The Briefing by email
Enable the Amazon Alexa Flash Briefing Skill
Slowing price inflation
Price inflation fell during February due to lower petrol prices and a slower rise in the price of food. Inflation as measured by the Consumer Prices Index stood at 2.7% in the year to February, down from 3% the previous month. It's the lowest CPI inflation figure since July 2017 and came in lower than many analysts predicted.
Lower price inflation means less pressure on the Bank of England to increase interest rates. Inflation reached a six-year high of 3.1% in November and has been falling since then.
Phil Gooding, from the Office for National Statistics, said:
Many of the early 2017 price increases due to the previous depreciation of the pound have started to work through the system. Hotel prices also fell and the cost of ferry tickets rose more slowly than last year, when prices were collected on Valentine's Day, when many people could have been taking mini-breaks.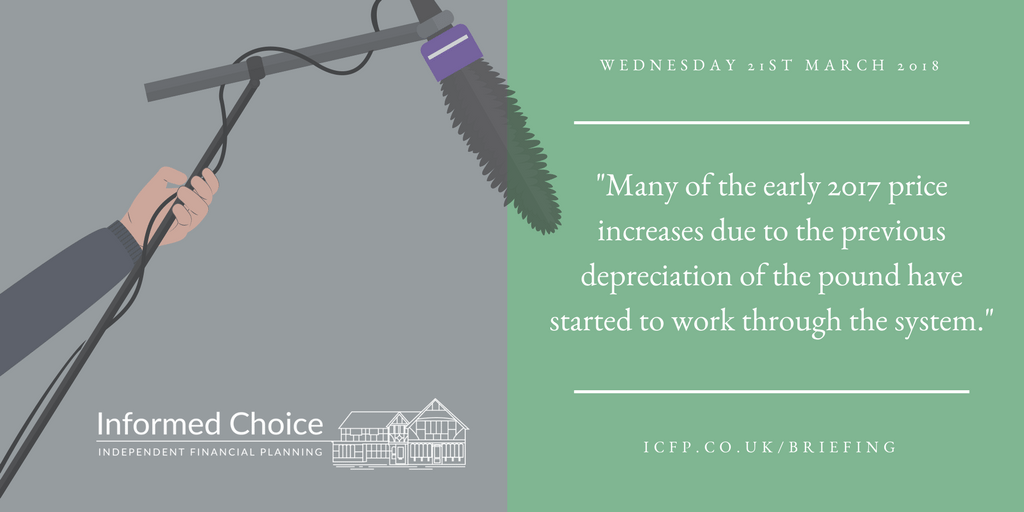 Cap on punitive care costs
Health Secretary Jeremy Hunt has confirmed that a cap on "punitive" social care costs will form part of Government reforms. The lifetime cap on care costs was abandoned in the Conservative election manifesto last year.
In his first speech since taking responsibility for a Government Green Paper on social care funding, Jeremy Hunt said the cap would be reinstated to help spread the risk posed by the "illness lottery" of dementia and other conditions. He said the cap would be one of a number of "risk pooling" measures.
Speaking to an audience of health and social workers, Mr Hunt explained that social care funding would be based on "a partnership between the state and individuals".
Grandparents missing out
Data obtained by insurer Royal London under the Freedom of Information Act has found a seven-fold increase in the number of grandparents claiming help towards their state pension because they are looking after grandchildren. But many more grandparents are still yet to claim the help which is available.
Under current rules, where a grandparent is looking after a grandchild and this allows the child's parent to get back to work, the grandparent may be entitled to a National Insurance credit to help them build up a full state pension. A grandparent who looks after a grandchild for one year could add around £230 per year to the amount of state pension they get in retirement.  Over a typical twenty year retirement this could be worth more than £4,500.
Steve Webb, Director of Policy at Royal London said:
It is right and proper that when grandparents sacrifice their own working life to help a family member get back to work, they should not also damage their own state pension prospects.  This National Insurance credit is a valuable right and it is good news that the numbers claiming have risen so dramatically in such a short space of time.

But we believe that there are tens of thousands more grandparents who could be entitled to benefit and would encourage more of them to find out about the scheme and to make a claim.
Money worries
New research from NS&I reveals that personal finance worries are having a negative impact on the wellbeing of 17 million Britons. The research found a quarter revealing that the state of their personal finances has had a negative effect on their mental health.
In total 85% of Britons admit to worrying at least some of the time, and for two thirds of those who worry, money is the subject that they worry about more than any other. This means that around 29 million of us are losing sleep over our personal finances.
Jill Waters, Retail Director at NS&I, said:
It is concerning that almost two thirds worry over their finances, yet the current picture is slightly better than it was in 2012, when we found that three quarters of people worried about their finances at least once a year. However, this new research has also found that younger people are more likely to see a negative impact on their wellbeing as a result of worrying about their finances.
Pay awards rising
A new survey by research company Incomes Data Research has found pay awards are rising by the most in more than two years. According to the research, median pay awards were up by 2.5% over the three months to January. It's the strongest growth since the three months to December 2015.
The survey cover 50 pay settlements across businesses employing nearly 330,000 staff, excluding the public sector where pay reviews typically occur in April.
Ken Mulkearn, editor of IDR Pay Climate, said:
Our latest figures suggest that the pay growth we saw in the private sector in the three months to October 2017 has continued into 2018.
Subscribe to The Briefing by email
Enable the Amazon Alexa Flash Briefing Skill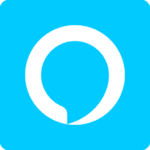 Informed Choice provides a regular personal finance and investment news summary, with an updated Flash Briefing for your Alexa enabled device. Search for The Briefing from Informed Choice in your Amazon Alexa app or visit https://www.amazon.co.uk/Informed-Choice-Radio/dp/B074DZZ1MF/ to enable this Flash Briefing.