The Briefing on Tuesday 20th March 2018
In this edition of The Briefing from Informed Choice on Tuesday 20th March 2018 – Facebook shares fall, Brexit boost for consumers, punishing irresponsible bosses, unrebellious banking, and Bellway profits rise.
Subscribe to The Briefing by email
Enable the Amazon Alexa Flash Briefing Skill
Facebook shares falls
Shares in social media giant Facebook have fallen sharply following questions about its privacy rules. The firm lost $37bn of its value after reports about British firm Cambridge Analytica acquiring and using customer information from Facebook.
In the UK, a spokesman for Theresa May called the allegations "very concerning" and the Information Commissioner's Office is seeking a warrant to search the offices of Cambridge Analytica for evidence.
Facebook shares fell 6.7% at the end of trading to close at $172.56.
Brexit boost for consumers
Shoppers could benefit from price falls of up to 1.2% if Britain abolishes all tariffs on leaving the European Union. A report by the Institute for Fiscal Studies has warned that any gains from abolishing tariffs would be small and short-lived. The forecast is based on "optimistic assumptions" about the outcome of Brexit.
The report said:
We estimate that complete abolition of all tariffs would reduce prices faced by households by about 0.7-1.2%. This could have additional positive economic benefits in the long run but could also be very damaging for some UK industries in the short run.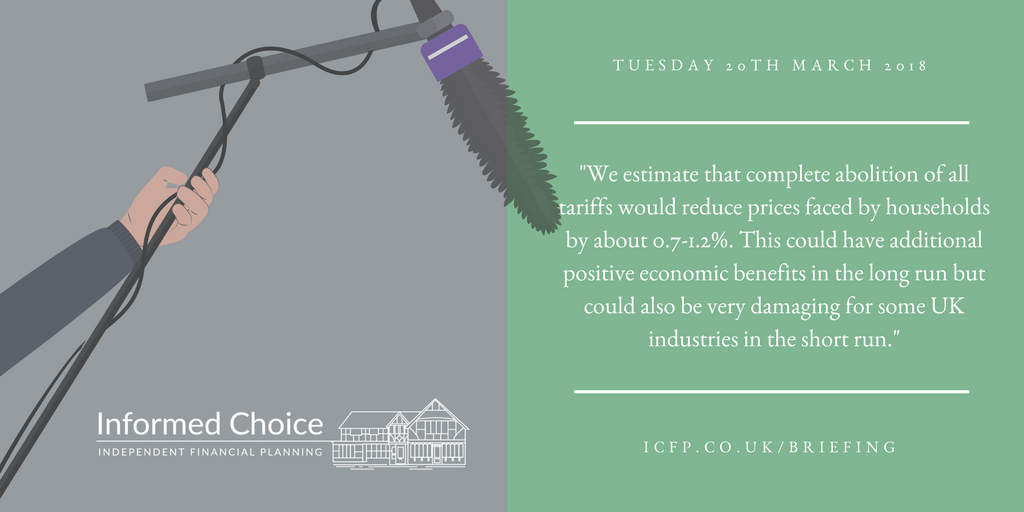 Punishing irresponsible bosses
The government has put forward new plans to protect workers and punish company bosses who profit from their firm's failure. The plans include clawing money back from bosses through the reversal of asset sales by struggling businesses. Company bosses who sell a firm "knowing it would fail" would be held liable for their actions under the proposals.
Business Secretary Greg Clark said:
These reforms will give the regulatory authorities much stronger powers to come down hard on abuse and to make irresponsible directors bear the consequences of their actions.
Unrebellious banking
New research from TSB has found that nearly two in five people still use the same bank their parents chose for them. Yet further research from TSB found that four in five people who bank with the 'big five' believe their bank does "as little as possible" for them.
The findings also show that more than half of people rebelled against their parents as teenagers, either through their style, career choice, or a love interest their parents disapproved of. Yet, the research reveals that only one in 10 say they have rebelled against their parents' choice of bank and have simply stuck with what was chosen for them.
Craig Bundell, Director of Personal Current Accounts at TSB, said:
There's no 'one size fits all' solution when it comes to finding the best bank account, but making sure that you're making the most of your bank account is vital – particularly at big moments in your lifetime.  However it's very easy to fall into the trap of sticking with the one bank account that you've had for a number of years.

People need a bank account that suits their needs as an adult and not what suited their parents' needs when they were a child.
Bellway profits rise
Pre-tax profits at British housebuilder Bellway Plc have risen by 16.6% to £288.7m. The housebuilder said a strong order book would help its new home output exceed 10,000 units a year for the first time. They said the government's Help to Buy scheme continued to help sell houses, with the product being used in 39% of completions.
Average selling prices were up by 7.7% to £275,945. Bellway raised its interim dividend by 28%, to 48p a share.
Bellway said:
Positive trading environment, together with a substantial order book, bodes well for the full year and should enable the group to complete in excess of 10,000 new homes.
Subscribe to The Briefing by email
Enable the Amazon Alexa Flash Briefing Skill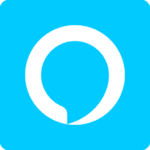 Informed Choice provides a regular personal finance and investment news summary, with an updated Flash Briefing for your Alexa enabled device. Search for The Briefing from Informed Choice in your Amazon Alexa app or visit https://www.amazon.co.uk/Informed-Choice-Radio/dp/B074DZZ1MF/ to enable this Flash Briefing.