The Briefing on Monday 19th March 2018
In this edition of The Briefing from Informed Choice on Monday 19th March 2018 – fixed odds betting limit, improved economic growth forecasts, more affordable mortgages, stricter rules for doorstep lending, and Prime Minister backs Women in Finance Charter.
Subscribe to The Briefing by email
Enable the Amazon Alexa Flash Briefing Skill
Fixed odds betting limit
The Gambling Commission has said the maximum stake for fixed odds betting terminals should be £30 or less. The ruling follows consultation on behalf of the Department for Digital, Culture, Media and Sport. The Department wants to "reduce the risks that consumers, especially those that are vulnerable, face from gambling" and says the maximum stake on "slot games" should be reduced to £2.
According to the Gambling Commission report, introducing a £30 limit for casino type games was recommended because a higher limit would have "a significant effect on the potential for players to lose large amounts of money in a short space of time". The government will now decide whether to impose the limit or a lower figure.
Improved economic growth forecasts
An influential business group has raised its forecast for UK economic growth, but warns that the country will be the worst performing in the G7 until 2020. The British Chambers of Commerce raised its GDP forecast for this year to 1.4% from 1.1%. Its forecast for next year was raised from 1.3% to 1.5%. According to the BCC, the improved forecasts are due to slightly stronger than expected consumer spending.
It also believes imports are likely to continue to growth, but the net trade contribution to GDP growth in the near term will be limited, "particularly with little evidence of a sterling boost to the UK's overall net trade position".
Dr Adam Marshall, Director General of the British Chambers of Commerce, said:
While many individual businesses are doing well, the inescapable conclusion from our forecast is that the UK economy as a whole should be performing better than it is, given robust and sustained global growth.

Although strong global conditions have given the UK a bit of a boost through higher export demand in recent months, we have serious concerns about the potential for further growth here at home when the performance of key trading partners slows.

Sustained skills and labour shortages are also a real issue, with businesses reporting significant difficulties recruiting and retaining the people they need.

Political uncertainty aside, the biggest brake on higher UK growth is a lack of concerted action to 'fix the fundamentals' here at home, with government attention distracted by Brexit.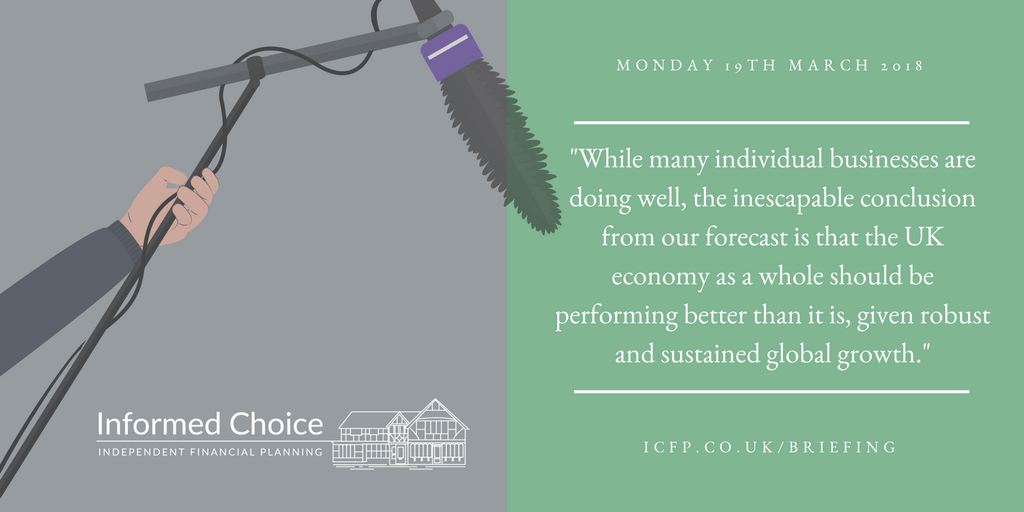 More affordable mortgages
Mortgages in the UK have reached their most affordable level in a decade. This is according to new research from Halifax. Typical mortgage payments accounted for less than a third of homeowners' disposable income in the fourth quarter of 2017 compared to almost half in 2007. This means mortgage affordability levels for first-time buyers and homemovers have dropped by 40% since the 2007 peak.
The significant improvement in affordability since 2007 has been driven predominantly by historically low mortgage rates, despite the first base rate rise in a decade last November. With average house prices rising by 3% in the past year, mortgage affordability marginally improved in the last quarter of 2017, edging down from 29.6% in 2016. This is comfortably below the long-term average of 35%, remaining low due to a further dip in mortgage rates during 2017 from an average of 2.09% in Q1 to 1.98% in Q4.
Andy Bickers, Mortgage Director at Halifax, said:
This is a real boost for both those who already have a mortgage and those preparing to take their first step on to the property ladder. Improved mortgage affordability has been a key factor supporting housing demand and helping to stimulate the modest recovery that we are currently seeing.

In recent months we have seen the number of first-time buyers and homemovers purchasing a home with a mortgage bounce back towards 2007 levels, and mortgage payments becoming a much smaller proportion of disposable income across most of the country will also support a healthy market with more choice and opportunity for buyers/borrowers.
Stricter rules for doorstep lending
Those who borrow from doorstep lenders should receive the same protection as people who borrow money from payday lenders. This is according to Citizens Advice who are arguing for the payday lending rules to be copied across to doorstep lenders, preventing loans from being rolled over time after time. According to Citizens Advice, more than 1.6m people in the UK use home credit loans.
Prime Minister backs Women in Finance Charter
A further 45 companies have signed up to the Women in Finance Charter, including Goldman Sachs, UBS, and Visa. This means that the Charter now covers over 650,000 financial services employees in the UK.
The announcement coincides with the launch of the first Women in Finance Charter Annual Review which shows that, in the first year of the Charter, positive progress is being made to improve gender balance in the industry.
HM Treasury's Women in Finance Charter asks financial services firms to commit to four industry actions to prepare their female talent for leadership positions. Over 200 firms have signed the Charter and over 650,000 employees in the UK are covered by its plan to tackle gender inequality in financial services.
The Prime Minister, Theresa May said:
More than 200 major financial institutions have now committed to improve the gender balance at the top of their organisation. This is an important step forward, not just because this is about fairness, or simply about giving women an equal opportunity to get on, but because our workplaces are greatly enriched by different approaches.

Time and again, I have seen first-hand how women can bring fresh thinking and new perspectives. And I know the commitment that women put into their jobs on a daily basis.

But, of course, there is still more to do be done and I look forward to seeing these companies really delivering on their targets over the next few years.
Subscribe to The Briefing by email
Enable the Amazon Alexa Flash Briefing Skill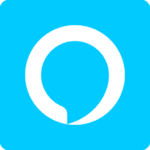 Informed Choice provides a regular personal finance and investment news summary, with an updated Flash Briefing for your Alexa enabled device. Search for The Briefing from Informed Choice in your Amazon Alexa app or visit https://www.amazon.co.uk/Informed-Choice-Radio/dp/B074DZZ1MF/ to enable this Flash Briefing.