The Briefing on Thursday 8th March 2018
In this edition of The Briefing from Informed Choice on Thursday 8th March 2018 – growth more important than Brexit, plan to improve women's resilience, checking retirement dates, Trump softens metals tariffs, and £11bn Spring Statement boost.
Subscribe to The Briefing by email
Enable the Amazon Alexa Flash Briefing Skill
Growth more important than Brexit
The British Chambers of Commerce will tell its conference today that Brexit should not overshadow plans to boost economic growth. They will report that British businesses face the greatest challenge from economic fundamentals rather than Brexit.
In his speech to the BCC conference in London later today, director general Adam Marshall will say:
Successive governments have acknowledged that more could be done to get the basics right for business.

Indeed, the current government's developing industrial strategy is upfront about many of these challenges.

Yet the leadership and the infrastructure simply aren't there to make change happen.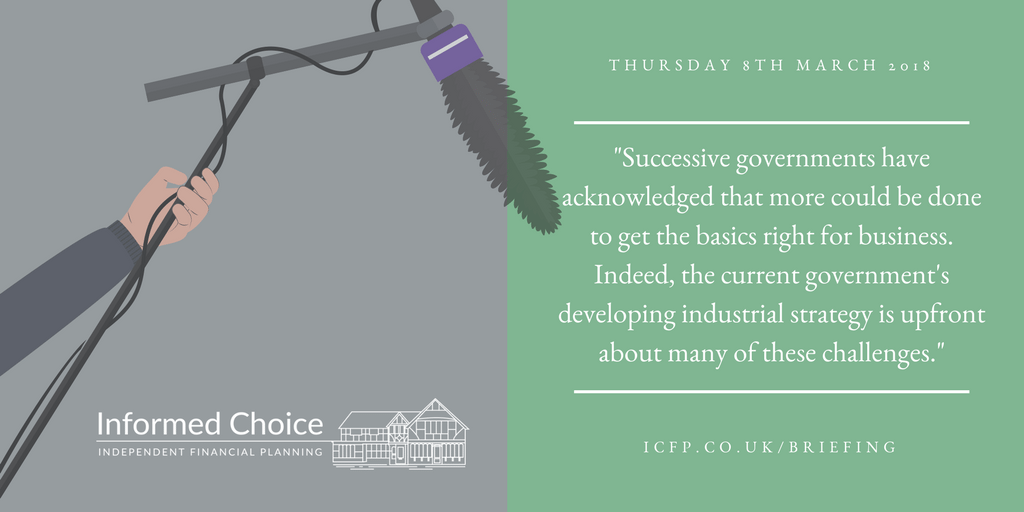 Plan to improve women's resilience
International Women's Day is a call to action to make further progress towards gender equality. While much progress has been made more work needs to be done to improve the financial resilience of women in Britain today.
This is according to insurer Royal London who have put together a five point plan to improving women's long term financial position. The plan says women should claim what is due to you, get saving, start investing, don't rely on others, and get advice where you can.
Helen Morrissey, Personal Finance Specialist at Royal London said:
Initiatives like auto-enrolment will help women improve their financial resilience but there is more that can be done. For instance we need greater awareness of the benefits available to help new mums accumulate National Insurance credits towards their State Pension entitlement and we must encourage more long term savings and investment behaviours. Once these behaviours become engrained we will see more women building a sustainable financial future.
Checking retirement dates
Most over 45s are not making plans to match their hopes for the future according to new research from life savings company Standard Life. 86% of those aged 45 or over are already dreaming about escaping their working life for retirement, but only 8% of the same age group have recently checked the retirement date on their pension plans to make sure it is still in line with their plans.
Over half of those surveyed don't have a clear idea when they want to retire, and only one in ten have worked out how much income they'll need when they decide to stop working.
According to Jamie Jenkins, Head of Pensions Strategy at Standard Life:
Some people will have set their retirement date when they were in their 20s or 30s and a great deal will have changed since then, including their State Pension age and perhaps their career plans. It may seem like a finger in the air guess when you're younger, but the date that you set for retirement on a pension plan does matter. It will often dictate how your money is being invested and the communications you receive as you get nearer to that date.
Trump softens metals tariffs
US President Donald Trump appears to be softening his stance on metal import tariffs, with the White House announcing exemptions for some countries on national security grounds. Canada and Mexico are among the countries that will be exempted from import tariffs, according to White House spokeswoman Sarah Sanders. It is also reported this softening of the US stance would only last for 30 days.
Ms Sanders said:
There are potential carve-outs for Mexico and Canada based on national security, and possibly other countries as well based on that process. That would be [on] a case-by-case and country by country basis.
£11bn Spring Statement boost
Chancellor Philip Hammond is expected to reveal an £11bn improvement in public finances during his Spring Statement next Tuesday. Analysis of official figures by the Resolution Foundation think tank has found improving productivity and higher tax revenues contributing to the improvement.
It would demonstrate a stark contrast to the gloomy picture painted by the Office for Budget Responsibility during the Autumn Budget in November. The Resolution Foundation expects the deficit to undershoot the OBR forecast of it reaching £49.9bn this year, up from £45.7bn in the previous twelve months.
Subscribe to The Briefing by email
Enable the Amazon Alexa Flash Briefing Skill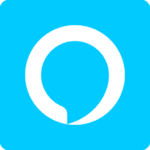 Informed Choice provides a regular personal finance and investment news summary, with an updated Flash Briefing for your Alexa enabled device. Search for The Briefing from Informed Choice in your Amazon Alexa app or visit https://www.amazon.co.uk/Informed-Choice-Radio/dp/B074DZZ1MF/ to enable this Flash Briefing.