The Briefing on Thursday 1st March 2018
In this edition of The Briefing from Informed Choice on Thursday 1st March 2018 – property price growth slows, women's state pension equality set back, divorcees worse off in retirement, Bill Gates on bitcoin, and Carpetright profit warning.
Subscribe to The Briefing by email
Enable the Amazon Alexa Flash Briefing Skill
Property price growth slows
Average property price growth has slowed in the UK in February, according to the latest survey from Nationwide Building Society.
Prices rose by an average of 2.2% last month, slower than January's growth of 3.2%. On a month-by-month basis, house prices fell by 0.3% in February compared to a month earlier.
Robert Gardner, chief economist at Nationwide, said:
Retail sales were relatively soft over the Christmas period and at the start of the new year, as were key measures of consumer confidence, as the squeeze on household incomes continued to take its toll.

Similarly, mortgage approvals declined to their weakest level for three years in December, at just 61,000. Surveyors report that new buyer enquiries have remained soft in recent months.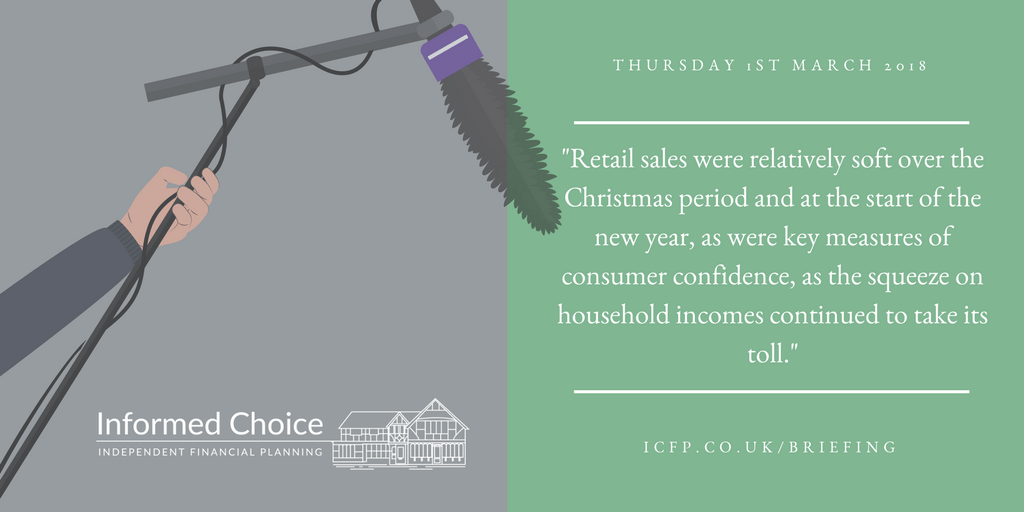 Women's state pension equality set back
New figures from HM Revenue & Customs show tens of thousands of mothers with young children face a permanently reduced state pension. This is according to Royal London who are highlighting the impact of changes to the Child Benefit system introduced in 2013 for higher income couples.
Affected families are those who opted out of Child Benefit when the rules changed or started a new family since 2013 and decided not to claim Child Benefit. 7.38 million families are receiving Child Benefit today compared with 7.92 million in 2012, just before the rules changed.
Royal London say some mothers will have lost over £23,000 in state pension rights since 2013 because of the changes, and are not allowed to make a backdated claim for missing credits.
Helen Morrissey, Personal Finance Specialist at Royal London said:
For the last forty years, the National Insurance record of mothers has been protected through valuable credits which mean that time spent at home with young children does not impact on their state pension.

But since 2013, growing numbers of mothers have either opted out of child benefit or have not claimed in the first place because of a new tax charge on higher income couples.  This is doing permanent damage to their state pension prospects.

It is outrageous that in the anniversary of women winning the right to vote, the government is overseeing a state pension system which penalises women for having children.

The Government needs to make sure that all mothers claim their national insurance credits, and to allow backdated claims. Otherwise, the cause of women's pension equality will be set back a generation.
Divorcees worse off in retirement
Divorcees planning to retire this year can expect their income to be £3,800 a year lower than those who have never divorced. This is according to new research from Prudential, highlighting the impact of divorce on retirement planning.
The Prudential annual study, which has been running for 11 years, tracks the finances, future plans and aspirations of people planning to retire in the next 12 months. People retiring in 2018 expect to receive annual retirement income of £17,600 if they have previously divorced, compared to £21,400 a year for those who have never divorced.
The latest available divorce statistics from the Office of National Statistics show the divorce rate is starting to rise again, with the over 55s experiencing the greatest increase in divorce levels in 2016 compared to 2015.
Bill Gates on bitcoin
Microsoft founder Bill Gates has warned of the dangers of cryptocurrency during an "Ask Me Anything" session on Reddit. In response to one question on the forum, Gates wrote:
The government's ability to find money laundering and tax evasion and terrorist funding is a good thing. Right now, cryptocurrencies are used for buying fentanyl and other drugs, so it is a rare technology that has caused deaths in a fairly direct way.
Responding to a point that cash can also be used to fund illegal activities, Gates said:
Yes — anonymous cash is used for these kinds of things, but you have to be physically present to transfer it, which makes things like kidnapping payments more difficult.
Gates also used the web chat to warn that speculation surrounding cryptocurrencies is "super risky for those who go long."
Carpetright profit warning
Retailer Carpetright has issued a profits warning and revealed it is in talks with its lenders, with weak consumer confidence continuing to place pressure on the business. It's the second profit warning in two months for the chain, which cut its full-year profit expectations following a "sharp deterioration" in trading.
Full-year profit is now expected in the range of £2m to £6m, compared with a figure of £14m expected by analysts. Carpetright also expects to report a small underlying pre-tax loss for the year. Shares in the company fell by 22.88% at the market open.
Carpetright said:
Although the important Easter trading period is still to come, UK like-for-like sales remain below management expectations and the Group now expects to report a small underlying pre-tax loss for the year ending 28 April 2018.
Subscribe to The Briefing by email
Enable the Amazon Alexa Flash Briefing Skill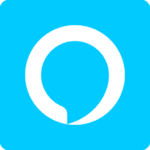 Informed Choice Radio provides a regular personal finance and investment news summary, with an updated Flash Briefing for your Alexa enabled device. Search for Informed Choice Radio in your Amazon Alexa app or visit https://www.amazon.co.uk/Informed-Choice-Radio/dp/B074DZZ1MF/ to enable this Flash Briefing.