The Briefing on Monday 26th February 2018
In this edition of The Briefing from Informed Choice on Monday 26th February 2018 – new law for poor value energy tariffs, passing pensions to the wrong person, tax cut boost for Buffett, interest rates warning on mortgage costs, and SME warning about Brexit.
Subscribe to The Briefing by email
Enable the Amazon Alexa Flash Briefing Skill
New law for poor value energy tariffs
New legislation is being introduced to Parliament today aiming to protect 11 million people from expensive energy tariffs.  The Domestic Gas and Electricity Bill is designed to limit the cost of standard variable tariffs until 2020, after which the cap can be extended each year until 2023.
Energy regulator Ofgem will be given powers to limit how much energy customers have to pay for standard variable tariffs, for gas and electricity supplies.
Prime Minister Theresa May said:
It's often older people or those on low incomes who are stuck on rip-off energy tariffs, so today we are introducing legislation to force energy companies to change their ways.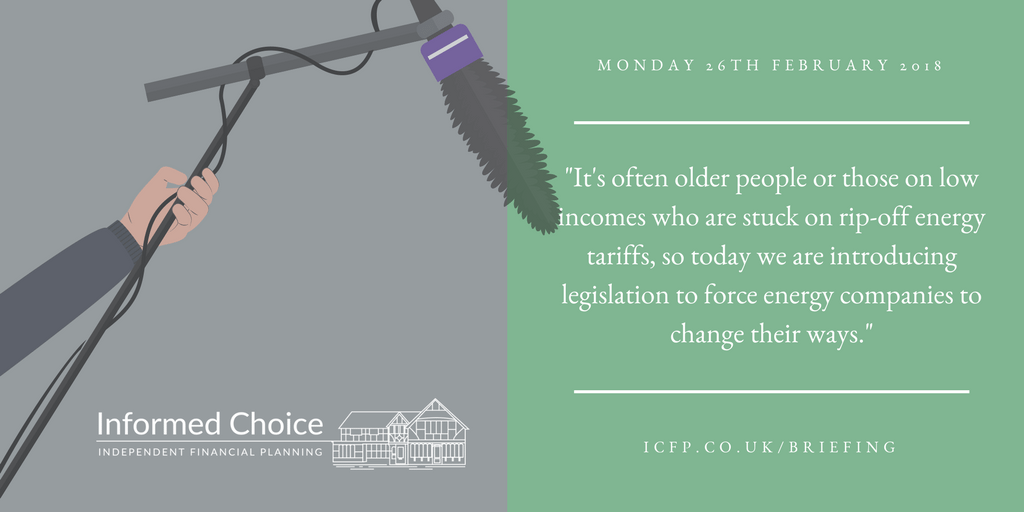 Passing pensions to the wrong person
Over 750,000 people coming up to retirement are at risk of passing their pension to the wrong person when they die, according to research by Royal London.
The problem arises where people have told a pension scheme that they want any payments after their death to go to a first spouse but they subsequently divorce, remarry or form a new partnership.   Unless the paperwork with the scheme is updated, there is a risk that any benefit for widows/widowers etc. will go to the ex-partner.
Helen Morrissey, personal finance specialist at Royal London said:
Over the course of our lives, many of us will be in a number of different relationships. The person we want to receive any pension benefits after we are gone is likely to change over time.

But if we have not told all of our past pension schemes about our new wishes and our new circumstances, there is a risk that the wrong person will stand to gain. It is important that people make sure that all of this information is kept up to date.
Tax cut boost for Buffett
Billionaire investor Warren Buffett has benefited from President Trump's tax reforms to the tune of $29bn. His investment company Berkshire Hathaway reported a record quarterly and annual profit this weekend, with the tax cuts accounting for almost half of the firm's profits in 2017.
The tax reforms resulted in a cut of corporate tax rate from 25% to 21% in the US. The Republican tax plan was opposed by Warren Buffett.
Buffett wrote in his annual letter to shareholders:
A large portion of our gain did not come from anything we accomplished at Berkshire. Only $36 billion came from Berkshire's operations. The remaining $29 billion was delivered to us in December when Congress rewrote the US Tax Code.
Interest rates warning on mortgage costs
If the Bank of England raises interest rates by 1%, it would add nearly £10bn to mortgage costs in the UK. That's according to a new report from estate agent Savills.
A 1% rate rise would result in £930 a year of extra mortgage payments on the average mortgage, with borrowers on variable rate mortgage deals hit hardest. Buy-to-let landlords would pay an extra £2.4bn should interest rates rise by 1%.
Nearly 60% of borrowers have a fixed rate mortgage deal and would pay more for their mortgage later, once existing mortgage deals came to an end.
Lucian Cook, head of residential research at Savills, said:
This would bring an end to the historically low mortgage costs that have boosted housing affordability and limit the buying power of those needing a mortgage, and underscores our forecasts for more subdued house price growth over the next five years.
SME concerns about Brexit
Most small and medium sized businesses feel the Government is ignoring their concerns on Brexit. Only 6% of the SMEs surveyed by accountancy firm Moore Stephens said they felt the Government is listening to their concerns.
Moore Stephens surveyed 653 firms and 612 said they felt their Brexit views were being ignored. According to the accountants, this highlights the amount of work needed by the Government to reassure the SME business community.
Mark Lamb, a partner at Moore Stephens, said:
Whilst banks and other big businesses have the influence to lobby the Government for their own special Brexit clauses, there are concerns that small businesses will be forgotten about.

Business owners are hugely concerned about what Brexit might mean for them. The Government must take their needs seriously when negotiating the exit deal
Subscribe to The Briefing by email
Enable the Amazon Alexa Flash Briefing Skill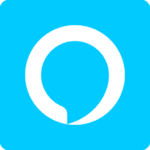 Informed Choice Radio provides a regular personal finance and investment news summary, with an updated Flash Briefing for your Alexa enabled device. Search for Informed Choice Radio in your Amazon Alexa app or visit https://www.amazon.co.uk/Informed-Choice-Radio/dp/B074DZZ1MF/ to enable this Flash Briefing.