The Briefing on Friday 23rd February 2018
In this edition of The Briefing from Informed Choice on Friday 23rd February 2018 – Standard Life Aberdeen sells insurance business, Darwin £10 note almost extinct, measured regulatory response for ICOs, Royal Bank of Scotland returns to profit, and MPs launch bitcoin inquiry.
Subscribe to The Briefing by email
Enable the Amazon Alexa Flash Briefing Skill
Standard Life Aberdeen sells insurance business
Standard Life Aberdeen has announced the sale of its insurance business and an enhanced long-term strategic partnership with Phoenix Group, as it completes its transformation to become a capital light investment company. The sale is for a total consideration of £3.24bn, including £2.28bn in cash and 19.99% in shares in Phoenix Group.
It comes as Standard Life Aberdeen reported lower profits in 2017, which is blames on a "changing investment landscape", due to low interest rates and household income growth. Pre-tax profits for the investment group fell to £1.03bn last year, down from £1.05bn in 2016.
Commenting on the sale of its insurance business, Sir Gerry Grimstone, Chairman of Standard Life Aberdeen, said:
This transaction completes our transformation to a capital light investment business, a process started in 2010 with the sale of Standard Life Bank, continuing with the sale of our Canadian business and merger last year between Standard Life and Aberdeen Asset Management.

This transaction represents excellent value for our shareholders, including a comprehensive and mutually beneficial strategic relationship entered into with Phoenix Group, a longstanding partner of the firm. In addition, I am particularly pleased to note Phoenix Group's commitment to maintain operation headquarters in Edinburgh.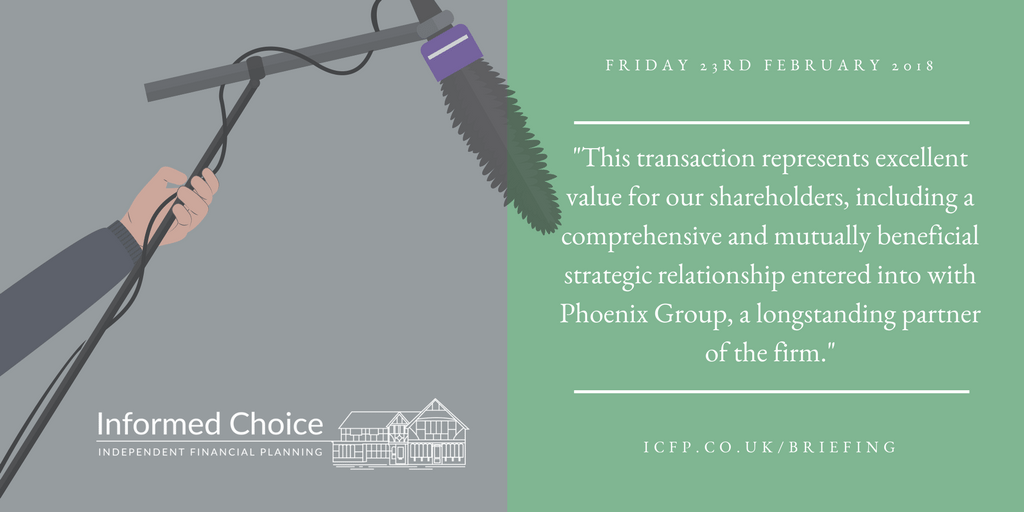 Darwin £10 note almost extinct
The Bank of England is withdrawing the legal tender status of the paper £10 note featuring Charles Darwin in less than a week. The old £10 note is no longer legal tender from 23:59 on Thursday 1st March.
Over 73% of £10 notes in circulation are polymer, but there are still around 211 million paper £10 notes left in circulation. Put end to end, that's enough notes to retrace almost half of Darwin's journey on HMS Beagle. Or, these would weigh the same as nearly two thousand giant Galápagos tortoises that Darwin saw on his travels.
After 1 March 2018, the new polymer note featuring Jane Austen will be the only £10 note with legal tender status. Some banks and building societies may accept paper £10 notes after 1 March but this is at their own discretion. Most retailers will no longer accept the paper £10 note as payment.
Measured regulatory response for ICOs
The need to balance risk and innovation has never been greater, as blockchain technology and cryptocurrencies increasingly mature and enter the mainstream. This is according to the the Association of Chartered Certified Accountants.
In its new report, ICOs: real deal or token gesture?, the ACCA has found that due to the upsurge in the use of Initial Coin Offerings (ICOs) – originally developed for funding blockchain based innovation – regulation and risk need to be at the forefront of the current conversation.
Narayanan Vaidyanathan, head of business insights at ACCA, says:
Innovation is crucial to an organisation's long-term success, but in future, businesses will need to be mindful of the risks and ethical issues posed by cutting corners in using unregulated alternative funding methods.

High-short-term gains in using ICOs might look appealing to investors, but it's easy to fall victim to a scam and for the investment to be lost. Wider risks involved pertain to ICOs being used as vehicles for money laundering.
Royal Bank of Scotland returns to profit
Royal Bank of Scotland has returned to profit after ten years of losses. The taxpayer controlled bank reported a full year operating profit before tax of £2.2bn, with an attributable profit of £75m in 2017.
Shares in the banking group fell by 4.6% at market open on Friday, to 269p. The accounts offered no update on the US Department of Justice settlement for mis-selling mortgage backed securities, which some analysts believe could result in a charge of up to $12bn
Ross McEwan, chief executive of Royal Bank of Scotland, commented on the return to profit, saying:
This is a symbolic moment for this bank and a clear indication of the progress we continue to make in putting the past behind us, while at the same time investing to build a bank which delivers for both customers and shareholders.
MPs launch Bitcoin inquiry
MPs on the influential Treasury Committee have launched an inquiry into cryptocurrencies and blockchain technology. They aim to better understand the risks and benefits of the digital currency, considering the role of digital currencies in the UK, including their impact on consumers and businesses.
Nicky Morgan, chair of the of the committee, said the MPs plan to examine how consumers and the financial infrastructure in Britain could be better protected, without restricting innovation.
Morgan said:
People are becoming increasingly aware of cryptocurrencies such as Bitcoin, but they may not be aware that they are currently unregulated in the UK, and that there is no protection for individual investors.

The Treasury Committee will look at the potential risks that digital currencies could generate for consumers, businesses, and governments, including those relating to volatility, money laundering, and cyber-crime.

We will also examine the potential benefits of cryptocurrencies and the technology underpinning them, how they can create innovative opportunities, and to what extent they could disrupt the economy and replace traditional means of payment.
Informed Choice Radio provides a regular personal finance and investment news summary, with an updated Flash Briefing for your Alexa enabled device. Search for Informed Choice Radio in your Amazon Alexa app or visit https://www.amazon.co.uk/Informed-Choice-Radio/dp/B074DZZ1MF/ to enable this Flash Briefing.